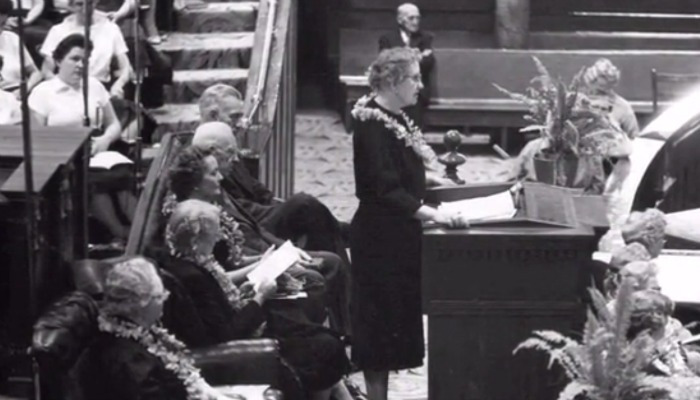 Historian Ardis Parshall wants to bring a new light to the history of The Church of Jesus Christ of Latter-day Saints with the publication of her new book, "She Shall Be an Ensign."
There is plenty of published material that tells the stories of Latter-day Saint women, but no history of the Church that shares the significant contributions that women made. Parshall, who has been studying letters, journals, minutes and periodicals for the last 15 years, says, "The active, achieving, contributions of women are largely reported as the history of women, segregated from the history of the Church itself. It's time to change that."
Parshall has committed to work on "She Shall Be an Ensign" for the next year with the intent of providing people a history of the Church told through the lives of its women. Parshall writes on her blog that this one-volume book will include the constant influence of Latter-day Saint women but "will not denigrate men, or remove prophets and apostles from their necessary and revered place in directing the Church."
Parshall describes her book as the type of book she would have enjoyed reading as a young women because it would have "showed me the kind of woman I wanted to be, with an active role in history, making a positive contribution to the Church, not just standing by and waiting for something to happen." 
Some of the stories told in the book will be familiar to most members, whereas other stories will be new or more familiar from a man's point of view.  On her blog, Parshall shares a short video, posted below, that she hopes will give people a better sense of what she has planned for her book.
Due to the cost of professional editing and publication, and to allow Parshall the opportunity to focus solely on this project for the next few months, Parshall has set up a Kickstarter campaign. With a goal of $30,000, Parshall has already had more than 120 supporters donate a sum of more than $12,900.
The Kickstarter campaign goes through Tuesday, June 30, 2015. Parshall will only receive the donations if her goal of $30,000 is met. If she cannot meet her pledged goal, none of the supporters will be charged.
Parshall plans on publishing the book in time for Mothers Day 2016.