Elder Dieter F. Uchtdorf toured Provo on August 21st and made a big impression on those he visited. Utchdorf originally stopped by to check on the progress of the Provo City Center Temple site, but afterwards decided to travel around the city and make some new acquaintances.
According to LDSChurchTemples.com, the Provo City Center Temple was known as the Provo Tabernacle and burned down in December 2010, but Church leaders announced that the site would be turned into a temple in October 2011. What was salvaged from the tabernacle is now being used as part of the construction of the temple. Most of the bricks were made by hand and can still be seen with burn marks embedded within them.
Elder Uchtdorf remarked,
I saw on the walls some of the stones colored by the fire. I felt sad that the tabernacle burned down, but it is rising like the phoenix from the ashes and will bring about something much greater.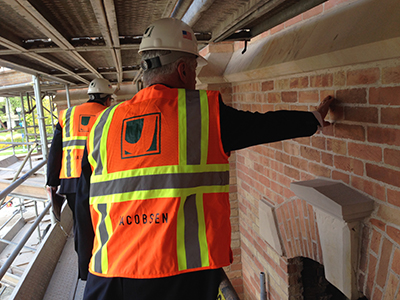 Elder Uchtdorf made two visits to Provo last week and prior to the temple inspection on August 21st, Elder Uchtdorf visited the Monte L. Bean Life Science Museum as well as the BYU Football team.
Newest member of the RB crew, Pres. Uchtdorf!!! #onlyatBYU #BYUFootball pic.twitter.com/mKmppyOJ9S

— Algie Brown (@algiebrown44) August 20, 2014

Concerning his visit to BYU, Elder Uchtdorf mentioned,
 When they have BYU Campus Education Week, we like to spend an hour or so on campus and see how things are going. 
Quotes via LDS.org
He also popped in to meet with the cast of Studio C.
Elder Dieter F. Uchtdorf made a big impression on those he visited in Provo. We are excited to see him again soon in the upcoming General Conference on October 4th and 5th, 2014.