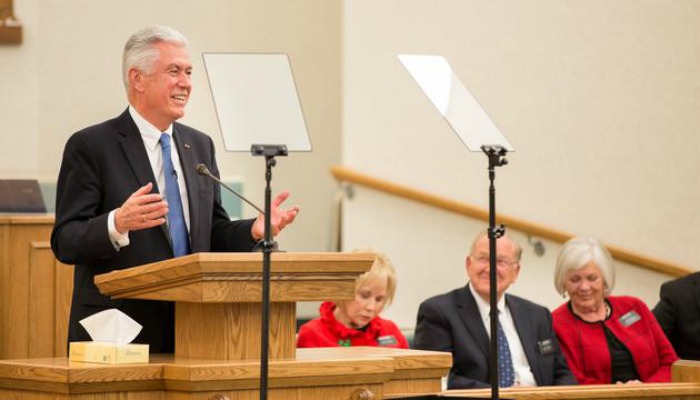 This article was originally posted by Mormon Newsroom. The following is an excerpt. 
More than 800 Church-service missionaries gathered to hear President Dieter F. Uchtdorf say that "having charity and caring for one another is not simply a good idea. It is not simply one more in a seemingly infinite list of things we ought to consider doing. It is the core of the gospel — an indispensable, essential, foundational element."
The missionaries, representing 185 congregations of the Salt Lake Inner City Mission, gathered on Friday night, December 4, 2015, to listen to President Uchtdorf, one of the highest ranking leaders of The Church of Jesus Christ of Latter-day Saints, deliver the address, which emphasized service.
"I have been looking forward to being with this group, who truly exemplifies the spirit of this season every day of the year," said President Uchtdorf, second counselor in the First Presidency of the Church. "For me, it just feels right to be spending part of the Christmas season with you who give so much of yourselves to bless the Lord's poor."
The volunteer missionaries, mostly senior couples from the Salt Lake City area, met in the chapel of a Church building on the city's east side.
"The Lord has always commanded His children to serve and to love Him and to seek the welfare of their brothers and sisters," President Uchtdorf told the missionaries.
Read the full article at mormonnewsroom.org.