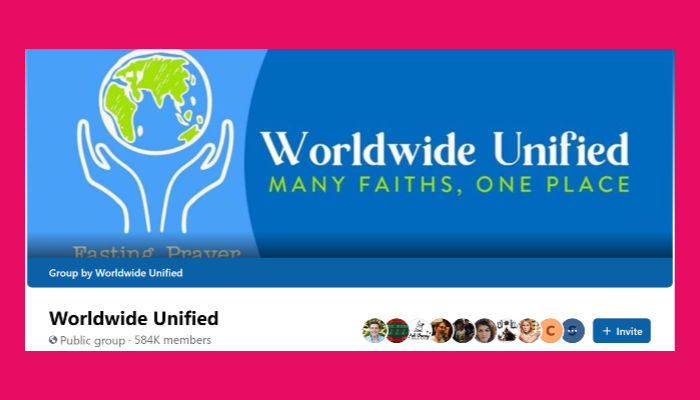 Two members of our extended family have contracted COVID-19. One has died. The other is recovering but will never be the same. Other members of the family have lost their income. Another few are recent high school graduates, who watched their celebrations vaporize and their college aspirations drift off into limbo. I've wanted to add their names to a temple prayer roll, but that option hasn't been available.
I've been finding comfort on a Facebook page called WorldWide Unified. Now with about 600,000 members, the page was started by a Latter-day Saint missionary leading up to the Worldwide Fast on Good Friday in April. We reported about how many people of varying faiths and no faith joined the fast. Also, people from all over the world. They are still coming together in love and caring.
After the fast was over, the Worldwide Fast page was renamed Worldwide Unified and has become a page for people to request prayers and also to share their miracles,  testimonies, and even musical talent.
Reading the pleas for prayers has often been heartrending and has given me a bit of insight into what God sees as He watches over His children.
The assortment and difficulty of the trials people are facing is mind and spirit-boggling. One person is just really having a hard time and needs to feel God's love. Another has just delivered a stillborn baby. Another has COVID going through the entire family. Another has just received a terminal cancer diagnosis. God sees all of this all the time.
I'm reading these pleas and praying for all of them. My sympathy and empathy are stretching until tears flow daily. If I had the power, I would help each of these people in very specific ways, which is what God does. Except He doesn't just read or hear their stories.
He KNOWS them completely. He knows how to honor their agency while seeking their spiritual growth. He knows exactly how to succor and comfort, challenge, and inspire. He knows exactly when and how it will be best to help and even if it's best for them to cross over into His presence.
I read some stories every day and then imagine them multiplied by billions. No wonder Heavenly Father has legions of angels in His service in addition to the vastness of priesthood power and the Holy Ghost.
A Few Shares