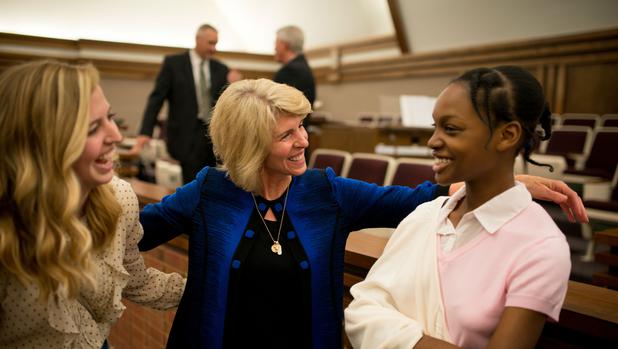 Late last week, women auxiliary leaders for The Church of Jesus Christ of Latter-day Saints traveled to the southeastern United States to provide training for local leaders.
Mormon Newsroom reports that Sister Linda K. Burton, Relief Society general president, Sister Rosemary M. Wixom, Primary general president, and Sister Carol F. McConkie, first counselor in the Young Women general presidency, met with five different congregations in both South Carolina and Georgia. Each sister had a different message for the saints.
Sister Burton urged leaders to use small and simple ways to teach, asking, "Can you think of a time when your life has been touched by someone who did a small and simple thing?"
Sister Wixom stated that songs stick with us. This is why she taught the local leaders that primary children should feel loved and included as they are encouraged to live the messages learned from the primary songs, which they won't soon forget. 
Sister McConkie spoke about the importance of using social media to spread the gospel online. She encouraged leaders to spread the good message by using the hashtag #sharegoodness, which was first introduced in Elder David A. Bednar's talk at BYU's Education Week. 
These sisters are involved in the planning for the upcoming general women's meeting that will take place on Saturday, September 27, held at the Conference Center in Salt Lake City, Utah at 6 p.m.