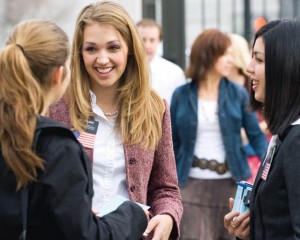 May 12, 2014
The New Haven Register recently published a story about two Mormon missionaries from The Church of Jesus Christ of Latter-day Saints. Sister Alyssa Westover, 21, of Camarillo, Calif., and Sister Amelia Belchior, 22, of Gilbert, Ariz. (originally from Mozambique) have been serving in the Boston Massachusetts Mission and are currently in the town of  New Haven, CT.
In their interview they talked about their experiences as missionaries teaching the message of the Restoration, how they feel about the "The Book of Mormon" musical, which appeared nearby in Hartford, and the impact a new temple will have in nearby Farmington.
Of the temple, the sisters said,
The temple is a very sacred place and there is power that no one can ever explain
Young men and young women of The Church of Jesus Christ of Latter-day Saints decide to serve a mission at age 18 for young men and 19 for young women for a period of 1½ years for the sisters and up to 2 years for the elders. Since the lowering of the missionary age in October 2013 the Church has seen a massive surge in numbers with over 80,000 missionaries teaching people about the Church and the restored Gospel of Jesus Christ around the world. While serving they have minimal contact with their friends and families back home and are fully concentrated on serving the communities in which they live.
When asked what brings them happiness while in the field Sister Belchoir said,
As a missionary, what brings me joy is seeing people change their lives. That brings me the greatest happiness
Her companion, Sister Westover, described how the teachings of the Church impact both her and her investigators. She said that when others, "come to the truth on God the Father and His Son Jesus Christ," it "brings them peace and happiness."
You can read the full story here and watch a short video of the sisters bearing their testimony here.