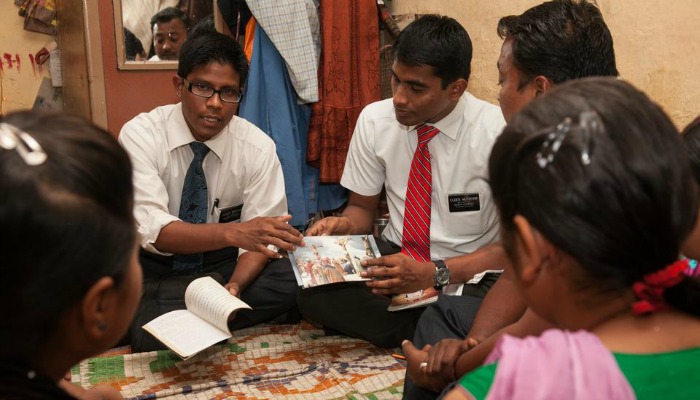 If you are an active member of the Church or you come often enough to know who the missionaries are, then you probably already know that they are going to ask you to do something.
FYI, that is their job. The Missionary Handbook states, "When you visit, talk to, or eat with members, your primary purpose should be to strengthen them and help them fulfill their missionary responsibilities. Ask them whom they know that you could teach."
Missionaries are primarily responsible for teaching the gospel. Even though teaching is their purpose, missionaries spend most of their time tracting and using other less effective methods to find people to teach.
This is not because they are lazy, it is because to do their most effective work, they need your help. President M. Russell Ballard explains,
"The First Presidency and the Quorum of the Twelve Apostles have made it clear that missionary work is to be centered in the ward. Stake presidents and bishops have the responsibility and accountability to help members find the pure in heart and prepare them for baptism and for a life of service within their wards and stakes."
Feeding Missionaries ≠ Missionary Work
On my mission, we were eating dinner with a family. They were fully active and the husband was the Elders Quorum President. After we shared a message, we invited them to think of someone that they could share the gospel with. You know, as missionaries do.
The wife responded, "No. Feeding you is our missionary work." I was startled because she genuinely thought that feeding the missionaries was sharing the gospel. Somehow, in her mind, missionary dinner was missionary work. Because feeding us meant that we could go out and work harder.
While this is sort of true, and I am eternally grateful for every person who fed me while I was serving (thank you for keeping me alive) I also just want to make sure that this isn't a common sentiment among members of the Church.
Raising the Bar
Let me just be clear. Inviting a friend over for a missionary dinner is missionary work. Giving missionaries referrals and/or being a participant in your friends' interaction with the gospel is missionary work.
Related Link: 7 Ways to Do Missionary Work From Your Phone 
Inviting any of your friends or colleagues to anything, for pretty much any reason could be missionary work. There are SO MANY WAYS to do it, but simply feeding the missionaries and then sending them on their merry way is not one of them.
I don't want to come across ungrateful for people who are feeding the missionaries. It is a wonderful service that you provide and it allows missionaries to stay alive and keep working.
But don't feed them and then piggyback on their efforts. Missionary work is SO much more effective with help from the ward or branch members.
President M. Russell Ballard said, "As we raise the level of expectation for the performance of our missionaries, we must also raise the level of expectation for the performance of all of the members of the Church in fulfilling our missionary duties. Brothers and sisters… If the standard is to be raised, it is raised for all of us."
Policy Changes
Shortly after I returned home, the region that I served in had a policy change from the Area Seventy. In this region, missionaries are no longer allowed to be fed in member's homes unless it is a weekend. I would venture to say that part of this change came because of the issue I have previously mentioned.
To a similar point, President Gordon B. Hinckley stated, "It will be a great day when our people not only pray for the missionaries throughout the world but ask the Lord to help them to assist the missionaries who are laboring in their own ward."
Along with praying for what you can do to help, may I suggest that the best way to do missionary work is by fulfilling your calling. Another way is by doing your ministering. As you do what you have already been asked to do with a missionary mindset, then the work will move forward.
Related Link: 6 Ways to Rethink Member Missionary Work
President Ballard encourages, "We can and we must do better, brothers and sisters. I pray that the Lord will grant to each one of us the faith and courage to increase our participation in supporting our full-time missionaries in sharing the restored gospel."
Just be brave and invite.
How do you work with your full-time missionaries to share the gospel? Share in the comments.