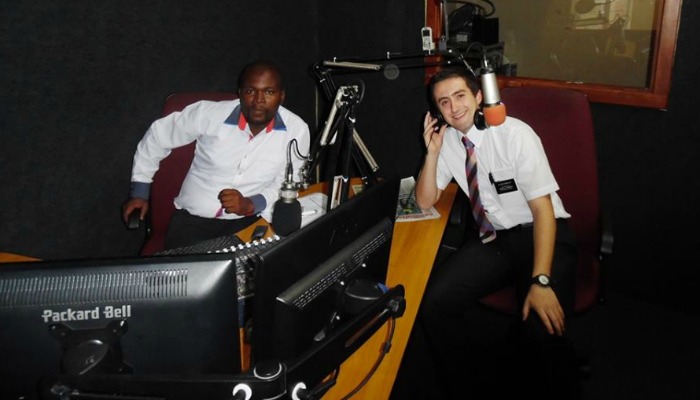 Missionaries serving in South Africa for The Church of Jesus Christ of Latter-day Saints are reaching more people than on-foot proselyting by hosting a weekly radio show.
A post on South Africa Mormon Newsroom's Facebook page explains that Elder Higley and Elder Kamya were walking around town when they decided to visit the studio for SHINE FM 104.0. The two missionaries introduced themselves and explained their purpose as representatives of The Church of Jesus Christ. Before leaving the studio, the elders offered to present a radio show each week for the station and SHINE FM gladly obliged.
Although the station only allowed the missionaries to speak between songs or commercial breaks at first, they quickly received their own time slot and began having radio talent interview them on-air. Now, they have their very own radio show.
Each week, the elders discuss various topics that the station only assigns to them about two hours before the start of their broadcast, giving them little time to prepare. For 15 minutes each week, the missionaries talk to the the community on topics like the Word of Wisdom, chastity and teen suicide. The Facebook post explains that the  young adults rely on their gospel knowledge and the direction of the Spirit. They say that one of their favorite tools is the For the Strength of Youth pamphlet.
Since the start of the co-hosted missionary broadcast, the mission president transferred HIgley and Kamya to a different area inside the mission boundaries. However, Elders LaFrance, Bagley, Kakar and Bryant continue to host the weekly radio show and spread the gospel of Jesus Christ.