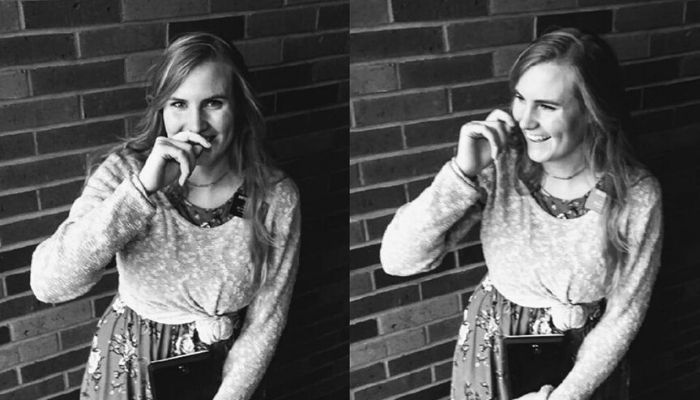 If you ask Amanda Nicholls what the preferred medium is for her art, the answer will 100% NOT BE chalk. That's because she hates it. According to Nicholls, "The texture of chalk is simply awful. But the end result was always worth it."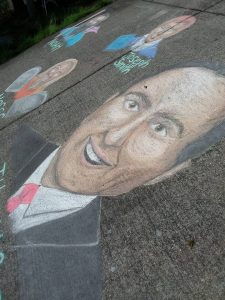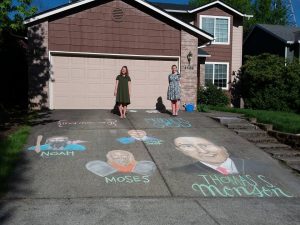 While Nicholls was studying at BYU-Hawaii and striving to become a traditional animator and artist she decided it was time to serve a mission.
While serving in Portland, Oregon, in the summer of 2017, I was blessed with the opportunity to be companions with Sister Nicholls. About how she started chalk drawing, Nicholls says,
I started the chalk drawings with a young woman in the ward that wanted to do a drawing in her driveway of the Portland temple. Several cuts and a sunburn later, we learned that we had a really great way to talk to people and get a very happy message out into the world. Spreading that message was well worth the temporary discomfort.
Related Link: Missionaries in Italy Share God's Love Through Sidewalk Chalk
Without knowing how talented she was as an artist, and as her new companion, I agreed to try chalk drawing as a form of contacting. Little did I know what would happen next.
One Blank Driveway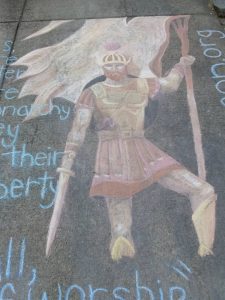 There was a family in the ward that had offered their driveway as a blank canvas. The only condition was that we were not allowed to draw Jesus on their driveway because they didn't want to have to drive over his face every day. That seemed slightly sacrilegious.
With this understanding, we would create a new work of art each week that depicted something from the scriptures. At least, Sister Nicholls would make me feel like I had created a work of art. In reality, I just wrote the words and blended stuff in, she did the actual art part.
Among her most popular drawings were the Portland Temple, Past and Present Prophets, Captain Moroni, and Ammon.
Effective Work or A Waste of The Lord's Time?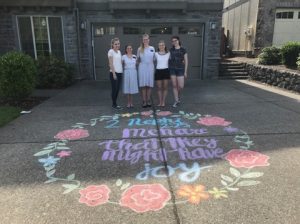 A lot of people would often question us as to how effective our methods were. We were even accused of wasting the Lord's time in some moments, but I trusted that the Lord had prompted my companion to do this, so we needed to do it.
In an area where we had seen very little previous success, we discovered that we were able to most effectively contact people while we were drawing.
These drawings covered entire driveways, so they were no small feat. Because the drawings were so big and called attention to themselves, many people would ask us what we were doing. This would give us an opportunity to share the gospel. We would even invite the youth in our ward to invite their friends and draw with us.
Before going into any chalk drawing, we would study scriptures that backed up our art. We shared these scriptures with anyone who asked us questions. It was like preparing for a lesson each day. Even though we had no set lessons to teach at the time.
Related Link: Fun Ways LDS Missionaries are Spreading the Gospel 
Because this gracious family offered to let us use their driveway on a weekly basis, our canvas became stationary and neighbors that were closed off in the past began to be more open. People on walks would stop and take pictures and school bus routes even changed so that students could see her elaborate designs.
Expanding The Canvas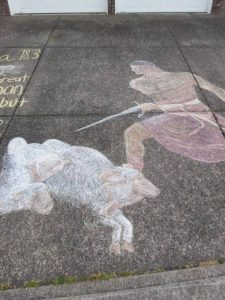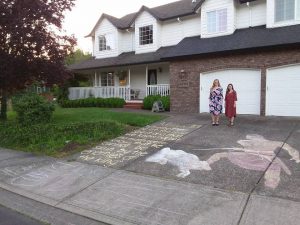 We later expanded our drawing locations to include other members' driveways, the walking paths in local parks and the busy sidewalks of major neighborhoods in the area.
We basically spammed our entire area with chalk drawings. Random people would stop us on the street while we were walking and thank us for sharing something so beautiful and uplifting.
God's Gifts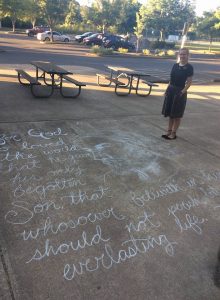 Nicholls is humble and courteous about her art and that is part of what makes it so beautiful. God blessed Nicholls with an extraordinary gift. In return, Nicholls blessed us with the ability to see her gift.
She demonstrated to me exactly what it meant to let your light shine. Following our companionship, I made a promise to myself that I would do my best to use my talents to share the gospel, just like she used hers.
How do you use your talents to share what you believe? Share in the comments.