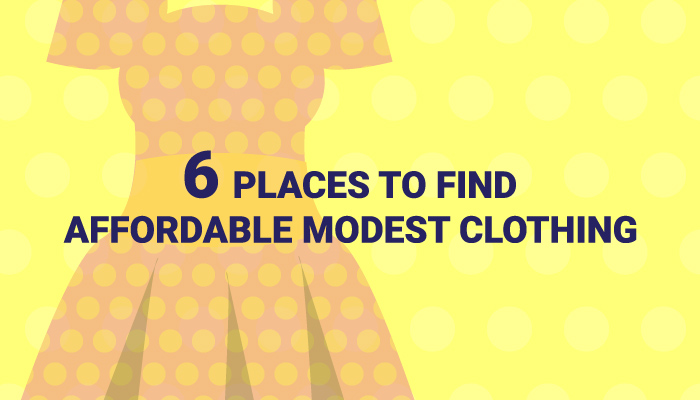 Growing up as a Catholic, I never worried about wearing clothing that covered my shoulders or that were knee-length. But when I became a member of the LDS Church, I found it difficult to find stores offering cute and affordable modest clothing.
I didn't quite understand why we are asked to dress modestly until I came across the article Modesty: Reverence for the Lord by Elder Robert D. Hales, Quorum of the Twelve Apostles. Elder Hales said, "Modesty is at the center of being pure and chaste, both in thought and deed. Thus, because it guides and influences our thoughts, behavior, and decisions, modesty is at the core of our character."
I was finally able to find stores online and near me that offered a variety of modest clothing that were inexpensive. If you are looking to purchase clothing on a budget, here's a list of five modest affordable clothing stores.
Called to Surf

Not many people heard of Called to Surf when they first opened. Called to Surf is a swimwear and clothing boutique located in Provo, Utah. Their boutique has consistently made an impression on LDS members with their modest, yet trendy clothing within the past couple of years. Prices range from $25-70 for dresses, shirts, skirts, and jeans. No need to live in Provo when you can purchase their clothing online.
Shop Stevie

Shop Stevie is a online boutique owned by LDS member Stephanie Henderson; Stevie is her nickname. Stevie has always had a passion for fashion and decided to establish her own store. Her website offers a variety of fashionable clothing that's perfect for Sunday best, date attire, and many other occasions. Shop Stevie hired representatives who host Pop Up shops in Utah, Idaho, Arizona, Nevada, and Texas. Pop Up shops give you the opportunity to try on online clothing before purchasing.
The Stockplace

Megan and Brynlee opened The Stockplace about 15 months ago. They are stay-at-home moms who love fashion and shopping. With smaller budgets, Megan and Brynlee decided help their fellow moms, sisters, and friends find standout pieces that are inexpensive. Their motto is, "We believe that every girl should feel cute and confident in the clothes she wears, so we hope The Stockplace can do that for you!"
Roolee Boutique

Roolee Boutique is located in Logan, UT. Roolee is "a women's clothing shop that offers the most effective solution to all of life's problems, cute clothes!" The Roolee website features swimwear, shoes, accessories, and baby clothing. "We do our best to continuously find the styles that'll make you excited to get dressed in the morning."
Modest Pop

Modest Pop stated it has been their quest to offer affordable modest clothing including shirts, skirts, and dresses. The attire ranges from work apparel, bridesmaid dresses, missionary clothing, and prom/semi formal dresses. Modest Pop offers missionary discounts to members of any religion. Every time you shop at Modest Pop, they will donate to the Operation Underground Railroad, an organization that helps rescue children from sex trafficking in the U.S. and worldwide.
Twirl Dress Boutique

Twirl Dress Boutique is more on the high end of affordable prices. They are a dress boutique located in Bountiful, Utah. Twirl was established by a mother and two teenage daughter with a quest to find better dresses and skirts. "Our Twirl store is a personalized experience where you will be surrounded in a fun and friendly atmosphere, hundreds of dresses and skirts from vintage to modern and classic styling, and a place where every teenager and woman can find something to twirl about." Their boutique also offers other affordable modest clothing such as skirts and tops. You can also shop their frilly wardrobe online.
For more modest clothing: 7 Places to Find Fashionable and Modest Clothing
More choices: