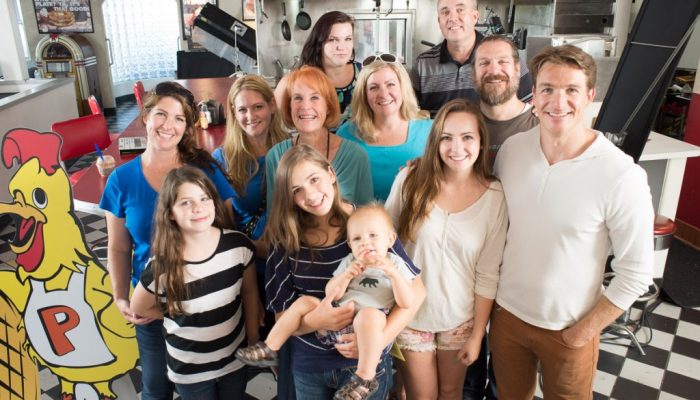 Styling the hair of Elvis Presley, Doris Day, John Travolta and Danny Glover can bring a lot of excitement to the life of a mother, but Charlene Johnson has always said that family comes before Hollywood. Johnson, who has worked in the industry for five decades, explains,
When it's all over, the only thing that counts is your family.
Johnson first got her foot in the door as a stylist in 1965 when she joined the make-up and hairstylists union right out of high school. Before she knew it, she had been hired as the hairstylist on "The Adventures of Ozzie and Harriet."  The gig came with her own parking spot, an incredible paycheck, and screen credit–a "dream come true" for Johnson.
In that same year Johnson began making a name for herself in Hollywood, she met—and shortly after married—her husband Bob Johnson. From that point on, Johnson started accepting only jobs that would allow her to still put family first. Eventually, Johnson began choosing television work that filmed near her family's home in a Los Angeles suburb so that she could spend more time with her children
Johnson tells Utah Valley 360 that her kids were no strangers to the screen sets. They would often accompany their mother on prep days to the sets of the shows she was working on, and eventually even started to play extras in films like "Newsies" and "Free Willy 2."
Johnson says that she realizes that the Hollywood movie industry can be known for faithless people, but she explains that she always tried to set an example and be a kind and respectful person. She says,
I think my kids could look at me and see that I was greatly respected in my business, and they could be that way too and still maintain their standards and their beliefs and be decent kids… They never learned to be jealous or vindictive or mean.
Johnson's kids have grown up to have successful movie careers of their own. Her son Bart played the role of Coach Bolton—Troy Bolton's father—in the popular Disney  Channel trilogy, "High School Musical," her son Adam has a role in the upcoming movie "The Last Straw," and her son Brad acts, directs, and produces movies.
Johnson has been able to successfully balance both a prominent career and raise a family but recognizes that it can be difficult for mothers to shortchange their children by getting caught up in work, like she almost did. Johnson says however that she was able to recognize when that began happening and ended up quitting that particular job to spend more time with her children. She explains,
You have to be really careful in this business because it can be consuming, and you can forget what's really important in life.
Johnson currently resides in Midway, Utah, and is working with her son Brad on the set of "Waffle Street," Brad's most recent acting gig. This movie's rags-to-riches tale will be released in 2015.