The lives of two children will be made easier after five Brigham Young University Engineering students built them motorized wheelchairs as part of their capstone project to graduate.
Tim Gunsay heard about 3-year-old Tanner, and 20-month-old Skyler Jensen's situation and decided to help. Both suffer from a degenerative muscular disease called Spinal Muscular Atrophy, which affects their muscle movement, and prevents them from walking, crawling, sitting up or controlling head movement. In order to get around, they use manual wheelchairs, which makes them tire quickly. Unfortunately, buying 2 motorized wheelchairs was out of the question because of the expense for the family and heavy weight for Tanner and Skyler's mother Esther.
Gunsay contacted BYU senior engineering students, and challenged them with a new project. "When I gave the mission statement to the team, I wanted a very low-cost wheelchair and a light wheelchair, one that a mother could pick up with no problems," said Gunsay.
That is how, after hours of working on it, the students came out with design plans for a motorized wheelchair with PVC frame, that is strong enough to hold a child up to 50 pounds, yet light enough for moms to carry around, with the production cost under $495. These characteristics make the project the world's least expensive motorized wheelchair, and probably the lightest since it weights only a little over 20 pounds.
Esther Jensen said that they were very excited when the team of BYU students told them about the project. She said that with the medical expenses and changes they had to make to their home for her children to get places easily, things got expensive.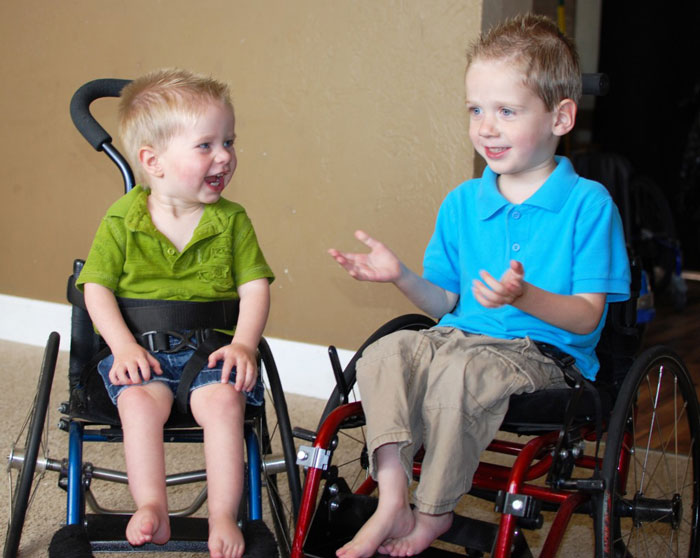 "It's just so exciting that BYU wanted to take advantage and make this possibility a reality," said Jensen. She also said that when Tanner tried the chair, he loved it. Jensen thinks this chair, which is controlled by an armrest-mounted joystick, will make her sons' lives easier and give them the independence the disease took away from them.
Zach Zimmerman is one of the students in charge of the project, and said it was a challenging, yet really exciting project that allowed them to see how their project was going to impact the Jensen's lives. His team tried the chair with Tanner a couple of times, and Zimmerman mentioned that it was an incredible experience.
A beam came across his face and he just enjoyed that wheelchair so much that we were very happy to have the opportunity to give it to him.
The wheelchairs will be done at the end of April and will be donated to the Jensen's. The design plans, though, will be posted in the project website, Open Wheelchair, open to the public and available to download for free.