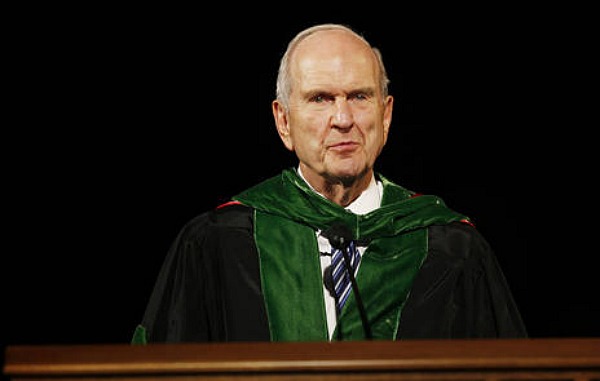 Source: Deseret News
PROVO — Disciples of Jesus Christ are defenders of marriage, said Elder Russell M. Nelson of the Quorum of the Twelve Apostles during commencement exercises held in the Marriott Center at Brigham Young University on August 14.
"Wherever we go, you and I as disciples of the Lord bear a solemn responsibility to proclaim the will of God to all people," he said. "And one of the more demanding opportunities of our time is to stand up for the truth regarding the sacred nature of marriage."
Gone are the days of being a quiet and comfortable Christian, Elder Nelson told the graduates.
"Your religion is not just about showing up for church on Sunday," he said. "It is about showing up as a true disciple from Sunday morning through Saturday night — 24/7. There is no such thing as a 'part-time' disciple of the Lord Jesus Christ."
A strong character is necessary for discipleship, for disciples will be put to the test, he said.
"At any hour of any day, we have the privilege of choosing between right and wrong," he said. "This is an age-old battle that started in a premortal realm. And that battle is becoming more intense every day. Your individual strength of character is needed now more than ever before."
Because of that, true disciples — those who are able to stand for what is right — are needed, especially those who are defenders of marriage, he said.
Speaking of the divine partnership of a husband and wife, Elder Nelson said that great partnerships are dependent upon each individual developing his or her own personal attributes of character.
"There is great power in a strong partnership," he said. "True partners can achieve more than the sum of each acting alone. With true partners, one plus one is much more than two."
Read the rest of the article at Deseret News