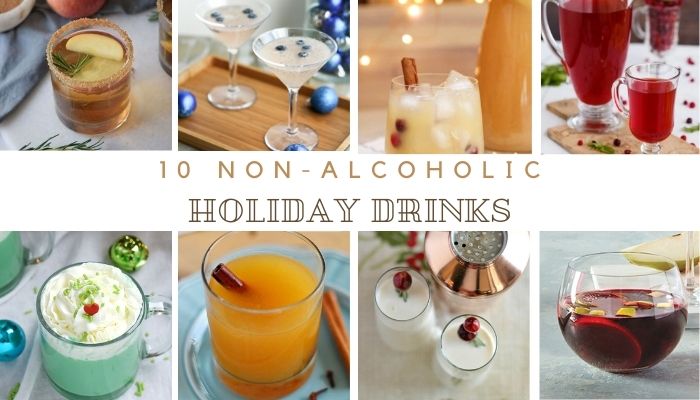 When the holidays come around, it can get boring to drink the same holiday drinks for 3 months. But there are ways to spice up your holiday drink station that don't involve alcohol.
There are so many more options for holiday drinks than plain old apple cider, hot chocolate, or egg nog. Holiday parties may be small this year but that's no reason to not have fun. Here are 10 non-alcoholic and festive holiday drinks for any holiday party, big or small.
Grinch-Inspired Hot Chocolate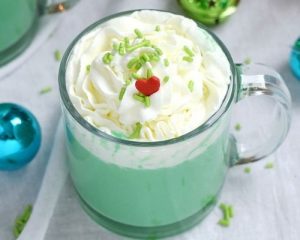 Yield: 2 servings
Ingredients
2

 

cups

 

milk

 

(or unsweetened cashew milk)

4

 

ounces

 

white chocolate

 

(chopped)

green food coloring

1

 

teaspoon

 

pure vanilla extract

1 teaspoon peppermint extract

1

 

teaspoon

v

anilla

whipped topping
This grinch-inspired recipe is great for kids, or basically anyone that loves the grinch! Make sure to heat up the milk and add the green food coloring at the beginning. This one is fun because you can top the whipped cream with heart-shaped sprinkles for an extra nod to the grinch movies.
Related Link: When Your Recipe Calls for Alcohol 
Pumpkin Butterbeer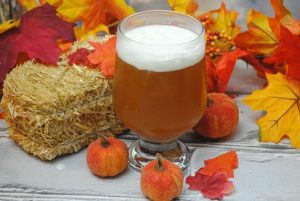 Yield: 4 servings
Ingredients
2 bottles of cream soda
1 tsp imitation butter extract
1/4 cup of pumpkin puree
2 cups of Apple Cider
ice
If you are a Harry Potter fan, this is the holiday drink for you. This recipe combines two of the most famous drinks of the wizarding world: butterbeer and pumpkin juice. On top of that, it is also a great thanksgiving dinner drink.
Winter "Sangria"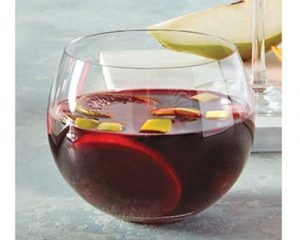 Yield: 8-10 servings
Ingredients
1 qt. pomegranate-juice blend (pomegranate-cranberry or pomegranate-cherry. Just look for 100 percent juice)

 

2 cups elderberry juice

 

2 cinnamon sticks
1 lemon, thinly sliced

 

1 lime, thinly sliced

 

1 ripe pear, peeled, seeded, and diced
1 Granny Smith apple, seeded and diced
1 cup red grapes, cut in half
4 cups sparkling water
If you would like, you can chill this blend overnight and add the sparkling water right before you serve it. This will keep it cold, without the drink being flat. Frozen cranberries or other frozen fruits make great "ice cubes" because they won't water down your drink.
"Oriental" Punch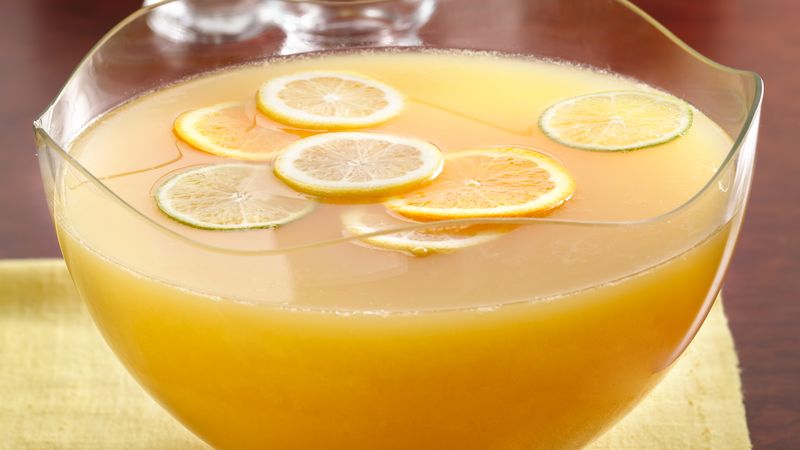 Yield: 8-10 servings
Ingredients
1 large can of frozen orange juice (reconstituted)
1 large can of frozen lemonade (reconstituted)
1 liter 7-Up or Sprite (or diet 7-up)
1 teaspoon vanilla extract
1 teaspoon almond flavoring
This crowd-pleasing punch is a must-have for the holidays. It is a great option if you are on a diet or are trying to stay healthy during the holidays. As far as non-alcoholic holiday drinks go, this one is a winner. The secret is the added flavorings. They add an exotic touch but no one can figure out why.
Christmas Cranberry White Russian Mocktail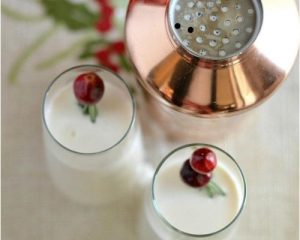 Yield: 1 serving
Ingredients
1/4 cup cream
1/2 cup whole milk
1/2 cup dry sparkling cranberry soda
2 teaspoons Kalua flavored syrup
Fresh cranberries
Fresh rosemary sprigs
This
recipe
is great for someone who is looking for a creamy and fruity holiday drink. This is more of a drink you make on the spot than a drink you can make in a large batch.
Caramel Apple Pie Mocktail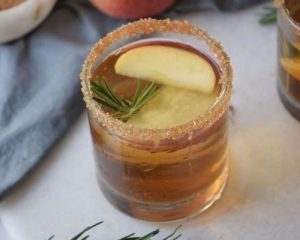 Yield: 6 servings
Ingredients
2 apples
6 Rosemary sprigs
1/2 cup caramel syrup
2 teaspoons cinnamon
brown sugar (for rimming glasses)
6 cups apple cider
3 cups sparkling water
This
recipe
makes a sweet mocktail that is great for any holiday parties where apple pie could be involved. It could be the perfect mix of sweet and sour depending on the type of apple you choose to add to your drink.
Hot Wassail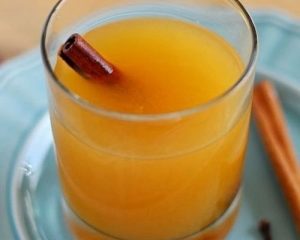 Yield: 8 servings
Ingredients
8

 

cups

 

apple cider

2 

cups

 

orange juice

1/2 

cup

 

lemon juice

4 

whole cinnamon sticks

12 

whole cloves

 

or 1 teaspoon ground cloves

1/4 

teaspoon

 

ground ginger

1/4 

teaspoon

 

ground nutmeg
Cook this mixture on low heat for 45 minutes and then it's ready to be ladled into a mug. I have seen this recipe cooked in a crockpot, the pot was left on a warm setting throughout dinner so that the wassail was always hot.
Thanksgiving Punch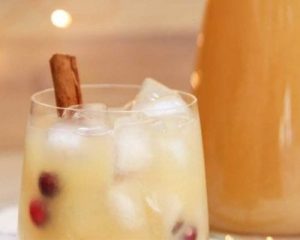 Yield: 6-8 servings
Ingredients
3

 

cups

 

Pear Nectar

2

 

cups

 

Ginger Beer 

3 cups ice

Juice of 1 lemon

Optional garnishes

rosemary

cranberries

pear slices

cinnamon sticks

nutmeg
This recipe is also known as "Spicy Pear Punch" but it is perfect for the holidays. You could also substitute 1 cup of the Ginger Beer for 1 cup of seltzer water if you wish.
Christmas Punch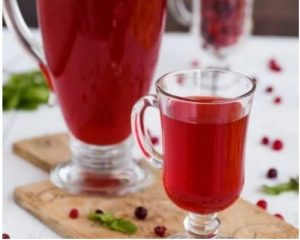 Yield: 6 servings
Ingredients
2

 

cups

 

orange juice

2

 

cups

 

cranberry juice

1

 

cup

 

pineapple juice

1

 

cup 

Ginger Ale
This beverage is best served cold so either put it in the fridge before serving or add a few cups of ice to the mixture. You can even top this with mint leaves or add frozen cranberries instead of ice cubes.
Frost Bite Mocktail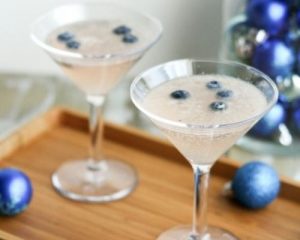 Yield: 1 serving
Ingredients
ice
1 oz lime juice
1 oz pineapple juice
2 oz white grape juice
fresh mint leaves
fresh blueberries
3 oz Sierra Mist Natural
This drink is great for any New Years' party, even if the party is just your immediate family this year. Ring in the new year or celebrate Christmas traditions with this drink in hand.
Which of these drinks will you try this holiday season? Share in the comments.