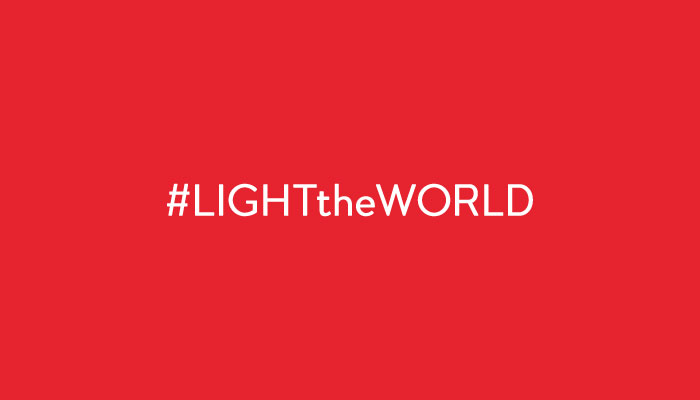 It's time to turn our focus to Christmas.
In honor of Jesus Christ, the LDS Church has prepared a 2016 Christmas initiative, entitled #LIGHTtheWORLD, to celebrate His birth and light. The initiative begins November 25th and ends Christmas day. Local church leaders received information about the initiative that can be used for Christmas activity planning. This information can also be useful for families.
Light The World Video
Releasing November 25th, the "Light the World" video emphasizes on bringing the light into the world this Christmas. We can be a light to those around us by serving them and inviting them over for dinner. We can also invite others to help us serve those in need.
Christmas Advent Activity Calendar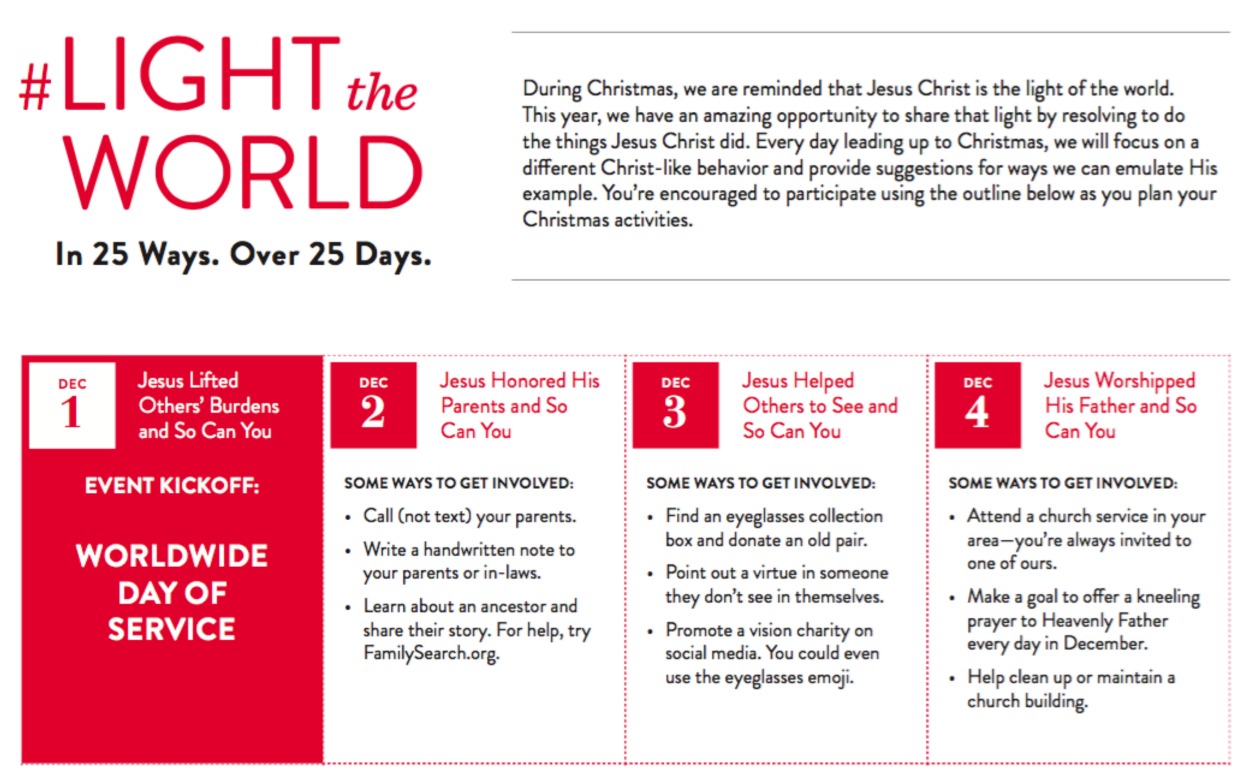 The Church has created a Christmas advent activity calendar, starting on December 1st, that represents Christ's attributes. Each day, there will be a different Christlike behavior that we can exemplify. We can download the advent calendar at Mormon.org.
December 1: Jesus lifted others' burdens
December 2: Jesus honored his parents
December 3: Jesus helped others to see
December 4: Jesus worshipped his father
December 5: Jesus healed the sick
December 6: Jesus read the scriptures
December 7: Jesus fed the hungry
December 8: Jesus prayed for others
December 9: Jesus visited the lonely
December 10: Jesus helped people to walk
December 11: Jesus ministered to children
December 12: Jesus taught others
December 13: Jesus showed humility
December 14: Jesus taught us to clothe the naked
December 15: Jesus worshipped through song
December 16: Jesus showed compassion
December 17: Jesus cared for his mother
December 18: Jesus honored the sabbath
December 19: Jesus calmed the storm
December 20: Jesus saw potential in others
December 21: Jesus forgave others
December 22: Jesus showed gratitude
December 23: Jesus was a peacemaker
December 24: Jesus cared for his loved ones
December 25: Jesus's disciples followed him
Pass-Along Cards and Posters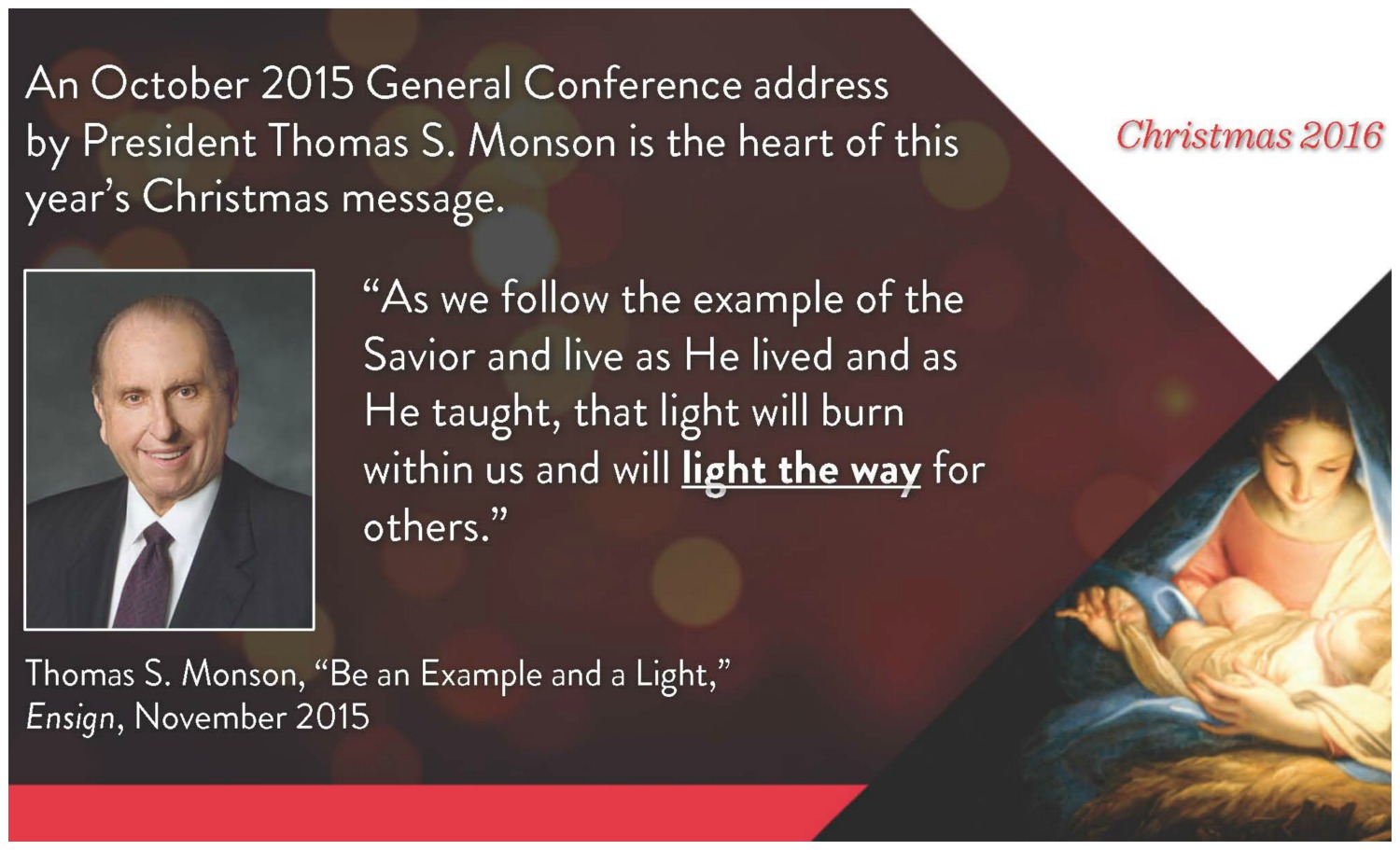 Pass-along cards and posters are a perfect way for us to share our favorite Christ-themed Conference talks or favorite Christ centered scriptures with others. We can also write a message about why we love our Savior. We should encourage everyone to #LIGHTtheWORLD with us this Christmas. We can also download the pass-along cards and posters at comeuntochrist.org.
Thanksgiving isn't over yet and people have already been tweeting about the #LIGHTtheWORLD. They are excited to share how we can help bring the light this Christmas starting December 1.
#LIGHTtheWORLD on Dec. 1 with acts of genuine service. Serve anyone you want, any way you want! pic.twitter.com/egJauEOMWu

— dyejo (@dyejo) November 17, 2016
#LIGHTtheWORLD in a Worldwide Day of Service December 1 https://t.co/xkAX0UX2W6 See also https://t.co/CFZR4REU72

— JSWardell (@JSWardell) November 17, 2016
#LIGHTtheWORLD in a Worldwide Day of Service December 1 https://t.co/lrHt0PuuKr

— Mark Hatton (@MarkTheMormon) November 17, 2016
8 Scriptures You Can Use to #LIGHTtheWORLD https://t.co/HYWOWdQUf9 #LDS pic.twitter.com/vuQPJJ9qvt

— Camille Gillham (@CmlGill) November 17, 2016
Comment below on how you hope to #LIGHTtheWORLD this Christmas.