Singing Christmas songs can be the perfect way to invite the spirit of Christ into your home during the holidays. And the LDS Christmas hymns  are a great place to start. But have you ever wondered about the history of Christmas songs? What inspired Christmas song composers?
We've compiled some interesting back story for three favorite Christmas songs.
Far, Far Away on Judea's Plains
John Menzies Macfarlane was born in Stirling, Scotland in 1833. John, his mother, and siblings joined The Church of Jesus Christ of Latter-day Saints in 1845 and immigrated to America in 1852 as members of the first Perpetual Emigration Fund company.
In 1853, Church leaders called John to settle in Cedar City, Utah. He taught school and later helped found Dixie State College of Utah. He worked as school superintendent, district judge, postmaster, builder, surveyor, and farmer.
He organized and conducted Cedar City's choir.  The choir's performances became a staple in Dixieland's entertainment. Eventually, Church leaders asked John to move from Cedar City to St. George to advance the choir there.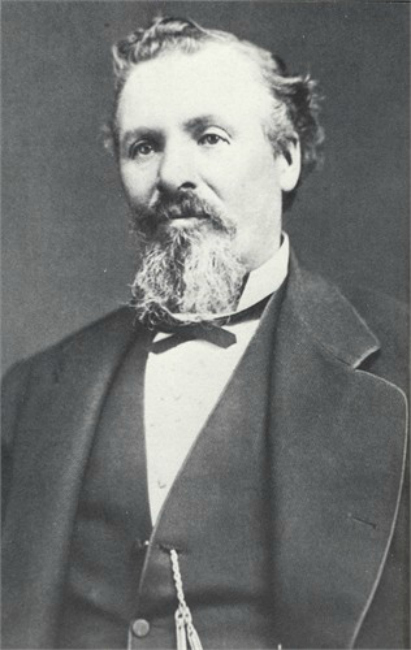 Called to Write a Joyful Christmas Song
Food was scarce in 1869 and the pioneers in St. George, Utah, struggled to survive.
Apostle Erastus Snow determined to provide the Saints with at least some holiday cheer, so called poet Charles Walker and choirmaster John Menzies Macfarlane to his office, and set them apart to compose a special Christmas song.
Charles and John previously composed songs together for the pioneers' enjoyment and purposefully set about to create a joyful Christmas song.
Charles brought several verses to John who struggled to set music to the lyrics. Try as he might, the music for those lyrics did not come.
Far, Far Away on Judea's Plains
As Christmas drew near, John suddenly awoke in the middle of the night. Words and music for a Christmas song came to him in a dream.
He woke his wife Ann to have her hold a light and work their small parlor organ's bellows while he composed the piece.
At one point, Ann asked John if he'd gotten far enough along so they could crawl back into their warms bed and he could finish the song in the morning.
Determined, he shook his head and they continued.  He completed the song at daybreak.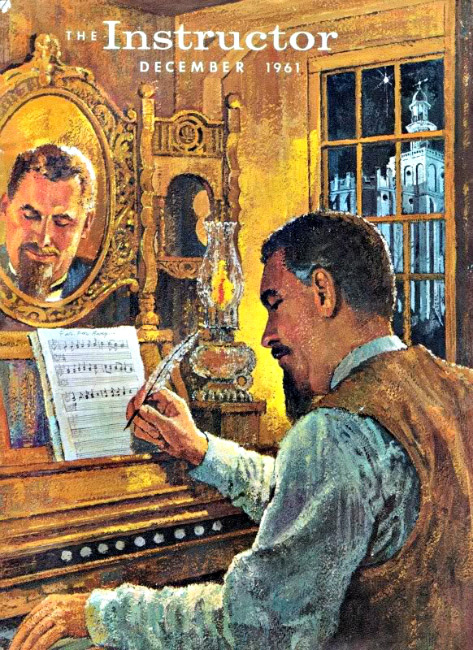 John took the song to Charles for review, and after Charles' delightful response, John signed both of their names to the finished copy. Charles declined the honor saying he hadn't contributed to the piece, so the song became John's work alone.
The Christmas concert, held in the basement of the St. George Tabernacle, was a huge success.
Both John and Charles expected the song to be performed and then kind of fade away, like many of their other songs. (Notably, LDS congregations still sing their song "Dearest Children, God Is Near You".)
But "Far, Far Away on Judea's Plains" didn't fade away. Choirs performed the song annually, and people requested copies of the song throughout the Mormon territories.
Finally "Far, Far Away on Judea's Plains" was officially published in The Juvenile Instructor twenty years after its composition on December 15, 1889.
In 1896, four years after his death, John M. Macfarlane's Christmas song made its way into the LDS Hymn Book.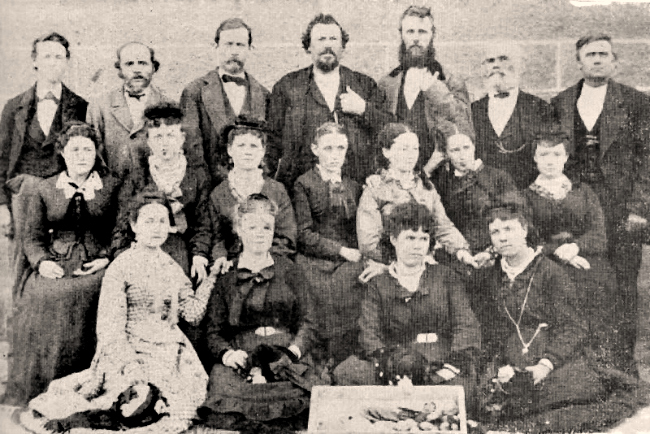 Far, Far Away on Judea's Plains by John Menzie Macfarlane

[quote_box_right]

Far, far away on Judea's plains,
Shepherds of old heard the joyous strains:
Glory to God, Glory to God,
Glory to God in the highest.
Peace on earth, good will to men!
Peace on earth, good will to men!

Sweet are these strains of redeeming love,
Message of mercy from heaven above,
Glory to God, Glory to God,
Glory to God in the highest.
Peace on earth, good will to men!
Peace on earth, good will to men!

Lord, with the angels we too would rejoice,
Help us to sing with the heart and voice,
Glory to God, Glory to God,
Glory to God in the highest.
Peace on earth, good will to men!
Peace on earth, good will to men!

Hasten the time when, from every clime,
Men shall unite in the strains sublime,
Glory to God, Glory to God,
Glory to God in the highest.
Peace on earth, good will to men!
Peace on earth, good will to men![/quote_box_right]
**************************************
Joy To The World
At the end of the 20th century, "Joy To The World" was the most published church hymn in North America!
Its poet, Isaac Watts (1674-1748), was born to a dissenting deacon from the Church of England and a Huguenot refugee. The family endured great persecutions for their faith.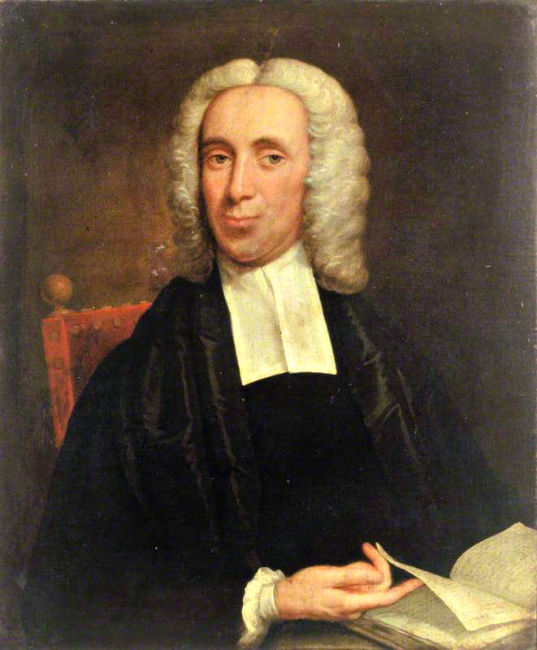 During one Sunday service, 15 year old Isaac complained about the atrocious song worship. Immediately challenged to provide something better, Isaac returned to evening service with a worship hymn.
Behold the glories of the Lamb
Amidst His Father's throne;
Prepare new honors for His name,
And songs before unknown.
Thus began his prolific hymn writing career. He paraphrased Psalms in New Testatmental language and created over 700 hymns.
While able to sublimely express his worship to God, suffering epitomized Isaac's mortal life.
Childhood sickness stunted his growth to 5 feet. He remained weak and sickly throughout his life. Apparently his head was disproportionately large for his body.
When he finally met and proposed to his pen pal soul mate, she refused him by saying she loved the "jewel" but couldn't get passed the "case" that held it.
Full of faith, Isaac wrote "I am persuaded, that in a future state we shall take a sweet review of those scenes of providence, which have been involved in the thickest darkness, and trace those footsteps of God when he walked with us through deepest waters. This will be a surprising delight . . . to have those perplexing riddles laid open to the eyes of our souls, and read the full meaning of them in set characters of wisdom and grace."
Isaac penned "Joy to the World" as a song of rejoicing anticipating the earthly reign of Jesus Christ and each individual's salvation through Him.
Originally titled, "The Messiah's Coming and Kingdom," the song hearkened from Psalm 98
O sing unto the Lord a new song; for he hath done marvellous things: his right hand, and his holy arm, hath gotten him the victory.

The Lord hath made known his salvation: his righteousness hath he openly shewed in the sight of the heathen.

He hath remembered his mercy and his truth toward the house of Israel: all the ends of the earth have seen the salvation of our God.

Make a joyful noise unto the Lord, all the earth: make a loud noise, and rejoice, and sing praise.

Before the Lord; for he cometh to judge the earth: with righteousness shall he judge the world, and the people with equity (Psalms 98:1-4, 9).
"Joy To the World" was sung to a variety of tunes, and not particularly as a Christmas hymn (it is without any mention of angels, shepherds, mangers, or  Mary and Joseph), until 1839 when banker turned church musician Lowell Mason (1792-1872) arranged the lyrics to an adaptation of a melody from Handel's Messiah.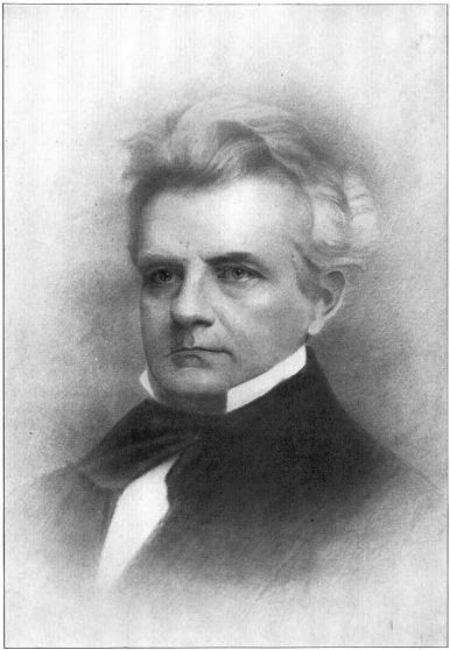 In 1853, Lowell became the music director for a Presbyterian church, where he immediately disbanded the choir and orchestra and installed an organ, initiating congregational singing.  He composed over 1600 hymn tunes including "Nearer, My God, to Thee". Lowell is also largely credited as the father of music education for introducing music into American public schools.
"Joy To The World" in the LDS Hymnal
Latter-day Saints sing a version of "Joy To the World" modified by W. W. Phelps reflecting their millennial expectation and theology. The 1985 hymnal replaced the first two lines of Phelps' adjusted words with Watt's original phrases.
 Side-by-Side Lyrics of Phelps and Watts
The changes were made by W. W. Phelps from the original version written by Isaac Watts.
Phelps Adaptation                                 Watts Original
Joy to the world! the Lord will come!                        Joy to the world, the Lord is come!
And earth receive her King;                                             Let earth receive her King;
Let ev'ry heart prepare him room,                              Let every heart prepare Him room,
And saints and angels sing.                                                And heaven and nature sing.
Rejoice! rejoice! when Jesus reigns!                           Joy to the world, the Savior reigns!
And saints their songs employ:                                       Let men their songs employ;
While fields and floods, rocks, hills and plains,   While fields and floods, rocks, hills and plains
Repeat the sounding joy.                                                    Repeat the sounding joy.
No more will sin and sorrow grow,                           No more let sins and sorrows grow,
Nor thorns infest the ground;                                        Nor thorns infest the ground;
He'll come and make the blessings flow                   He comes to make His blessings flow
Far as the curse was found.                                             Far as the curse is found.
Rejoice! rejoice! in the Most High,                             He rules the world with truth and grace,
While Israel spreads abroad,                                        And makes the nations prove             
Like stars that glitter in the sky,                                    The glories of His righteousness,       
And ever worship God.                                                     And wonders of His love.        
**************************************
Once in Royal David's City
Irish born poetess Cecil Frances Humphreys Alexander (1818-1895) became so proficient at composing verses, that at age 22 several of her hymns were published in the Church of Ireland's hymnal.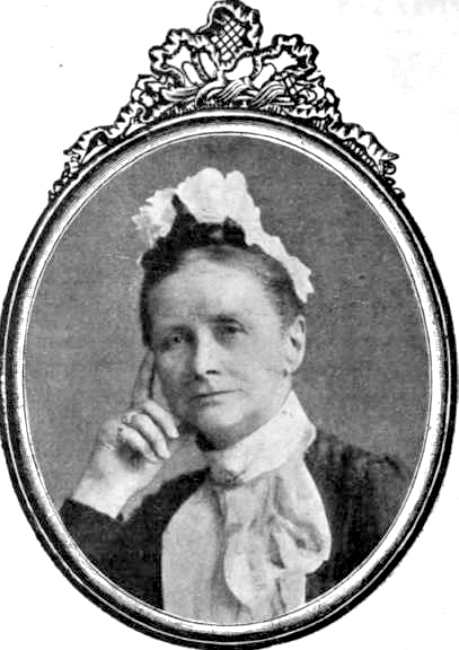 In 1848, after publishing her first hymnal, Cecil married William Alexander who eventually became archbishop of the Church of Ireland.
Inspired to share doctrines of faith with children, Cecil penned simple but powerful verses enabling anyone to understand their meaning. She is credited with writing 400 hymns. She wrote "There Is a Green Hill Far Away," "All Things Bright and Beautiful," and "He is Risen!"
In 1848, Cecil first published "Once in Royal David's City" in her Hymns for Little Children.  Its six stanza's meant to teach the catechism, depicted the Savior's entire boyhood. Her text described a realistic Nativity scene of a weak and helpless baby and encouraged children to be obedient like Jesus.
Gifted organist, lawyer, author, and organ designer Henry John Gauntlett set the verses of "Once in Royal David's City" to music in 1849. It was still sung to a variety of tunes until 1868.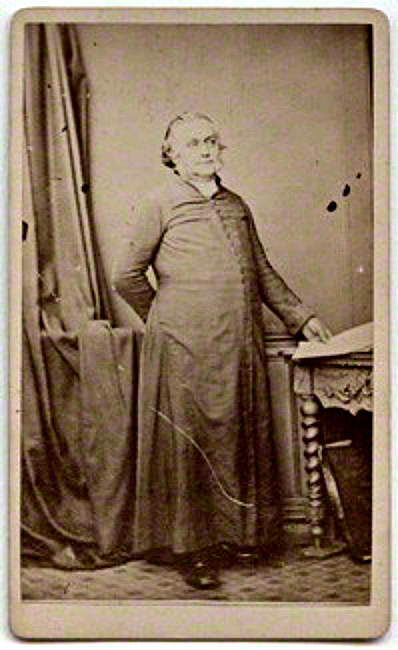 Henry John Gauntlett (1805-1876) composed thousands of hymn tunes and revolutionized conventional organ design by patenting electricity to power the organ and  extending the pedal compass. Mendelssohn picked Henry as organist for Elijah's premiere performance.
Henry also creating four-part hymn tunes which dramatically impacted church music.
In the Latter-day Saint Hymnal
The Latter-day Saint hymnal uses verses 1, 2, and 5 of Cecil Alexander's "Once in Royal David's City."
[quote_box_right]
1. Once in royal David's city
Stood a lowly cattle shed,
Where a mother laid her Baby
In a manger for His bed:
Mary was that mother mild,
Jesus Christ her little Child.

2. He came down to earth from heaven,
Who is God and Lord of all,
And His shelter was a stable,
And His cradle was a stall;
With the poor, and mean, and lowly,
Lived on earth our Savior holy.

3. And through all His wondrous childhood
He would honor and obey,
Love and watch the lowly maiden,
In whose gentle arms He lay:
Christian children all must be
Mild, obedient, good as He.

4. For he is our childhood's pattern;
Day by day, like us He grew;
He was little, weak and helpless,
Tears and smiles like us He knew;
And He feeleth for our sadness,
And He shareth in our gladness.

5. And our eyes at last shall see Him,
Through His own redeeming love;
For that Child so dear and gentle
Is our Lord in heaven above,
And He leads His children on
To the place where He is gone.

6. Not in that poor lowly stable,
With the oxen standing by,
We shall see Him; but in heaven,
Set at God's right hand on high;
Where like stars His children crowned
All in white shall wait around.

[/quote_box_right]
*******************************************