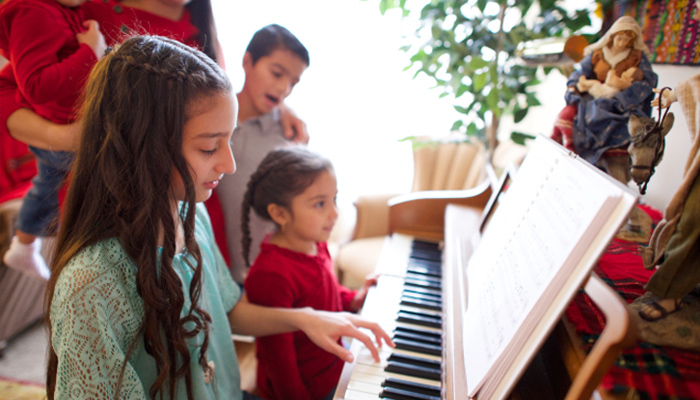 You probably love Christmas music. But that doesn't necessarily mean you love everything about Christmas music. Here at Mormon Hub, we've done what we can to help solve your Christmas dilemmas with our three Christmas music playlists. And we've given you two ways to listen. We have the full playlists on Spotify, you can see them below, but, you'll need a free account with Spotify. Or you can listen via YouTube. It's missing a few songs, but there's no signup required.
Problem #1: They Keep Playing the Same Christmas Songs Over and Over
We've got you covered on this one. Here are nine complete hours of Christmas music, without two versions of the same song ever coming up! We've included excellent covers of traditional Christmas songs, as well as many of your new favorites. We've also unearthed some of the best hidden Christmas song gems that deserve your ear, such as "Christ was Born on Christmas Morn" by the Cotton Top Singers. Then we added the best new Christmas music from the last few years. Let us recommend, in particular, "Sparrow in the Birch" by the Crofts family.
Problem #2: Christmas Music is So Slow
Perhaps you're not looking for a playlist to listen to, exactly, you're looking more for a playlist you can move to. Just because you want to dance around the kitchen while making Christmas cookies doesn't mean you can't keep listening to Christmas music, as this playlist proves. We've mixed up both new dance songs with older selections. If you haven't heard it before, make sure to listen to Elton John's "Step into Christmas."
Problem #3: Christmas Music is Too Secular
Are you ready to burst at the fifth straight Christmas song about what someone wants for Christmas? And while seasonal songs are fine, don't you occasionally just want to focus on the Savior who is the entire purpose behind celebrating Christmas to begin with? We've identified some of the most impressive renditions of 37 sacred Christmas hymns, including each Christmas song in the hymnbook and other favorites such as "O Holy Night" and "Mary Did You Know." Which of your favorite Christmas songs did we miss? How do you best enjoy Christmas music? Let us know in the comments.