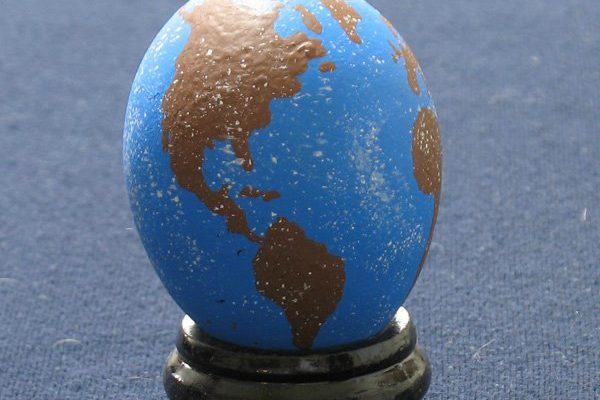 Romania
Not only are Romanian Easter eggs some of the most beautiful, each design hold symbolism and meaning in it.
Most of the eggs are colored red to remember Christ's crucifixion and each pattern, in ancient times, was believed to hold a magical power and protect from different forms of evil.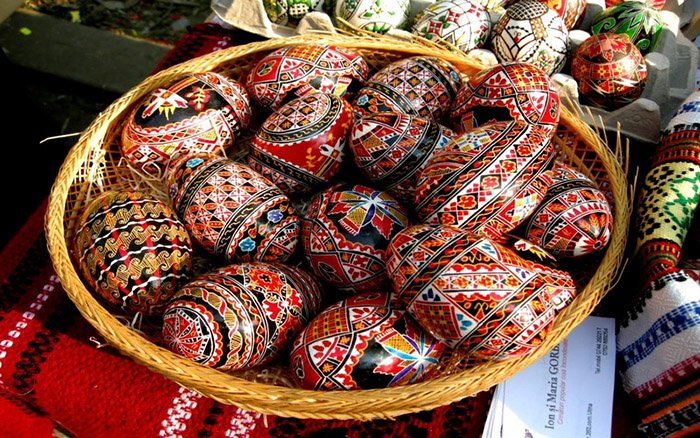 Greece
Though members of the Greek Orthodox faith celebrate Easter on a different schedule than Christians in the West do, they still hold the tradition of dying eggs.
In Greece, these hollowed eggs represent the empty rock tomb from which Christ arose. Similar to the Romanian tradition, the Greek also typically dye their eggs a vibrant red to represent the blood of Christ.
Germany
One fun fact about the German culture: the idea of a hare that laid eggs originated from German immigrants. They called it a "Osterhase" or "Oschter Haws" and their children would usually build a nest for it to lay its eggs in and leave carrots out for it, in case the rabbit got hungry.  
Germany's detailed eggs are said to symbolize new life, while also marking the end of Lenten season, because the consumption of eggs is ultimately forbidden during that period of fasting.
Switzerland
The custom of egg-cracking is pretty popular in Switzerland. This game is called "Zwcinzgerie" in which the adults hold a coin and try to crack the hard-boiled egg their children throw from a reasonable distance.
If the adults miss, then the children get to keep the coin. If the adults crack the egg, then they get to keep the coin and the boiled egg.
As far as their designs go, the Swiss typically enjoy using pieces of nature to create their Easter egg designs. Using onion skins and vinegar for coloring and flowers and other plants to make imprints on the shell, these organic designs turn out to be some of the most unique.
Italy
In the Italian culture, decorating eggs is very similar to the Switzerland culture, using beets, carrots, onions and a variety of plants to dye and create designs on their eggs.
However, over time, the chocolate egg has almost taken over the dyed egg. During Easter, all of the pastry-shop windows are lined with elaborately designed chocolate eggs along with the words, "Buona Pasqua" on them.
Certain chocolate eggs actually hold a surprise inside ranging from a small toy to as large as a bottle of wine.
 Poland
The Polish take Easter Egg dying very seriously. They have six different kinds of Easter egg decorations:
Pisanki — "written" eggs; dyed with batik process
Kraszanki — solid color eggs dyed with plant materials
Malowanki — hand painted eggs
Drapanki — solid color eggs with design scratched in surface
Wyklejanki — eggs decorated with bull-rush pith & yarn
Nalepianki — eggs with paper cut-outs or straw glued to them
Women traditionally are the ones who decorate the eggs, because they believe men bring bad luck.
The egg in the picture below is decorated in the naklejanki style.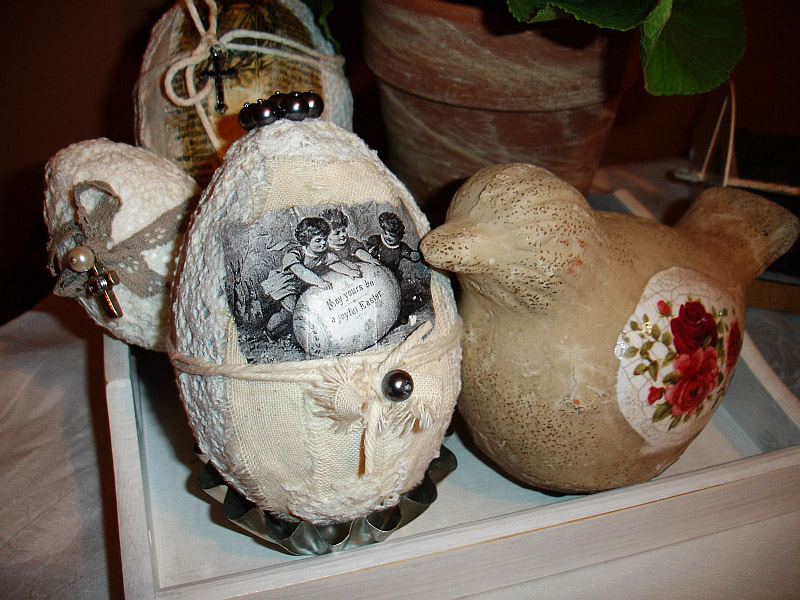 France
In some areas of France, it was believed that if you did not eat eggs on Easter, you would be bitten by a snake. Other areas celebrate with huge carnivals that parade down the street (such as in Nice), and silence the bells the Thursday before "Good Friday" in remembrance of Christ's death.
Like the Italian culture, French chocolatiers have created a tradition of making ornamental eggs so beautiful that they are given as gifts and are so beautiful that they are used as decoration rather than eaten.
United Kingdom
On Easter Sunday in the UK, nearly all businesses and shops are closed and some even hold public Easter egg hunts and competitions. A big activity throughout the UK is the egg roll, where kids roll decorated, hard-boiled eggs down a grass hill (symbolizing the rolling of the stone on Christ's tomb), and whoever reaches the end first, wins.
London is known for holding a huge Easter parade in Battersea Park. While the Scottish like to eat fondant-filled chocolate eggs that have been deep-fried in batter. Like the Italian culture, eggs in the UK are typically hollow chocolate eggs that have been filled with candy or bonbons.  They are then packaged in fancy gift-wrapped boxes. 
Which eggs are your favorite? Comment down below.