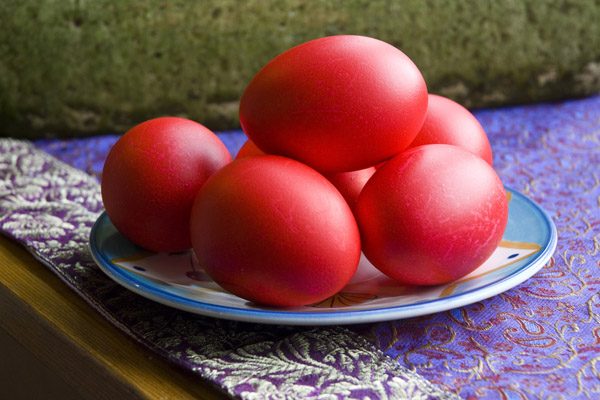 Members of The Church of Jesus Christ of Latter-day Saints, are Christians who celebrate Easter, remembering that Christ rose from the dead, thus guaranteeing the gift of resurrection, and therefore immortality, for all living things.  Although Mormons are influenced by the holiday traditions of the cultures in which they live, the resurrection of Christ is always the center of the holiday.
Our family has had some rather unique experiences, and a unique heritage.  I am of Jewish descent and tradition, while my husband's ancestors came from the British Isles and were early converts to The Church of Jesus Christ.  They were Mormon pioneers, and my husband was born and raised in the Church.  We are Americans, but we have lived and raised our family in America, Israel, Cyprus, and Ireland.  We have gathered cultural traditions from all of those places, but we make room especially for the Jewish traditions of the season.  We celebrate a "Messianic Passover," wherein the Passover symbolism testifies of Christ.  Having written a book on the subject, I guide these Passover celebrations.  They are a favorite family time.  We also celebrate Easter, so we have two feasts, both centered on Jesus Christ.
Greek Easter Recipes
When we lived in Cyprus, we discovered that Easter is a larger celebration than Christmas!  We loved Greek Easter.  We learned to dye our hard-boiled Easter eggs blood-red by boiling them with onion skins and a bit of vinegar.  The following recipe is from about.com.
Greek Easter Eggs
1.      In a stainless saucepan, place skins of 15 yellow (Spanish) onions and 2 tablespoons of white vinegar in 4 1/2 cups of water and bring to a boil. Lower heat and simmer, covered, for 30 minutes.
2.      Strain dye into a glass bowl, and let cool to room temperature. (Don't be fooled by the orange color.)
3.      In a stainless saucepan (around 8 1/4 inches in diameter), add the cooled strained dye and eggs at room temperature (up to 1 dozen). The eggs should be in one layer and covered by the dye.
4.      Bring to a boil over medium heat. When boiling, reduce heat to low, cover, and simmer.
5.      Dyeing time will be affected by the color of the eggs. Start checking for color at 12-15 minutes. Do not simmer longer than 20 minutes (see step 9 if they aren't red enough).
6.      When eggs are the right color, proceed to step 10.
7.      If eggs are not a red enough color after 20 minutes, leave in the pot and remove from heat. When the pot as cooled enough, place in refrigerator and let sit until desired color is reached.
8.      Remove eggs with a slotted spoon and cool on racks.
9.      When they can be handled, coat lightly with olive (or other edible) oil and polish with paper toweling.
10.   Refrigerate until time to use.
We also love Greek Easter bread, called tsoureki.  This recipe is from Chow.com.
Tsoureki — Greek Easter Bread
·        3/4 cup plus 1 tablespoon whole milk
·        1 (1/4-ounce) packet active dry yeast (2 1/2 teaspoons)
·        4 cups all-purpose flour, plus more for dusting
·        2/3 cup granulated sugar
·        1 teaspoon fine salt
·        1 teaspoon ground mahlepi (optional)
·        1/4 teaspoon pounded mastic crystals (optional)
·        8 tablespoons unsalted butter (1 stick)
·        2 large eggs
·        1 1/2 teaspoons finely grated orange zest (from about 1 orange)
·        1 red-dyed hard-boiled egg (optional)
·        1 large egg yolk
·        1/3 cup sliced almonds, toasted
 INSTRUCTIONS
1.   In a small saucepan, heat 3/4 cup of the milk until warm to the touch but not hot (about 105°F to 115°F on an instant-read thermometer). Transfer the warm milk to a large bowl and sprinkle the yeast on top. Set aside for about 15 minutes to activate the yeast.
2.   Sift the flour, sugar, salt, mahlepi (if using), and mastic (if using) together into a large bowl; set aside.
3.   In a small saucepan, melt 7 tablespoons of the butter. Let the butter cool, then transfer to a medium bowl. Add the eggs and orange zest and beat together. Stir the egg mixture into the yeast mixture until combined.
4.   Using a spoon, stir the flour mixture into the yeast-egg mixture until combined. Turn the dough onto a floured work surface and knead until smooth, flouring your hands and the surface as needed, about 10 minutes.
5.   Coat a baking sheet and a 16-inch piece of plastic wrap with the remaining 1 tablespoon butter. Set the dough on the baking sheet and cover it with the plastic wrap, butter side down. Let rise in a warm place until doubled in size, about 2 hours.
6.   Remove the plastic wrap and set it aside. Divide the dough into 3 equal pieces (about 12 ounces each). Roll the pieces into 1-1/4-by-16-1/2-inch ropes. Pinch all 3 pieces together on one end to secure, then braid the ropes, entwining the red hard-boiled egg (if using) into the bread. Pinch the other end of the ropes together to secure the braid. Set the braided dough on the prepared baking sheet, cover with the buttered plastic wrap (butter side down), and let rise in a warm place until doubled in size, about 1 hour. Meanwhile, heat the oven to 350°F and arrange a rack in the middle.
7.   In a small bowl, beat together the egg yolk and remaining 1 tablespoon milk. With a pastry brush, evenly brush the egg mixture over the risen dough, then sprinkle the almonds over top, pressing the nuts gently into the dough. Bake until the bread is browned and the internal temperature reaches 190°F on an instant-read thermometer, about 30 minutes. Let cool before serving.
Jewish Passover Recipe
Honestly, and maybe embarrassingly, we usually have ham for Easter after keeping fairly kosher on Passover.  For Passover, we eat unleavened bread (matzah) and traditional Passover foods.  This recipe for Potato Kugel is one of our favorites of the season:
 Potato Kugel
¼ cup potato starch
¼ cup oil or melted margarine
1 (abt. 20 oz) package frozen potato shreds, thawed
3 large eggs, beaten
1 large onion, grated
2 tsp salt
½ tsp pepper
Combine and pour into an oiled 13 x 9" baking dish.  Bake for 1 hour at 375 degrees or until golden brown.