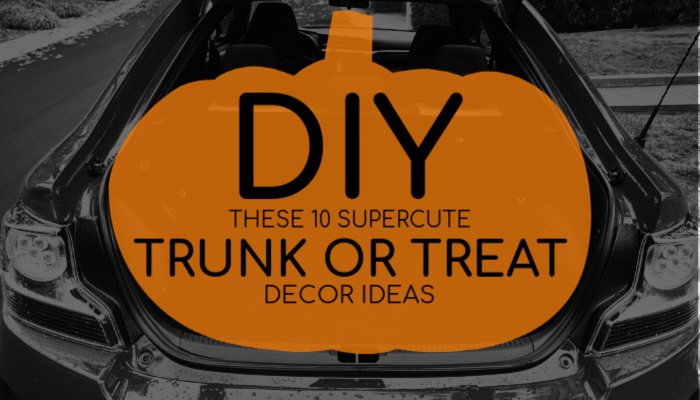 With the traditional ward Trunk-or-Treat just around the corner, here are some ideas (along with lists of decor items needed) to spark your imagination.
Here's to a first place award this year!
Hawaii Five-Oh!
Hula skirts
Hawaiian print fabric
Luau decor
Paper lanterns
Tiki masks/decorations
Blow-up palm trees (could also use cardboard cut-outs)
Additions not pictured in photo: Cardboard cut out and painted to look like a surfboard, flip flops, beach towels with a Hawaiian theme


---
The Mouse is in the House (or the car)!
Black plastic tablecloth
Red plastic tablecloth
Black butcher paper or cardboard cut into two large circles/top of head
Yellow butcher paper cut into buttons and shoes
White butcher paper cut into white gloves


---
Welcome, Great Pumpkin!
Black fabric or black plastic tablecloth
Large paper cut outs of Snoopy characters (can be done on posterboard)
Large white paper moon cutout with Snoopy silhouette
Star cut outs for black background
Various pumpkins of all shapes and sizes
Fake foliage to create pumpkin vines (ivy garland works well)
Sign that says 'WELCOME, GREAT PUMPKIN!"
White fabric draped over buckets or stools that appear like little children dressed up as ghosts
1 cute little kid in a Charlie Brown costume


---
Giant Bubble Gum Machine
Sheet of white clear plastic (usually found in hardware store)
Two pieces of cardboard painted red to become top and bottom of bubble gum machine
LOTS of balloons to be giant pieces of bubble gum
Cardboard pieces painted silver or covered in foil for coin and part of bubble gum machine


---
Purple People Eater
Note: This could really be any color monster you would like.
Several plastic tablecloths
Feather boa
Two white balloons for eyeballs (black pupil colored in)
Red tablecloth for tongue
Tissue paper flowers/pompoms
Foil fringe (party decor)
Triangle-shaped teeth cut out of white posterboard


---
Lego Mania!
Plastic tablecloths for background
Giant Lego head container for candy (can also spray paint a glass jar with lid to look similar)
Cardboard cutouts of Lego figures (can order on party store websites) or create your own with cardboard and paint
Cardboard boxes with plastic bowls glued on top and spray-painted to look like Legos


---
Holy Trunk or Treat, Batman!
Three-panel display board (like the kind used for science fairs) painted with city skyline and Bat Signal OR black plastic tablecloth to look like night sky
Several tall, skinny boxes painted to look like city buildings at night
Superhero sayings printed on cardstock


---
Anybody Want a Cookie?!
Blue plastic tablecloths or tarps
White cardboard cutouts for eyes
Brown cardboard cutouts for cookies


---
Candyland
Paper squares of various colors for Candyland path
Buckets or bowls spray painted to look like gumdrops
Cardboard cutouts to look like game pieces
Plastic tablecloths in bright colors to create background
Mylar balloons that look like candy OR balloons/cardboard cutouts wrapped in plastic cellophane to look like hard candy or lollipops
Foil-wrapped buckets or large bowls shaped to look like a Hershey's kiss
Posterboard with lettering similar to Candyland game


---
Finding Nemo
Lots of blue plastic tablecloths or tarps for water
Blue/aqua streamers or strips of cloth
Blue/aqua balloons
Cardboard cutouts or stuffed animals of Nemo and friends
Green streamers for seaweed


---
More Trunk or Treat inspiration for you:
Trunk or Treat Ideas for Halloween – From The Dating Divas
50 Trunk-or-Treat Decorating Ideas You Wish You Had Time For
20 Clever Trunk Or Treat Ideas To Copy This Halloween
Trunk-or-Treat Ideas | POPSUGAR Family
---