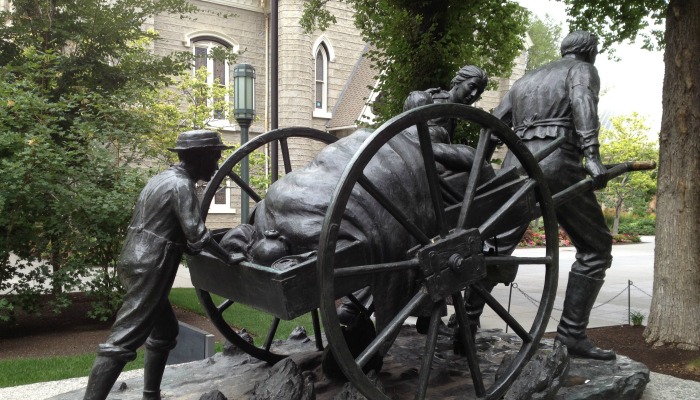 1. Make Pioneer Taffy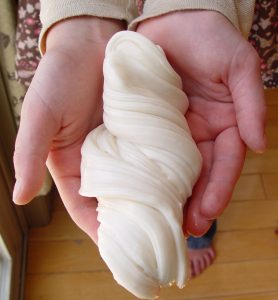 Good old-fashioned pioneer sweets did not come from Walmart. A little muscle and some teamwork make this Pioneer Day activity fun for all ages! Of course, the tasty reward at the end makes the hard work worth it. Jamie from the blog Jamie Cooks it Up gives some pro advice on taffy-making here.
2. Play Pioneer Games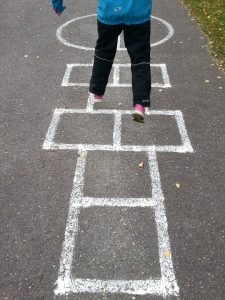 Put away the X-box and unplug the Wifi—it's time for some screen-free fun and games! Play an old classic like tag, hopscotch or leapfrog. Or learn a new "old" activity like rolling the hoop, marbles, or Cat's Cradle. Here's a list of outdoor and indoor pioneer games for inspiration:
Rolling the Hoop
Potato Sack Races
Cat's Cradle
Ring Toss
Checkers
Ball and Jacks
Marbles
The following link gives instructions on how to play many of the more unfamiliar games:
http://historicthedalles.org/schoolhouse/childrens-games/
3. Make Pioneer Toys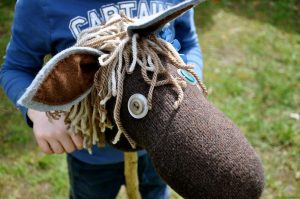 Once your kids have gotten over the news that Legos and Barbies have not existed since the beginning of time, show them how pioneer children had to make their own toys most of the time. Here's a really simple low-budget toy for you to try (button and string are all it takes).
4. Create a Covered Wagon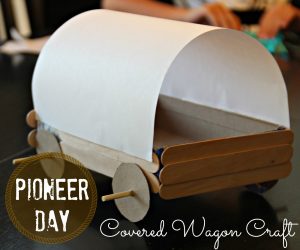 You might not be able to tackle a life-size version of pioneer transport, but some of these smaller replicas use things like recycled boxes, popsicle sticks, and plain white paper so even the littlest crafter can participate:
http://www.elmers.com/projects/project/covered-wagon
http://www.thecraftycrow.net/2011/09/pioneer-crafts-for-kids.html
Then there's our personal favorite, the edible Teddy Bear driven covered wagon treat from mommy blog Alli 'n Sons. Doesn't it look delicious?!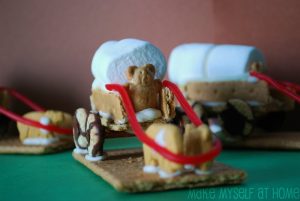 5. Visit This is the Place State Park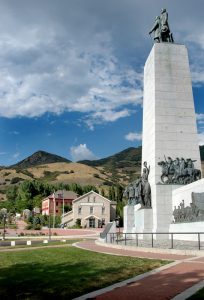 If you leave nearby, This is the Place State Park in Utah, a family outing is obviously in order. However, if you are one of the many non-Utah residents who still celebrate Pioneer Day, no worries. Thanks to modern technology, you can visit the park via technology.
The park's official website provides a virtual tour here.
Or you can check out the YouTube videos below. Most of them were created by amateur videographers, but they still provide a fun look at pioneer life as replicated by the environment and "pioneer" actors.
6. Dress Like a Pioneer
What child doesn't love to dress up? Make celebrating Pioneer Day even more fun with period-appropriate garb.
A variety of DIY pioneer girls' costumes (including bonnets and skirts) can be found online. Here's a cute pattern from the blog Make It, Love It. Or you can go the no-sewing route with an even easier bonnet here.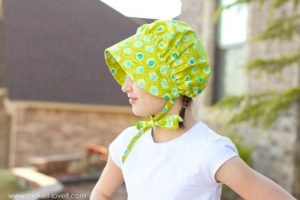 Not sure how to dress your pioneer boy? Here's a great link with instructions on how to do a full costume—from the cap to the knickers.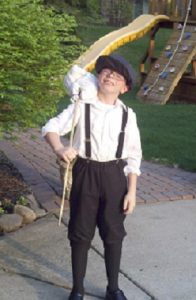 7. Look Up Your Pioneer Ancestors on Family Search
If you come from pioneer stock, or you're not really sure, just go to this special page on the Family Search site that's designed just to help you identify your Mormon pioneer ancestry. The site is designed to show various facts about your pioneer heritage, with names, photos, and details about how and where they traveled.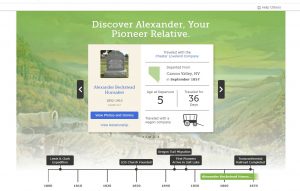 If you don't have any pioneer ancestry, it could be just as fun to discuss how your forebears were pioneers in their own right or even how your family could be compared to the pioneers, as referenced in this article entitled, "Modern-Day Pioneers."
8. Watch the Live Stream Pioneer Day Concert Presented by the Tabernacle Choir and Orchestra at Temple Square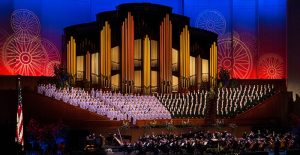 What better way to celebrate Pioneer Day with music? Now you can watch it live on the Tabernacle Choir's YouTube page. The concert is typically held the weekend before July 24, so be sure to check the schedule so you don't miss it!
Pioneer Day is about history, family, faith, and sacrifice, so no matter how you celebrate, be sure you do celebrate the contribution of those who have paved the way for the blessings you enjoy today.