It's pretty certain that you will be playing the White Elephant Game at some point this season. Some people bring actual "white elephants" AKA used objects from your home that no one wants but that could bring a good laugh. But a lot of people either bring candy (always popular) or a newly-purchased gag gift. Some of those gag gifts are too racy for us to recommend, but here are some hilarious and cheap gifts to grab for the occasion.
1. Headband Basketball Game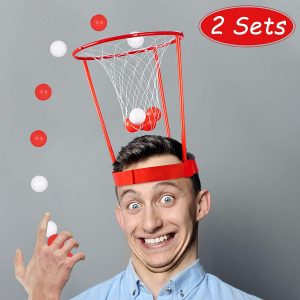 Adjustable to fit adults and children. Comes with two sets: 2 headbands+ 2 hoops + 2 nets + 6 Stent tubes + 10 white balls + 10 red balls. From Amazon.com for $11.99.
---
2. The Original Shave and Play Barbie
---
3. Joke gift box
---
4. The Worst-Case Scenario Survivor's Handbook
---
5. Ugly Christmas Sweater Coloring Book
---
6. Elf Apron
---
7. Rubber Duckie Men's Socks
---
8. Therapy Dough
---
9. Ultimo Game
---
10. Perplexus Maze Game
---
11. Hatch Your Own Spiders Gag Gift
---
12. A **BACON??** Chocolate Bar
---
13. Octopus Hat
---
14. The Screaming Goat
---
15. Animal Paw Print Socks
---
Other gift-giving resources:
20 Great Missionary Christmas Gifts