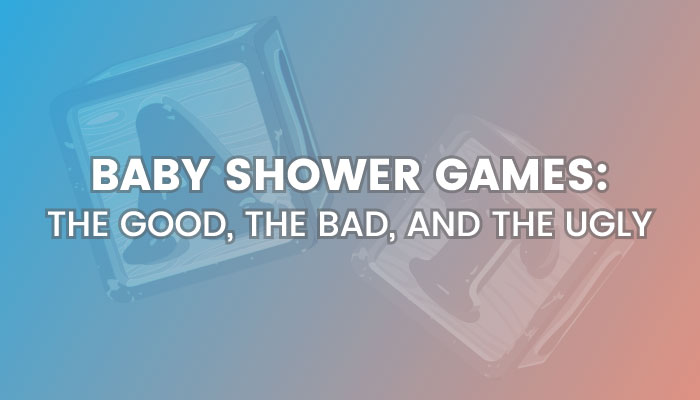 "You are to eat the chocolate pudding without using your hands and whoever finishes first wins!" She said with sardonic glee.
"Wait, you want me to what?"
"Hold the diaper to your face and eat the pudding without using your hands."
No.
JUST. NO.
No scented candle game prize is worth the indignant act of shoveling pudding out of a diaper into my carefully lip-sticked mouth, no matter how big the candle is.
Give me Bingo, give me jumbled baby words, but do not expect a room full of women to participate in your sadistic shenanigans.
I can see it now — a usually bright, chipper and thoughtful woman outlining the ultimate revenge game plan to get back at all the other times she's had to play inhumane baby shower games.
It's a senseless circle that needs to be destroyed.
The whole idea of throwing a baby shower is to help the new mother out with cute gifts and motherly advice (all the while neglecting to inform her of the impending doom reality).
And cake.
Really, for me, it's all about the cake.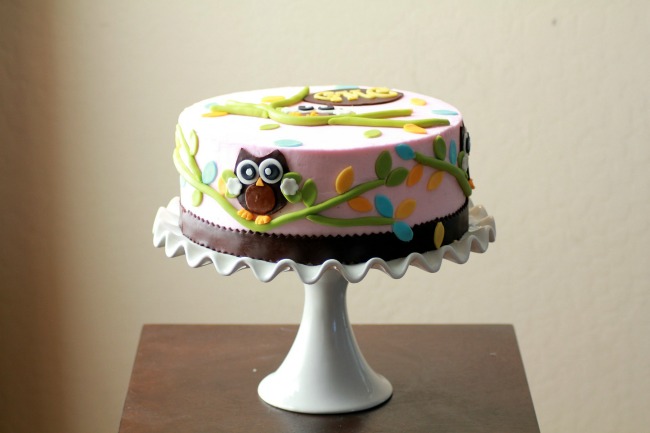 Baby shower games have their place in society: ice breakers to quell the social awkwardness and keep unruly women like myself from the drop-and-go: dropping off a gift, grabbing cake, and dashing out under 2 minutes.
When did these simple and sweet games of unscrambling words and guessing the lullaby become complicated, sweat-fueled competitions? I'd rather lose than "win" pretty hand soap for having pudding all over my face. The irony is not lost on me.
My gift to humanity: I've scientifically gathered intel from my Facebook friends about the worst baby shower games they've ever had to endure. I don't know what's more disparaging: the games themselves or the questionable women who play them. This is a wee bit harsh — but I say it out of love and concern for all involved.
So unless you're an inimical competitor who has stock in Jell-O Pudding, here are my systematic findings complete with tried and true solutions to end these capricious catastrophes once and for all.
The Worst Games: Have We no Shame?
Guess the candy in the diaper: Sure, the melted Symphony bar and peanut butter cups are a bit unassuming but when you melt a Baby Ruth or Snickers, the peanuts make for a very suspicious and all-too-real depiction of bodily waste that shouldn't be passed around woman to woman in an attempt to guess the original form.
No tasting you say?
No problem.
And if that's not frightening enough, I've attended a shower where the hostess put the diaper in the microwave. I'm pretty sure Fire and Brimstone is not the way to start out a baby shower.
Guess the size of her belly. This is where you're given yarn, or string or other materials of enchainment to guess how big the mother's belly is. If you are or ever were a human being the only way to play this is with the "Price is Right" game-show mentality: while everyone over bids, you bid $1. For every 60 inches of string your neighbors' cut — you be the one who keeps it at 20 inches or less. This isn't just humiliating for the already insecure mother-to-be who can't even see the tips of her shoes, it's also a vindictive violation leading to all-out warfare. Don't make an 8-month old pregnant woman cry: she'll eat all the cake.
Whoever collects the most clothespins: Everyone is given a clothespin and through-out the party if you say "baby" or cross your legs or breathe the woman who catches you gets to take your clothespin. The one with the most tattle-telling skills wins. Can't we all just agree to say "baby" as soon as we step through the door and hand the clothespin to a delegated winner so we can enjoy the rest of the party in peace? Unless I'm having a Janet-Jackson-worthy wardrobe malfunction, I do not need all of those clothespins.
"My water broke": Put plastic babies in ice tray of water and freeze. Give each of your friends a cube and have them suck on it till the plastic baby is free from the ice. Then shout out "my water broke." The one and only time I played this they were passing around pregnancy photos of the mommy-to-be and when the stack got to me I almost choked on the ice when I realized they were "artistic nudes." Now, I'm no prude, but the hand-knitted lace tablecloth that your great, great, grandmother carried with her across the plains does not make a convincing toga.
Guess the baby food. This entails unlabeled baby food whose content is determined by either smell, taste, or Jackson Pollack inspired art work. In some variations the

victim

is blind folded — because of course they are.
Why does it have to be baby food? The idea of pureed peas or tofu-turkey wafting under my nostrils is its own form of torture. Why can't it be Hostess snacks instead? Not that I can tell you the difference between Ding Dongs and Ho-Ho's but you have to admit — these are more pleasing to the senses.
Eating chocolate pudding out of a diaper with no hands. There are no words.
Bubble gum babies. You are given bubble gum. You are to chew the bubble gum. Then you remove said bubble gum out of your mouth and play with it just like your momma told you not to when you were three years old. Mold a baby out of bubblegum. The one that looks least like Sloth from "The Goonies" wins.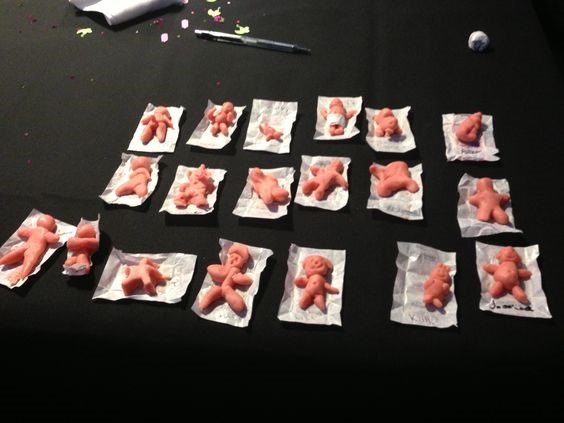 The Less-Invasive Solutions
The Candy game. There are different variations of this classic and tantalizing game. Whether it's rolling the dice for a double and picking candy out of the pot (or stealing from someone else) or choosing from a pile of carefully paper-wrapped wonderfulness — everyone gets to take home candy instead of smelling and staring at its melted form on a diaper. It's Candy Land meets Risk: everyone's a winner except the one left with the pink box of Good and Plenty.
Bingo of the worst baby shower games. You can pull ideas from this very list for your convenience.
Decorate your own cupcakes, or donuts, sugar cookies, Pop Tarts. Really anything that can sustain frosting and sprinkles.
Gift-opener by proxy. This is for all the mom-to-be's that hate being the center of attention and would rather crawl into a hole then open all of those gifts in front of a crowd of baby-hungry women. You have everyone grab a gift they did not bring. Each person gets to take a turn unwrapping a gift on behalf of the expectant mommy. Everyone's a winner — especially the introverted guest of honor who is too exhausted from all of the attention. When I instituted this, much to the appreciation of my friend, one of the guests was an 80-year-old Great Grandma who hadn't opened a baby gift in over 50 years. She was tickled pink to act the part of grateful mommy.
Use introductory ice breakers in lieu of games. There are many noninvasive options that leave the group mingling and laughing with their dignity intact.
My mother has her own loophole where she passes out baby-themed word jumbles, crossword puzzles, word finds and the like at the very beginning to allow the guests to take their time, mingle, cheat, and enjoy each other's company.
All else fails: let them eat cake!
Any abysmal baby shower games you want to complain about? Or do you know some really good ones? Share in the comments below.