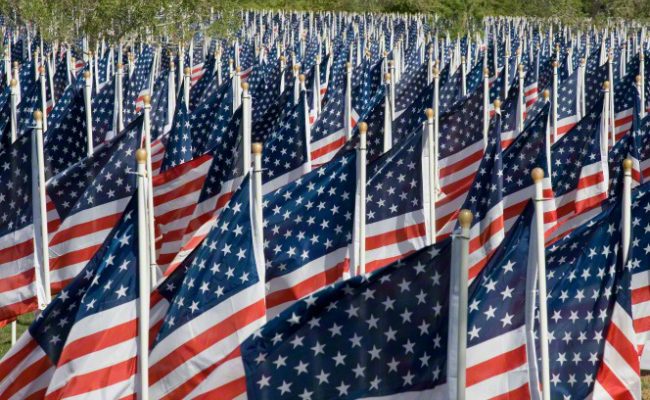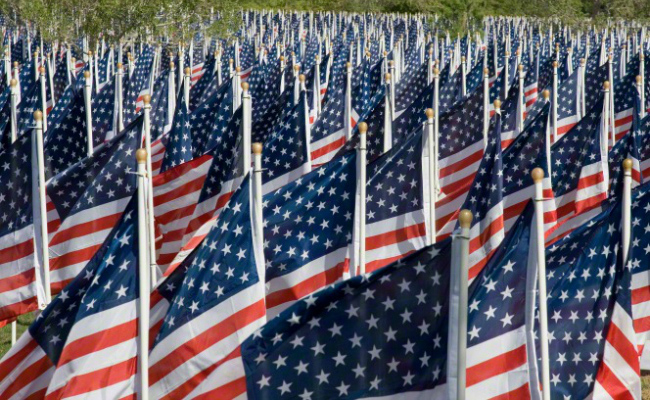 I love this country!! I appreciate and honor the brave men and women who sacrifice all they have and are to serve America!! I especially appreciate my cousins and cousin's spouses who serve today. I grew up hearing stories of my dad's Army experiences in Vietnam and ancestor's battles during the Revolutionary War.  My great uncle Marlin Tanner's plane was shot down in Korea. My great uncle Morris Bushman saw Japan begin its attack on Oahu. While I could share many stories, I would never be qualified to describe the life led by our military. So, I turned to my Uncle Sam (isn't that the greatest name? and yes it is his name and he is my uncle) to share some of his thoughts as a recently retired United States Air Force Colonel.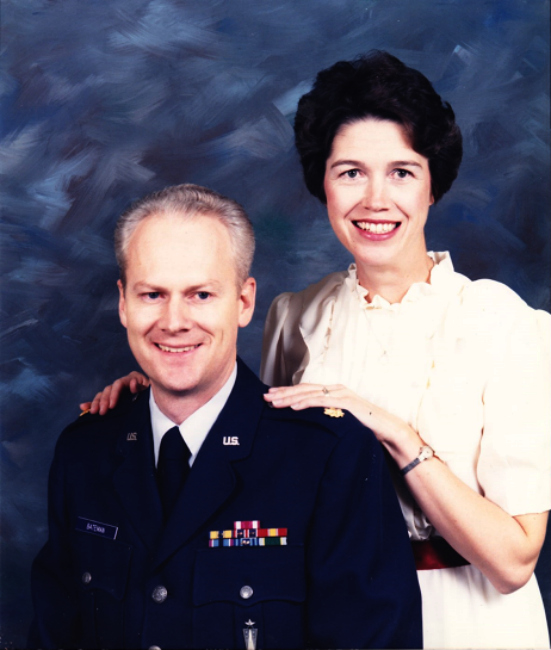 My main questions pertained to his experiences of being a Mormon in the military.
Thoughts of Sam Bateman, Colonel USAF, Retired
I was raised in a strongly patriotic home and learned more patriotism in Boy Scouts. My family honored the flag. My uncle served in World War II in the Navy on a battleship. My dad couldn't pass his physical; but worked in the mines in a job that was considered essential to the war effort. Even from a young age in junior high, I read war novels about the Flying Tigers and anything that had to do with the Air Force. I always felt that I wanted to serve.
After I returned home from my mission and had been married one year, I received a draft notice. I passed the physical; so I needed to decide whether to enlist and go to Vietnam immediately, or go to school to become an officer first.  I applied to the ROTC program at Brigham Young University. They were full and said they weren't accepting new students. When I told them I had been in ROTC at the University of Idaho for two semesters before my mission, the recruiter said I was technically  a transfer student, then—not a new student—so I was accepted.
Choosing the Air Force
I chose to go into the Air Force because in looking at all the branches of service, the Air Force seemed to me to be more family oriented.  The ROTC unit at BYU had a program for wives of cadets to learn about their role in an Air Force career, too, which also proved to be very helpful to us.
I chose Missile Operations as my career field because they offered an MBA at no cost.  We were married and so poor, and I couldn't afford any more schooling unless someone else paid for it, so I went into Missile Ops. at Malmstrom AFB in Great Falls, Montana.  My plan was to stay the required 4 years, get my Masters Degree and then leave—having completed my obligation to serve my country.
The military was a big adjustment for me. I was very active in The Church of Jesus Christ of Latter-day Saints.  A lot of smoking, drinking, and carousing was accepted in the Air Force at that time, and I didn't fit in very well. Another member of the Church—who was a 2nd Lieutenant like me but who had been at the base longer than I—told me things about the Officer's Club that I didn't like.  We led a small revolt by refusing to join the Officer's Club, which was a big deal because they put a lot of pressure on you to join. We talked with a handful of other like-minded Christians, and when the wives of those who belonged to the Officer's Club found out what was going on—things like strip teases–they put their foot down and things changed. My superior officers at that point in time—Majors through Colonels—were not very good role models to me. There was no one I really "wanted to grow up to be like."
Taking the Road Less Traveled
I was told that unless I spent the time to play-the-game and politic, I would never get ahead. As an instructor teaching monthly training, I would do my part and then leave, because I was Young Men's president in our ward and had a growing family and things to do. I didn't stay late for "face time".
After being in the instructor shop for a year and a half it became time for me to become a missile crew commander. At the same time there was an opening for a Missile Procedures Trainer Operator (MPTO). The work hours were more normal, which was important to me because by then I had been called to serve in a bishopric.  Everyone told me, "Only the dregs become MPTOs and if you don't get Crew Commander on your resume then your career is dead." But I kept looking at family time, and time I could spend in my calling, and I decided to become an MPTO. They were really happy down there, because it was hard to get a person with experience like mine.
After four years, when it was nearly time for me to get out of the Air Force, we went back home to Idaho where I interviewed to teach school. I was offered the job; but then we looked at the cut in pay between Captain-in-the-Air Force and first-year-teacher. We were expecting our fifth child and Judy said, "Why don't we stay in one more year…and see what happens?"  So, we stayed, and during that year I was offered a job to teach ROTC at BYU. We spent five years in Great Falls and then three years at BYU.
You Can Live Your Standards
The officers I served with in ROTC were outstanding members of the Church! I got a whole different perspective of men in the military and knew that I would love to grow up to be like any of them. I learned that a person can be an officer in the Air Force, live personal standards, and get ahead in his career. That experience changed my entire perspective.
After three years they asked if I'd like to extend another year. I said I'd actually like to get experience using computer science in Nebraska. They had a slot for an operations type person to work with computers, a Captain slot, so I thought I'd go do that for a couple of years because I hadn't "checked all the boxes" for an upwardly-mobile career path and didn't expect to be advanced to the grade of Major. I thought computer experience would be valuable when I was ready to get out of the Service.
So, I became a Computer Acquisitions Specialist at Offutt AFB in Nebraska. My section was tiny–just myself and two Lieutenants. We were responsible for buying computers for the Missile Warning Display System at four different locations: NORAD, Strategic Air Command Headquarters, the National Military Command Center in the basement of the Pentagon and the Alternate Military Command Center.
Everything I touched seemed to turn to gold. When I called someone, the person was usually there; when I needed a signature, they were there to sign it. So, we were able to process packages for decision-makers in a timely manner, and I attribute this to the fact I was serving as a Bishop, and I needed to leave work on time so I could conduct interviews and be with the youth.
My section had terrific success and we ended-up saving the Air Force millions of dollars. All of this was documented on my annual Officer Evaluation Report which was endorsed by the  Vice Commander of Communications Command. That OER featured prominently in my Majors board; and…to my surprise…I was selected to the grade of Major.
As previously mentioned, I was planning on getting out of the Air Force; so when I made Major, I had to decide if I would accept the rank or just get out.  My dad told me, "Don't burn any bridges. Opportunities will show up. Don't burn any bridges."   If I accepted the rank of major, I would be just eight years away from a 20-year retirement; so, once again, we decided it would be worthwhile to stay.
I Was Greatly Blessed
My job as a Wing Executive  Officer at F.E.Warren AFB required long hours. By then we had seven children…but time was made.  I was the Stake Young Men's president there and just loved it. I know I was being greatly blessed.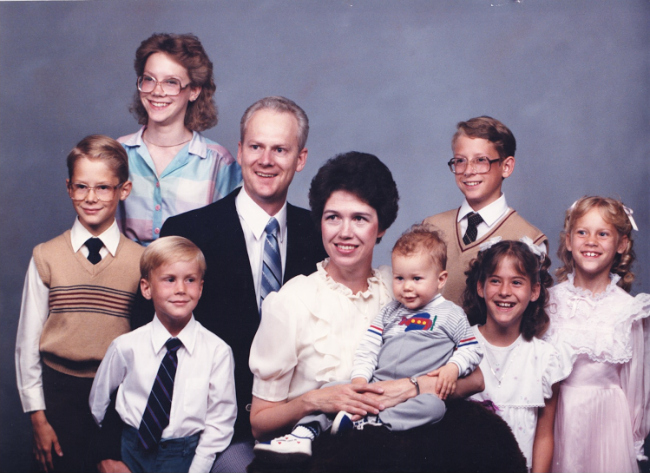 After leaving Wyoming, while serving at the Pentagon, I was made a Lieutenant Colonel. I became a Colonel after serving as a Squadron Commander in Montana, again, at Malmstrom AFB. So I ended-up staying in the Air Force for nearly 30 years.
Our family will ever be grateful for the good people we came to know and love because of our experiences in the military. Even though we didn't move as often as some military folks do, we did uproot our children several times.  Out of necessity, they became each other's support network and to this day they still enjoy a strong sibling-revelry. We discovered that moving from one part of the country to another helped broaden our perspectives by enabling us to meet–and to learn from–many wonderful people we might otherwise not ever have known. We can testify that the Church is true EVERYWHERE.  We are grateful that, because of the retirement the Air Force provides, we have had the resources to serve in the Texas McAllen Mission, the Panama City Temple and in the Chile Rancagua Mission. As long as we can keep our health where it needs to be, we hope to continue to serve.
Living Gospel Standards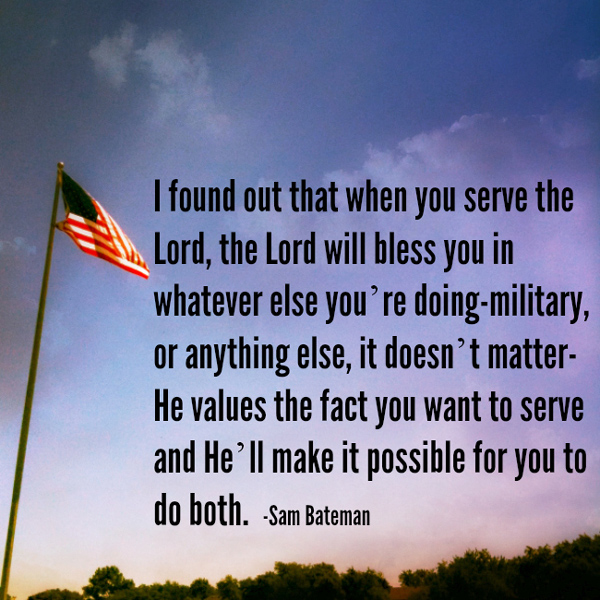 I was at summer camp at Tyndall Air Force base in Panama City, Florida. After four weeks, they have a dinner with formal attire and a speaker and cocktails. So everyone was standing around with cocktails, except me and two other LDS cadets who were standing around with 7-Up. Bernard F. Fisher, LDS Medal of Honor recipient, walked in and was standing there with a 7-Up, too. Later, in his speech, he told the story of the famous rescue.  Experiences like that–of people who live the gospel and are faithful to their covenants and help everyone else–inspire me.
But the opposite occurs too. There were times I could definitely feel persecution because of my beliefs.  Sometimes people are just that way–sometimes on-purpose, and sometimes because of misunderstanding, because I wouldn't do certain things, and they held it against me. But, you know, the Lord makes up the difference.
While I was 2nd Lieutenant at Malmstrom, I was playing center for a basketball team going for the base championship. I went to the coach, who was also LDS but went to a different ward, and asked "Can you have the game changed from Sunday? I won't play on Sunday." He said, "They won't change the date! I'm going to play, and you can play."  I didn't play. They lost the game (which they may or may not have done even if I had played). I saw that man later when I worked at the Pentagon. He had six children, but he didn't know where they were. He was divorced, living with a nurse, and didn't appear to be happy. One decision can make all the difference.
People notice your standards. I remember when my 2nd Crew Commander invited us over for dinner at Thanksgiving time. He called ahead and said, "I know you don't drink alcohol; is ginger ale ok?" I told him it was.
While I was 2nd Lieutenant (low man on the totem pole who gets all the dirty jobs), we had a huge picnic.  They assigned me to get drinks so I bought water and sodas in addition to the usual keg of beer; and, wouldn't you know it, they drank all my sodas and didn't even kill the keg.
In Great Falls, I was pulling alerts and found myself working constantly on Sundays. Because I was an instructor, as well, and had other duties during the week, I only had a few days I could pull alerts. I was always either going out on Sunday or coming back. When I got back from one alert, I went in and looked at my schedule. I asked the scheduler how he was doing, and he wasn't doing well. He said, "I have an open command post (special qualification) tomorrow that I can't fill because of the flu." I said, "Pencil me in." He was surprised and said, "I can't schedule you, you just got back today." Technically, he couldn't schedule me; but I could schedule myself, so I said I would go. After that, he gave me the grease pencil and told me to mark off 4 days a month that I wanted "off"; so I marked off 4 Sundays. He gave me that option every month from then on.
A friend of mine, the Wing Director of Operations, swore every third word. Evidently, I wore my feelings on my sleeve one day, because after a meeting, he said, "Bateman, you seem uncomfortable when I use swear words. I just swear for emphasis." I razzed him by saying, "I always understood that swear words came from people who don't have an educated mind." He graciously acknowledged there may be some truth in that and quipped, "Well, I'll try to clean it up for you."
There are a lot of military officers who lead by dictation – as if only they have all the right answers. I led by Section 121 of the Doctrine and Covenants. People like to be appreciated and valued. They like to be corrected in private and praised in public. I was criticized for that, but I was very successful. I learned how to be an Air Force officer by being a Bishop, not the other way around. I learned how to recognize and act upon promptings of the Spirit. Everything is spiritual to the Lord.
The Lord always opens up opportunities, you just have to grab them. Your prerogatives are your choices and how you react to people.
In Cheyenne, I scored tens all the way down the front of an annual review. I flipped the page over and on the back, in the comment section, the Colonel had written how well I was doing, but included a little comment: "I'm concerned about the time he's spending in downtown activities." (aka church responsibilities). I read that and got a little upset. Half of the base was in my ward. We had a young man and his wife having difficulty and not taking care of base quarters. The 1st Sergeant got involved, and they were going to get kicked out of base housing. The Relief Society president went to help clean. I went over as soon as I could. I didn't have time to change, so I was in uniform on my hands and knees when the 1st Sergeant arrived thirty minutes early.  He walked in, saw me and walked right back outside. He wouldn't come back into to the house while I was in there. We finished by the appointed time, and I left. The Colonel had heard about this and other cases where I was serving for the church. I asked if we could discuss this comment. He said absolutely. I said, "I see from the front of this that you think I'm doing a good job." "Yes," he said.  "Well, as I read this one comment, I have to ask: "If I go downtown to serve in some capacity, can I be two different people?" "Well, I guess not." "Do you think I could give them less than I give you?" He took the review back and drew lines through the comment.
I found out that you can serve the Lord and the Lord will bless you in whatever you're doing—military, or anything, it doesn't matter.  He values the fact you want to serve and He'll make it possible for you to do both.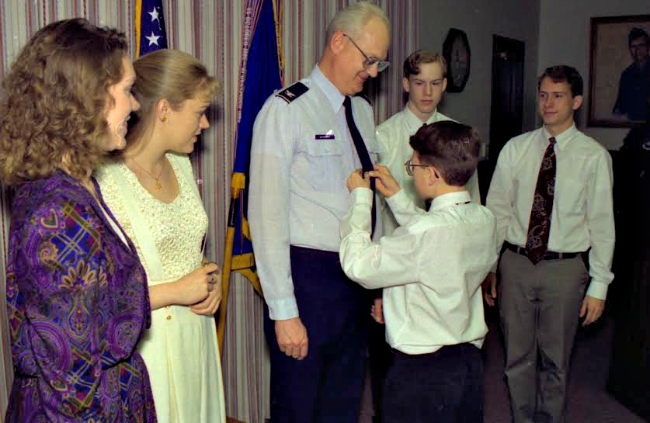 Advice for New Recruits
When I was the recruiting officer at BYU, I encouraged cadets to serve missions first, telling them that returned missionaries make better officers. 85% of the freshmen in my classes went on missions. When we were stationed at Peterson Air Force Base, we lived at the Air Force Academy, and I served as a high councilor over a single adult branch that supported the Academy. All of the Elder's Quorum presidency and a lot of the leaders were cadets at the Air Force Academy. I'd meet with them to plan activities. These young men were outstanding cadets and became great officers. The returned missionaries, especially, were terrific leaders, because they were more mature.  It is interesting to note that both the Cadet Commander at the Academy and the Senior Midshipman at the Naval Academy at that time were returned missionaries.
The military relations program, available online at churchofjesuschrist.org and through local wards and branches, helps ensure that the blessings of Church participation are available to members who serve in the military.