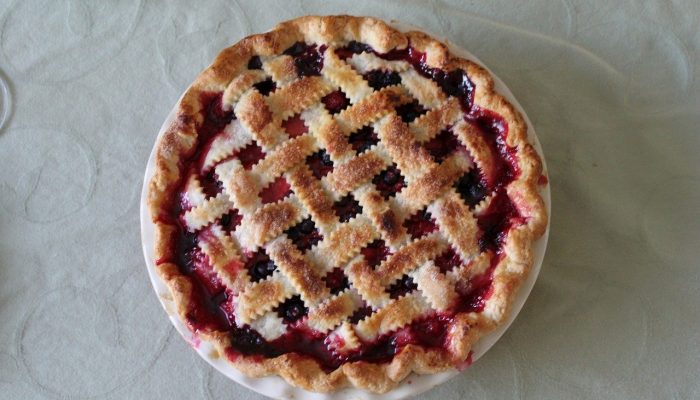 Happy Pi Day! March 14, or 3.14, has been declared Pi Day to celebrate the number pi (3.1415…). So here are some of our favorite pie recipes to help you celebrate that ridiculously long number.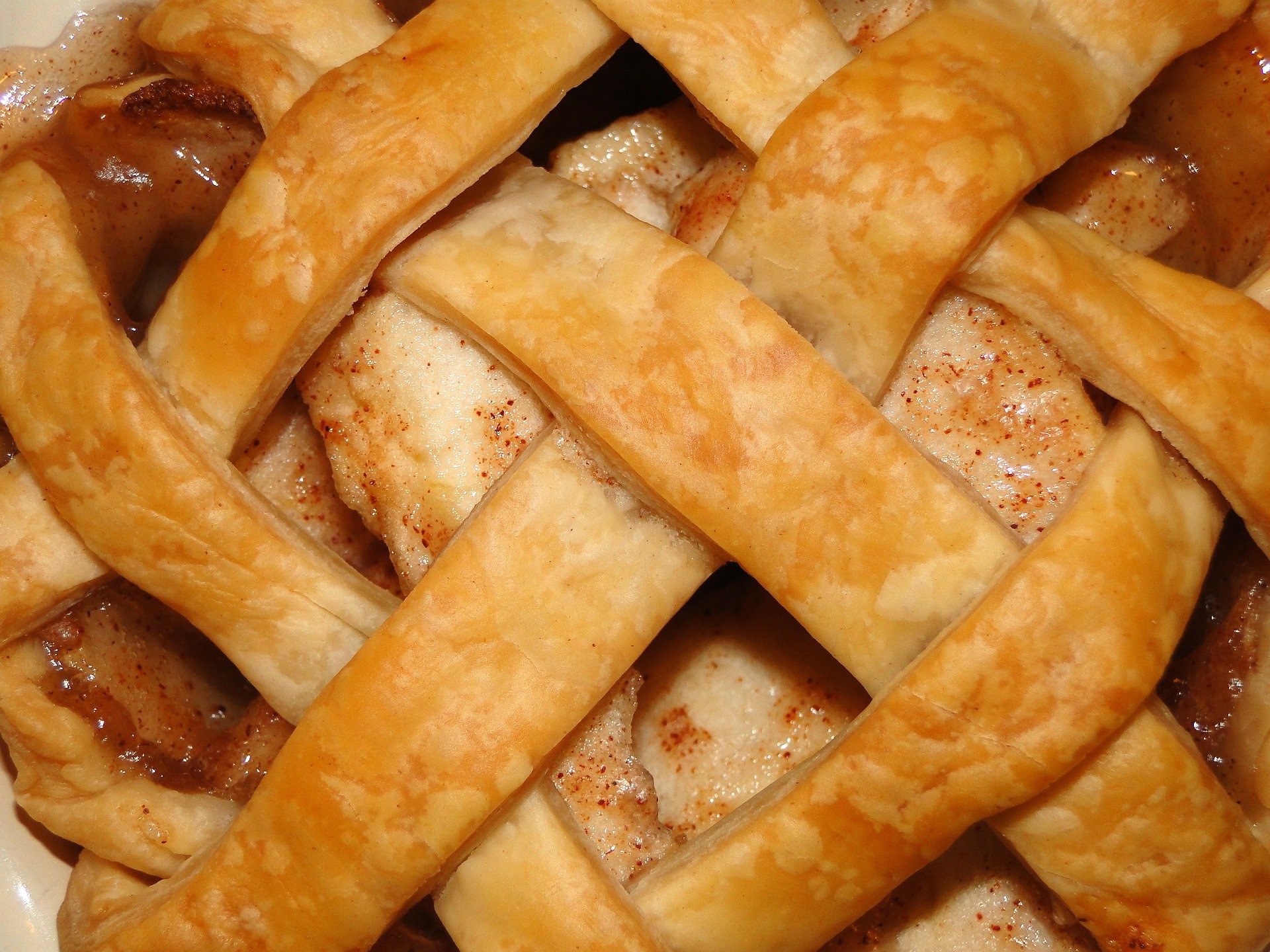 Ingredients
½ cup unsalted butter
3 tablespoons all-purpose flour
¼ cup of water
½ cup white sugar
½ cup packed brown sugar
8 Granny Smith apples – peeled, cored and thinly sliced
Instructions
Preheat oven to 425°F. Melt the butter in a saucepan. Stir in flour to form a paste. Add water, white sugar, and brown sugar, and bring to a boil. Reduce temperature and let simmer. Place the bottom crust in your pan. Fill with apples, mounded slightly. Cover with a latticework crust. Gently pour the sugar and butter liquid over the crust. Pour slowly so that it does not runoff. Bake 15 minutes in the preheated oven. Reduce the temperature to 350°F. Continue baking for 35 to 45 minutes, until apples are soft.
Ingredients
1 Trader Joe's Pizza Crust
Olive Oil
½ cup Pizza Sauce
1 ½ cups Shredded Mozzarella Cheese
Sliced Pepperoni
A few dashes Oregano
Instructions
Preheat to 425°F. Lightly brush top and bottom of crust with oil. Spread sauce evenly over crust to within half an inch of the edges. Top with cheese, pepperoni, and oregano. Place on a pizza pan, baking sheet, or for a crisper crust, directly on oven rack, and bake 5 to 8 minutes. Cook until cheese is melted and crust is golden brown and crisp on edges.
Ingredients
Graham Cracker Crust
1 ½

 

cups

graham cracker crumbs

1/3

cup

granulated sugar

6

tbsp

butter

melted
Key Lime Filling
28

oz

sweetened condensed milk

½

cup

light sour cream

3/4

cup

key lime juice

zest from 2 regular limes or 4 key limes
Instructions
Crust: Preheat oven to 375°F. Mix graham cracker crumbs, sugar, and butter in a small bowl. Press the crumb mixture into an 8″ – 9.5″ pie pan. Bake for 7 minutes. Cool for at least 30 minutes.
Filling: Preheat oven to 350°F. Whisk together sweetened condensed milk, sour cream, lime juice, and lime zest in a medium bowl. Pour into prepared graham cracker crust and bake for 10 minutes. Let pie cool slightly before chilling. Chill for at least 3 hours. Top with whipped cream and additional lime zest.
Aunt Debbie's Mississippi Mud Pie Cake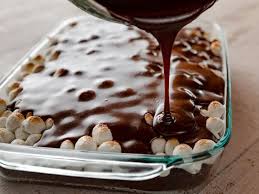 Ingredients:
Cake
2 cups of sugar
1 cup shortening
4 eggs
1 ½ cups flour
1/3 cup cocoa
¼ tablespoon salt
3 tablespoon vanilla
1 bag of mini marshmallows
Frosting
1 lb powdered sugar
1 ½ sticks butter, melted
½ cup evaporated milk
1/3 cup cocoa
1 tablespoon vanilla
Cake: Preheat oven to 300°F. Cream together sugar and shortening. Add in eggs (beat in), flour, cocoa, salt, and vanilla. Pour into a 9×13 pan (spray first with Pam). Bake 30 minutes. Remove from oven, spread evenly with mini marshmallows (don't do more than a single layer. trust me, it will be too fluffy and just too much. Then back in the oven for 10 minutes.
Frosting: Mix together sugar and cocoa. Mix with melted butter. Add evaporated milk and vanilla. Spread on cake and let stand 2 hours or overnight.
Ingredients
1 box Pillsbury™ refrigerated pie crusts, softened as directed on box
1 can (18.6 oz) Progresso™ Rich & Hearty chicken pot pie style soup
2 cups frozen mixed vegetables, thawed, drained
2 tablespoons all-purpose flour
Instructions
Heat oven to 425°F. Make pie crusts as directed on box for Two-Crust Pie, using a 9-inch glass pie plate. In 2-quart saucepan, heat soup, thawed vegetables, and flour until warm. Spoon into crust-lined pie plate. Top with second crust; seal edge and flute. Cut slits in several places in top crust. Bake 30 to 35 minutes or until crust is golden brown. After 15 minutes of baking, cover the edge of the crust with strips of foil to prevent excessive browning. Let stand 5 minutes before serving. Cut into wedges.
Ingredients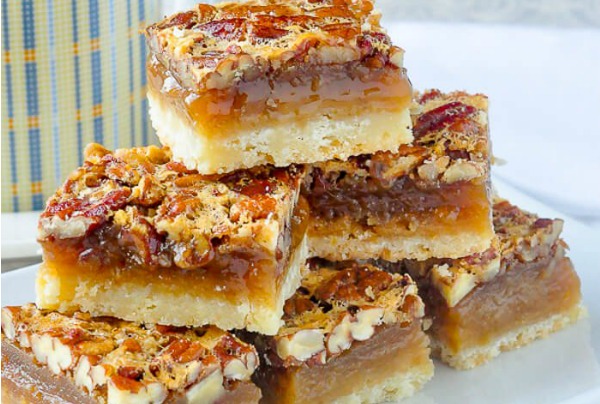 Crust
1 3

/

4 cups all-purpose flour
3

/

4 cup butter, softened
1

/

3 cup sugar
1

/

3 cup coarsely chopped pecans
Filling
2

/

3 cup firmly packed brown sugar
6 tablespoons all-purpose flour
1 teaspoon salt
1 ½ cups dark corn syrup
4 large eggs
2 teaspoons vanilla extract
1 ½ cups coarsely chopped pecans
Instructions
Although pecan pie is typically a fall dessert, Pi Day is the perfect excuse to make this tasty treat!
Crust: Heat oven to 350°F. Combine cups flour, butter, and sugar in a bowl. Beat at medium speed, scraping bowl often, until mixture resembles coarse crumbs. Stir in 1/3 cup pecans. Press crust mixture evenly onto bottom of an ungreased 13×9-inch baking pan. Bake 18-22 minutes or until edges are very light golden brown.
Filling: Combine brown sugar, 6 tablespoons flour, and salt in a large bowl; whisk until mixed. Add corn syrup, eggs, and vanilla; mix well. Stir in 1 1/2 cups chopped pecans. Spread evenly over hot, partially baked crust. Bake 30-35 minutes or until filling is set and a knife inserted 1-inch from edge comes out clean. Cool completely. Refrigerate 30 minutes. Cut into bars.
Pro Tip: Turn any pie into a celebration of πr² by making a square pie! 
So go on and make yourself a pie to commemorate this delicious holiday! Happy Pi Day!