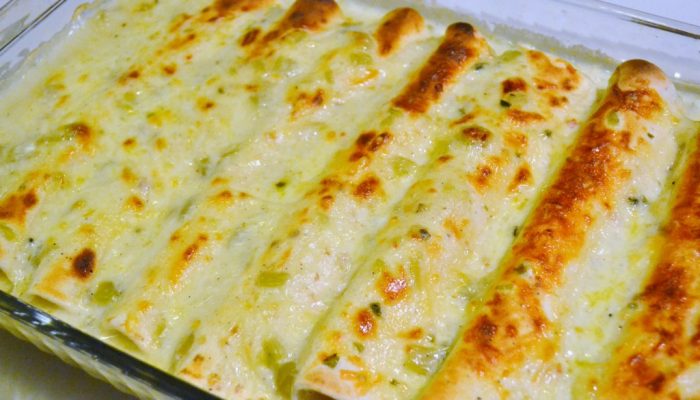 Pepper Jack Enchiladas with Green Chile—Sour Cream Sauce
[adapted from The Food Nanny Rescues Dinner, Palmer/Pletsch Publishing; First Edition (September 1, 2008)]
8 corn or taco-size flour tortillas
2 cups chicken broth
2 cups (8 oz.) shredded cheese (pepper jack is good)
1 cup sour cream
¼ C (1/2 stick) butter
¼ cup flour
2 (4 oz.) cans diced green chiles, drained
1 (5 oz.) bag fresh spinach
Preheat oven to 375 degrees if using flour tortillas, or 350 degrees if using corn tortillas.  Warm the tortillas if they are too stiff to roll.  Lay out the tortillas on a cookie sheet, waxed paper, or aluminum foil.  Spread 2 Tblsp of the cheese on each tortilla and roll up.  Place rolled tortillas seam-side-down in a 13 x 9" baking dish.  Melt the butter in a medium saucepan.  Stir in the flour.  Add the broth all at once and cook, stirring constantly, until thick and bubbly.  Stir in the sour cream and chiles.  Cook until bubbly, but do not boil.  Pour mixture over the tortillas and bake for 20 minutes for flour tortillas, 15 minutes for corn tortillas.  Sprinkle the remaining cheese over the enchiladas and bake just until the cheese melts, about 5 more minutes.  Meanwhile, cut the spinach lengthwise.  Place one enchilada on a plate, top with sauce, and add a side of the spinach.
Creamy White Chili Recipe
[adapted by Dionna Bushman]
1 lb boneless skinless chicken breasts, cut up
1 medium onion chopped
1 ½ tsp garlic powder
1 tbsp vegetable oil
1 can chicken broth (14 oz)
2 cans great northern beans (rinsed and drained)
2 cans chopped green chilies (4 oz each)
1 tsp salt
1 tsp cumin
½ tsp dried oregano
½ tsp cilantro
½ tsp pepper
¼ tsp cayenne pepper
1 cup sour cream
½ cup whipping cream
Serves: 6
In saucepan, sauté chicken onion, chicken and garlic powder in the vegetable oil until chicken is no longer pink. Add beans broth, chilies, and seasonings, bring it to a boil, reduce heat and simmer uncovered for 30 minutes. Remove from heat, add sour cream and whipping cream and serve immediately with bread/chips/whatever.  *If you need to thicken this chili, don't use flour.  Instead, stir a little cornstarch into the cream before you add it.
Chicken Enchilada Recipe
1 big can of GREEN enchilada sauce.
1 small can of cream of chicken soup
Shredded cheese
Corn tortillas
2 cans of canned chicken.
(yes, use canned… the first few times i shredded my own chicken, and it's good if you want to take the time… but no one can tell the difference if you use canned chicken and it's so easy.  My Latino friend, she uses canned.)
Mix enchilada sauce and cream of chicken… put a little on the bottom of your 9×13" buttered pan, then dip your tortillas in it (like french toast) and lay them out on the bottom of the pan (think tortilla lasagna).  Continue to layer saucy tortillas, chicken, cheese, tortillas, chicken, cheese…  bake at 350* for about an hour.  Serve with sour cream.  Mmmm.
And the Side Side…
 "Olive Garden" Salad Mix
1 bag American Blend Dole Salad (romaine, iceberg, radish, purple cabbage, carrots)
4-5 slices red onions
4-6 black olives
2-4 banana peppers
1/2 cup croutons
1 Roma tomato sliced
Freshly grated parmesan cheese
"Olive Garden" Salad Dressing
1/2 cup mayonnaise
1/3 cup white vinegar
1 tsp. vegetable oil
2 Tbsp. corn syrup
4 Tbsp. freshly grated parmesan cheese
1/4 tsp. garlic salt-or one clove garlic minced
1/2 tsp. Italian seasoning
1/2 tsp. parsley flakes
1 Tbsp. lemon juice
1/3 cup sugar (adjust more or less depending on how tart you prefer your dressing)
Mix all ingredients in a blender until well mixed.