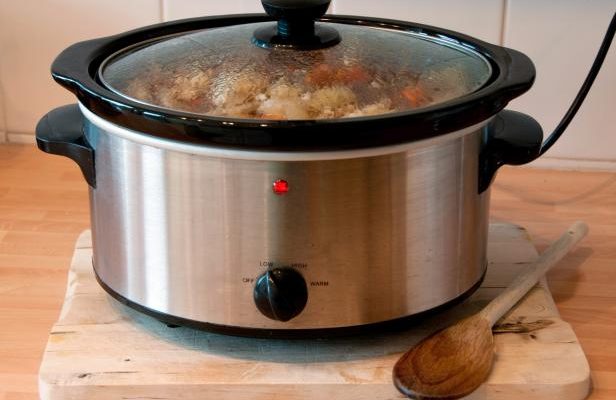 I always gain two pounds over conference weekend. I wish I could say I'm mostly feasting spiritually on the amazing messages of general conference, but I live in Utah, and I have the option to watch four sessions within easy access of the refrigerator.  If you are able to watch general conference sessions on television, or even streamed online, you may have your entire family around you, also watching, for most of Saturday and Sunday. Food is an important consideration when planning the shape of the weekend.
Our daughter has the largest house in our family at the moment, so many of us gather there. She serves a traditional crepe breakfast buffet on Sunday morning, something the family really looks forward to. In fact, crepes made ahead can carry you from breakfast to supper, depending on the fillings you serve with the crepes. Another modern blessing you can depend on to feed your at-home conference attenders is the slow cooker.
Following are ideas for both fashions of feasting on food while feasting on the Word. Saturday and Sunday are mirrors of each other, with a slow-cooker breakfast and crepe buffet supper on Saturday, and a crepe-buffet breakfast and slow cooker supper on Sunday. Make all the crepes you will need ahead of time and stack them on a plate in the fridge.
Saturday — Slow Cooker Breakfast and Supper Crepe Buffet
Ingredients
1 bag Frozen Hash Brown Potatoes (32 oz)
1 lb Bacon
1 Small Onion diced
8 oz Shredded Sharp Cheddar Cheese
1/2 Red Bell Pepper diced
1/2 Green Bell Pepper diced
12 Eggs
1 cup Milk
Instructions
Cut bacon in to small pieces, cook and drain (You could use precooked bacon to speed up the process). Add half bag of hash browns to bottom of slow cooker. Add half your bacon. Add half your onions. Add half your green and red peppers. Add half your cheese. Add remaining hash browns. Add remaining bacon. Add remaining onions. Add remaining green and red peppers. Add remaining cheese. In a medium sized bowl beat eggs and milk together. Pour egg mixture over your casserole. Add salt and pepper on top. Cook on Low for 4 hours or warm for 8 hours. = 8-10 servings
Supper Crepe Buffet
This crepe recipe comes from the Lion House Bakery on Temple Square. There is a Lion House Bakery cookbook, which you must have, if just for their roll recipe alone.
Crepes
Ingredients
3 eggs
1/2 c. milk
1/2 c. water
3 Tbsp. butter, melted
3/4 c. flour
1/2 tsp. salt
Directions
Combine all ingredients in blender or food processor and process about 1 minute. Scrape down sides with rubber spatula and blend about 30 seconds more. Refrigerate for 1 hour. To cook, heat omelet pan, crepe pan, or skillet over medium-high heat–pan should be just hot enough to sizzle a drop of water. Brush lightly with melted butter. For each crepe, pour in just enough batter to cover bottom of pan, tipping and tilting pan to move batter quickly over bottom. If crepe has holes, add a drop or two of batter to patch. Cook until light brown on bottom and dry on top. Remove from pan and stack on plate. Makes 12 crepes. Note: If you are making crepes ahead to use for two meals, cut out squares of waxed paper or aluminum foil and place between crepes. Store on a plate in the fridge.
Assorted Savory Fillings (If desired, warm the sliced meat in a skillet before serving.)
Thinly sliced ham
Thinly sliced turkey
Thinly sliced Provolone cheese
Softened Brie Cheese
Crumbled Feta
Cooked asparagus spears
Arugula lettuce
Sliced mushrooms sautéed in butter
Tomatoes sliced into thin spears
Cucumber peeled and sliced into thin spears
Red and yellow peppers sliced into thin spears
Creamy Caesar, Honey Mustard, Ranch, or other favorite salad dressings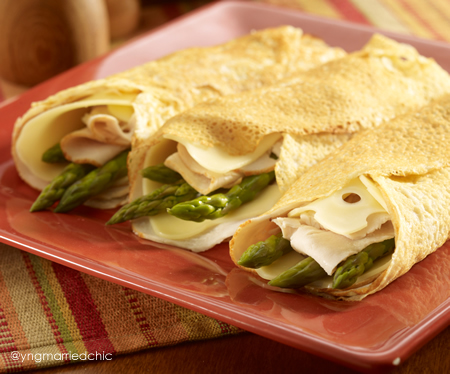 Sunday – Crepe Breakfast Buffet and Slow Cooker Supper
Breakfast Crepe Buffet – Assorted Fillings
Scrambled eggs
Hash Brown Potatoes
Canned pie fillings – blueberry, apple, and/or cherry
Fresh fruit – peaches, strawberries, bananas, blueberries — your choice
Cottage Cheese, ricotta cheese, and/or cream cheese
Nutella Spread
Whipped Cream, flavored yogurt, sour cream
Melted butter with a little lemon juice added
Powdered sugar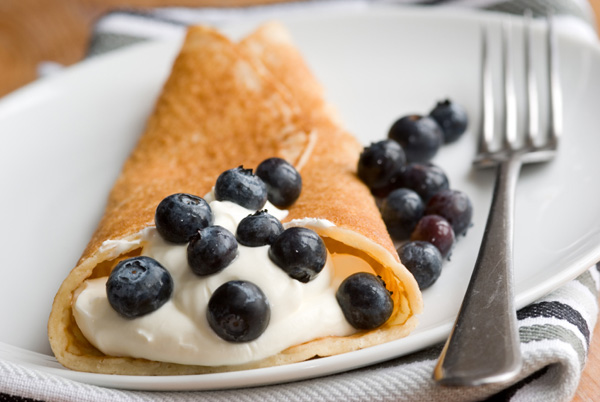 (If you use a slow cooker bag, you can lift out the finished meal.)
Ingredients
1 teaspoon canola oil
1 cup chopped onion
1 can diced mild green chilis
2 garlic cloves, minced
1 1/2 teaspoons chipotle chile powder
1 (14.5-ounce) can diced tomatoes, drained
1 (8-ounce) can tomato sauce with basil, garlic, and oregano
Cooking spray
2 cups shredded rotisserie chicken breast
1 cup frozen baby white and yellow corn
1 (15-ounce) can black beans, rinsed and drained
5 (8-inch) corn and flour blend tortillas
8 ounces shredded reduced-fat sharp cheddar cheese (about 2 cups)
Cilantro sprigs (optional)
Preparation
1. Heat a large nonstick skillet over medium-high heat. Add oil to pan; swirl to coat. Add onion, diced chilis, and garlic to pan; cook 6 minutes or until vegetables are tender, stirring frequently.
2. Stir in chili powder, tomatoes, and tomato sauce. Place half of tomato mixture in a blender. Remove center piece of blender lid (to allow steam to escape); secure blender lid on blender. Place a clean towel over opening in blender lid (to avoid splatters). Blend until almost smooth. Pour into a large bowl. Repeat procedure with remaining tomato mixture.
3. Coat a 5-quart round electric slow cooker with cooking spray; place 3 tablespoons tomato mixture in bottom of slow cooker. Combine remaining tomato mixture, chicken, corn, and beans.
4. Place one tortilla on sauce in slow cooker; pour 1 cup chicken mixture over tortilla; sprinkle with 1/3 cup cheese. Top with another tortilla. Repeat procedure with remaining chicken mixture, tortillas, and cheese. Cover and cook on LOW for 2 hours or until cheese melts and edges are lightly browned. Garnish with cilantro, if desired. Cut into 8 wedges.
These are easy ways to feed your family in style during General Conference weekend and establish fun traditions while doing so. What traditions have you created to feed your family while feasting on the Word? Share your ideas in the comment section below.