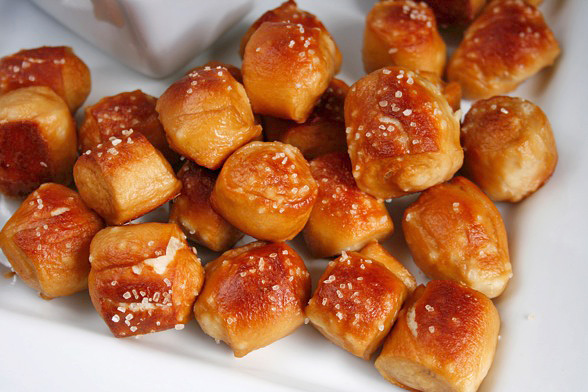 We love crunchy stuff and salty snacks, and we pay a lot of money for them.  Products of the modern age, they are totally impossible to make at home right?  Ever wonder what it will be like when we have to live off our food storage and are able to make cakes and cookies (however lacking in taste they may turn out to be) but will have to go without savory, salty snacks?  Well, it is possible and economical (and healthier) to make your own.  Here are some ideas.
2 lbs zucchini sliced as thinly as humanly possible
½ tsp salt
½ tsp pepper
1 tsp olive oil (optional)
2 tsp apple cider vinegar
Mix together the salt, pepper, cider vinegar, and olive oil (if desired). Toss zucchini in the mixture to coat the slices.  Arrange on dehydrator trays. Dehydrate until crispy at 135 degrees.  This should take about 5-6 hours. If you don't have a dehydrator, you can place the zucchini slices on a foil-covered shallow pan in an oven at the lowest heat, which is usually 170 degrees. Toss often and keep watch until slices are crisp.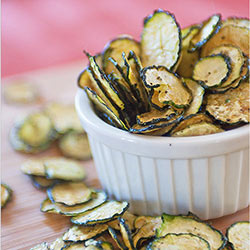 2 large cucumbers sliced as thin as humanly possible
1 to 1.5 tsps apple cider vinegar
¼ tsp salt
(Try a batch with garlic powder or dill weed.)
Mix together the vinegar and salt (and garlic or dill, if used). Toss cucumber slices in the mixture. Arrange slices on dehydrator trays. Dehydrate at 135 degrees for 4 hours.  If you don't have a dehydrator, place slices on foil-covered shallow baking pan and bake at your oven's lowest temperature.  Usually, this is 170 degrees. Turn or toss slices occasionally, so they dry evenly. This should be faster than using a dehydrator if your oven temperature is higher than 135 degrees.
1 potato, peeled or not, sliced thin
1 Tbsp vegetable oil
½ tsp salt (try variations, like adding a little vinegar, or garlic, or BBQ spice)
Pour the veggie oil into a zip-lock bag, add the potato slices, and shake to coat the potatoes.  Arrange on a plate covered with parchment paper and sprinkle with seasoning(s).  Nuke in a microwave 3-5 minutes (microwaves vary hugely in how long they take to cook these). Chips will not be crispy unless they look browned, but you will have to watch closely, because a few seconds too long, and the chips will burn.  If chips overlap each other, they will stick together.  That might not be a bad thing, if you want to create designs (like for FHE?). Alternatively, use a dehydrator or a conventional oven as directed for the zucchini chips above. Experiment with the timing, and how thick the slices need to be for the best results.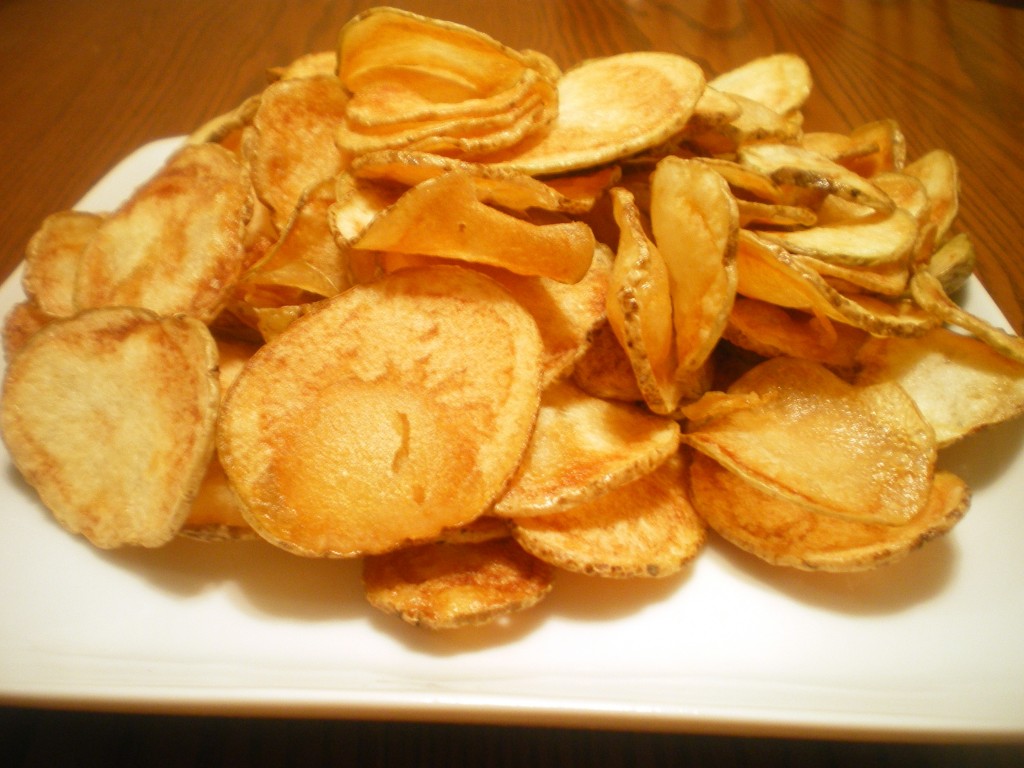 Homemade Soft Pretzels
1 package yeast (1 Tblsp)
1/4 cup + 1 cup warm water
Pinch of sugar
2 tsp salt
4 – 5 cups unbleached flour
Pot of boiling water
4 tsp baking soda
Coarse Kosher salt
Combine the yeast and 1/4 cup warm water in a measuring cup and let sit a few minutes.  In a bowl, combine the 1 cup warm water and pinch of sugar. Add the yeast mixture and stir in the 2 tsp salt.  Mix in the flour, enough to create a smooth, elastic dough. Knead about 10 minutes.  Place dough in a greased bowl, then turn to grease top of dough. Cover with a clean dish towel, then allow to rise until double.  Keep the bowl covered, while you form the pretzels.
Bring about 4 cups of water to a boil with the baking soda. Drop in one pretzel at a time and boil for one minute each. Remove pretzel, drain on a kitchen towel and then place on a greased baking sheet.  Sprinkle with coarse salt and bake at 475º for 12 minutes or until golden.  Makes 18.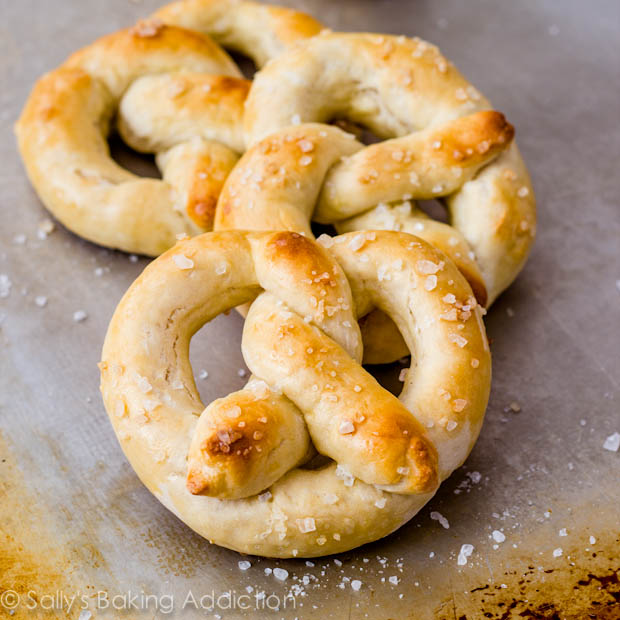 3 cups flour (try half whole-wheat or some other type of flour)
2 tsp sugar
2 tsp salt
¼ cup olive oil
1 cup water
Toppings of choice, like poppy, fennel, or sesame seeds, dill weed, garlic salt, coarse sea salt, various spices.
Your oven rack should be at the lower 1/3 of the oven. Preheat to 450 degrees. Sprinkle a shallow baking sheet with flour and set aside while you make the dough. Mix the flour, sugar, and salt together in a bowl. Mix in the oil and water until the dough is sticky and well-blended. Add extra water a little at a time if there is loose flour left in the bowl.  Sprinkle flour over your work-surface, divide the dough in half, and roll each half into a large, thin rectangle. Brush the dough lightly with water and sprinkle with toppings.
Using a sharp knife or pizza cutter, cut dough into desired shapes. Transfer crackers to the floured baking sheet (it's OK if they are close together). Prick the crackers with a fork. Bake for 12 – 15 minutes, or until edges are browned. Thinner crackers bake faster. Cool crackers on a wire rack.  How you store them depends on the humidity in your area. In dry areas, store in an open container; in humid areas, store in a covered container. If crackers lose their crispiness, bake for a couple of minutes to re-crisp.