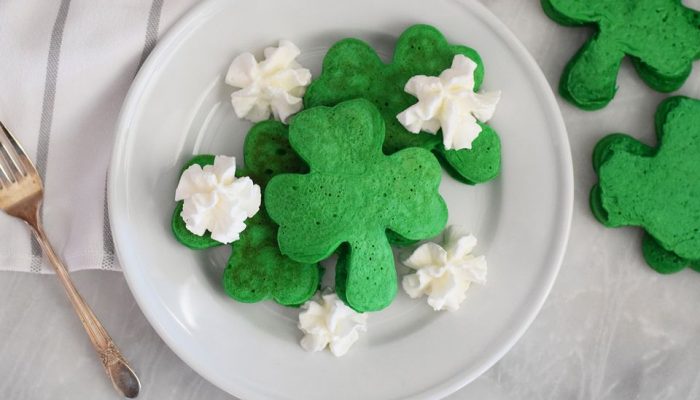 Happy Saint Patrick's Day! If you're looking for fun ways to celebrate (besides just wearing green), you have come to the right place! Spice up your Saint Patrick's celebration by making one or more of these green food items that are better than green Jell-O!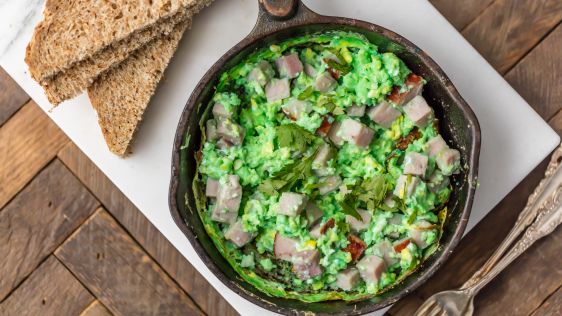 Ingredients
1 teaspoon milk
Blue food coloring
1 tablespoon ham, diced
Instructions
Make this Dr. Seuss classic breakfast by cracking an egg into a small bowl. Add milk and blue food coloring. Whisk together. Add diced ham. Pour into preheated and greased skillet. Stir a couple of times while cooking until water begins to separate from eggs (this is moisture from the milk). Serve immediately with hot toast.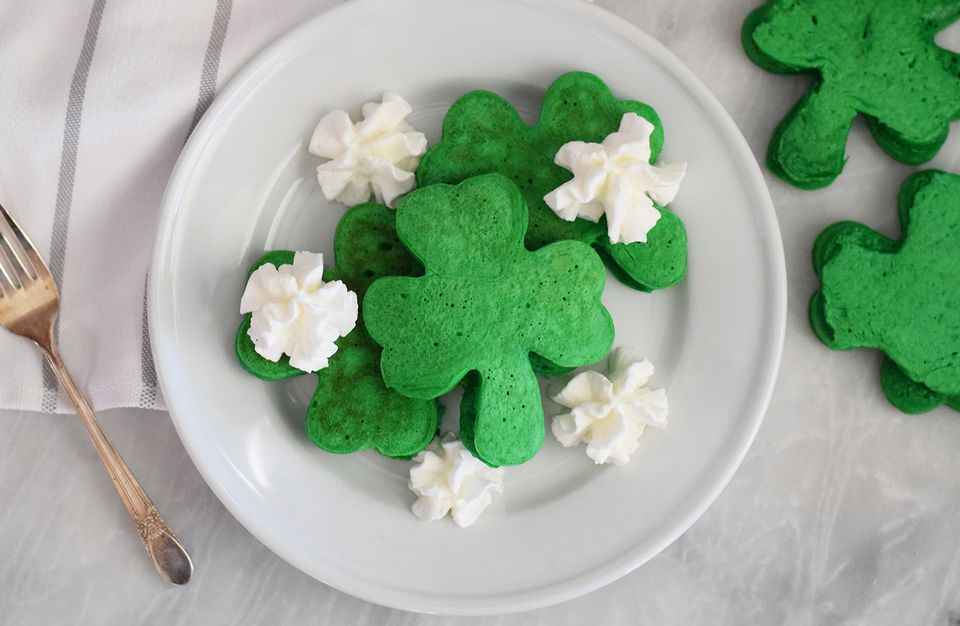 Ingredients
1 1/4 cups flour
1 tablespoon baking powder
1 tablespoon sugar
1/2 teaspoon salt
1 beaten egg
1 1/4 cups milk
2 tablespoons butter (melted)
1/2 teaspoon vanilla extract
Green food coloring
1 shamrock-shaped cookie cutter
Garnish: whipped cream, maple syrup, cereal
Instructions
Whisk together the flour, sugar, baking powder, and salt until combined. In a separate bowl or cup, whisk together the egg, melted butter, milk, and vanilla extract. If you've melted the butter in a dish, make sure to wait until it has cooled slightly before whisking in the egg and milk. If it's too hot, it could cook the egg. Combine the wet and dry ingredients in the dry ingredient bowl and whisk together. Add the green food coloring and whisk until it is completely combined with the batter (You want to add more green food coloring than you think you need. It will lighten up when it's been cooked). Heat your griddle on high heat. Place your shamrock cookie cutter on the griddle. Grease the griddle and the cookie-cutter, including the inside walls of the cutter. Then turn the heat down to low. Add the batter to the cookie cutter. Add a small amount to each leaf and the stem. The batter will pool into the gaps. Allow the pancake to cook until it is completely set, about 2 minutes. Gently remove the cookie cutter with a pair of tongs. Flip, and continue to finish cooking on the other side, about 30 seconds to a minute. Serve your pancakes with whipped cream, drizzled frosting, or Lucky Charms marshmallows.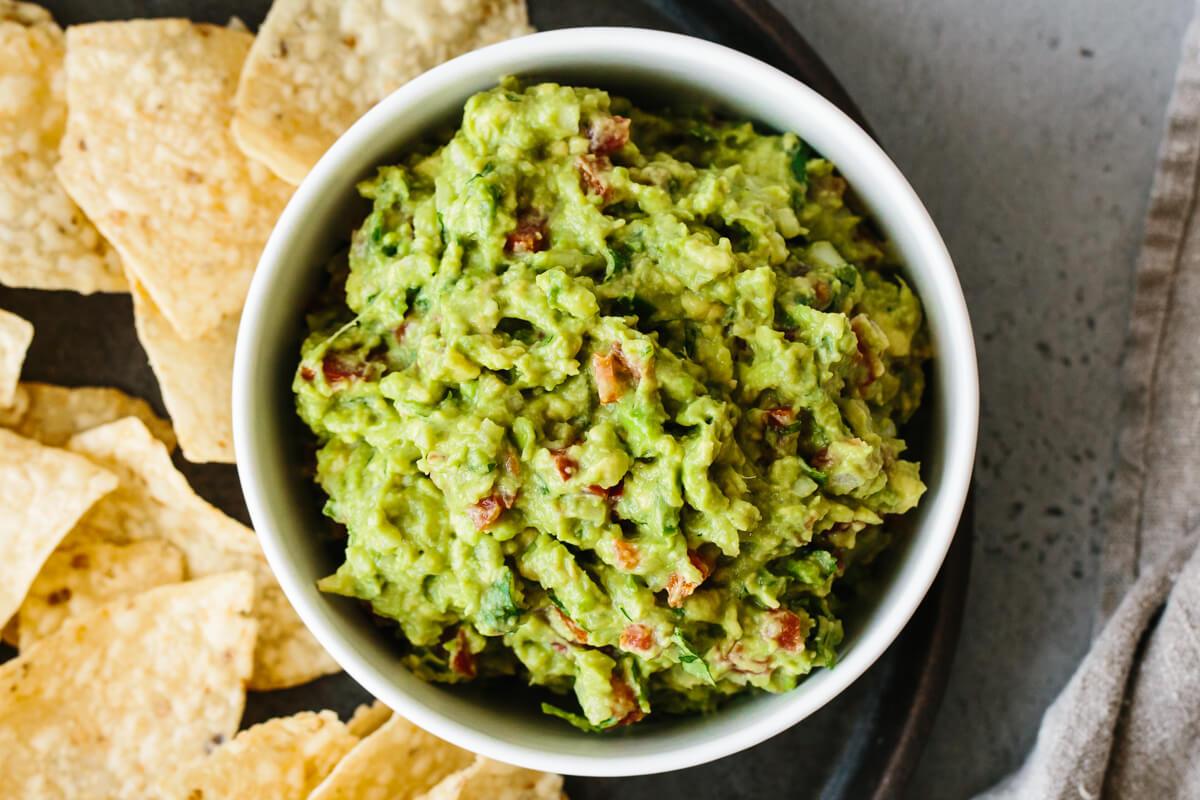 Ingredients
3

avocados

,

ripe

1/2

small onion

,

finely diced

2

Roma tomatoes

,

diced

3

tbsp

,

fresh cilantro, chopped

1

jalapeno pepper

,

seeds removed and finely diced

2

garlic cloves

,

minced

1

lime

,

juiced

1/2

tsp

sea salt
Instructions
Slice the avocados in half, remove the pit and skin and place in a mixing bowl. Mash the avocado with a fork and make it as chunky or smooth as you'd like. Add the remaining ingredients and stir them together.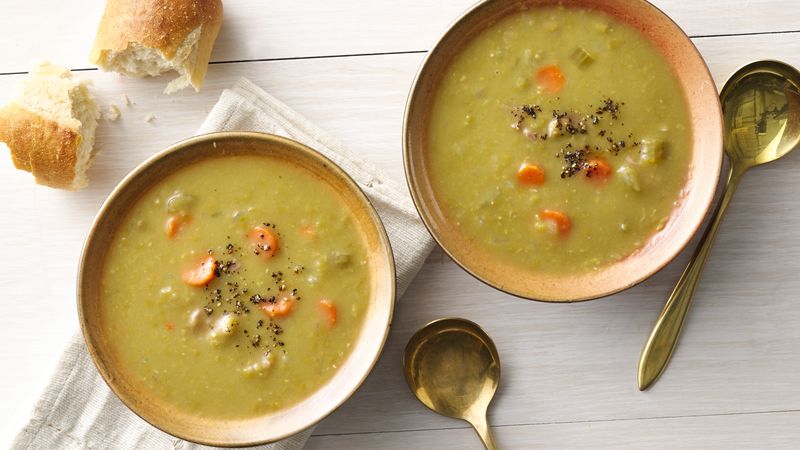 Ingredients
2 1/4 cups dried split peas, sorted and rinsed
8 cups water
1 cup large onion, chopped
1 cup medium celery stalks, finely chopped
1/4 teaspoon pepper
1 ham bone or 2 pounds shanks
1 1/2 cups medium carrots, cut into 1/4-inch slices
Instructions
A delicious Saint Patrick's Day lunch! Heat peas and water to boiling in a 4-quart Dutch oven. Boil uncovered 2 minutes; remove from heat. Cover and let stand 1 hour. Stir in onion, celery, and pepper. Add ham bone. Heat to boiling; reduce heat. Cover and simmer about 1 hour 30 minutes or until peas are tender. Remove ham bone from soup; remove ham from bone. Trim excess fat from ham; cut ham into 1/2-inch pieces. Stir ham and carrots into soup. Heat to boiling; reduce heat. Cover and simmer about 30 minutes or until carrots are tender and soup is desired consistency.
Ingredients
1 brick of low-fat cream cheese
1 tub of sour cream
Shredded Mozzarella
Freshly-grated Parmesan
One finely-chopped red or white onion
Minced or pressed garlic
Salt and pepper for seasoning
1 10-ounce bag of fresh baby spinach or thaw and drain a package of frozen spinach
1 jar of artichoke hearts, drained and roughly chopped
Instructions
Sauté veggies. Heat oil in a large saucepan or sauté pan over medium heat.  Add the onion and sauté for 5 minutes, stirring occasionally, until softened.  Add garlic and sauté for 2 minutes, stirring occasionally.  Lower heat to medium. Add remaining ingredients.  Add all of the remaining ingredients to the pan and toss until evenly combined.  Continue cooking, stirring occasionally, until the cheese is completely melted and the mixture is bubbly.  (If you would like the dip to be even creamier, feel free to stir in extra sour cream or Greek yogurt.) Give the dip a taste and season with extra salt and pepper, if needed. At this point, you can either transfer the dip to a serving bowl and serve it immediately.  Or you can transfer the dip to a small baking dish, sprinkle with extra Mozzarella, and bake at 350°F for 20 minutes, until the cheese is melted and golden on top. Enjoy. Serve the dip while it's nice and hot with chips, bread, veggie sticks, or any of your other favorite dippers!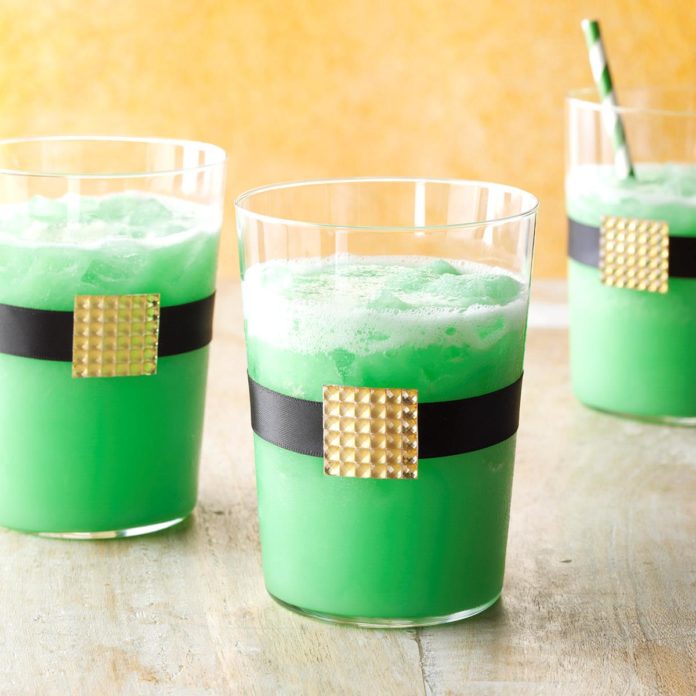 Ingredients
1-quart lime sherbet, softened
1/2 cup thawed limeade concentrate
2 tablespoons sugar
2 cans (12 ounces each) lemon-lime soda, chilled
1 to 2 cups crushed ice
Lemon slices and lime peel strips, optional
Instructions
This drink is the perfect way to celebrate Saint Patrick's Day with your little leprechauns. In a large bowl, beat sherbet, limeade, and sugar until blended. Stir in soda and ice. Serve in chilled glasses. If desired, top with lemon slices and lime peel.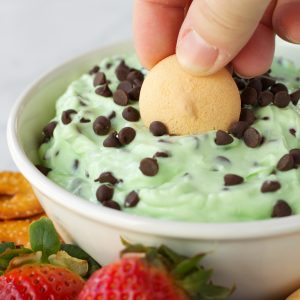 Ingredients

11 ounces of

cream cheese, softened to room temperature

1/2

cup

powdered sugar

2/3

cup

plain Greek yogurt

1/4 – 1/2

teaspoon

mint extract

to taste

green food coloring

optional

2/3

cup

mini chocolate chips
Instructions
Add the cream cheese to a medium bowl and beat it using a hand mixer until it's creamy and smooth. Add the powdered sugar and continue to beat at high speed until it's fully incorporated. Add the Greek yogurt and mint extract and continue to beat on high speed until well incorporated (don't forget to scrape down the sides of the bowl to ensure everything is evenly mixed!). Beat in the green food coloring until it's fully incorporated and no more white streaks remain (skip this step if you wish). Stir in the chocolate chips by hand and save a few for sprinkling over the top of the dip when serving. Serve this dip immediately, or refrigerate it for up to 2 days before serving with fresh fruit, your favorite cookies, or even pretzels for a sweet and salty twist!
Which of these delicious treats are you going to make this Saint Patrick's Day?