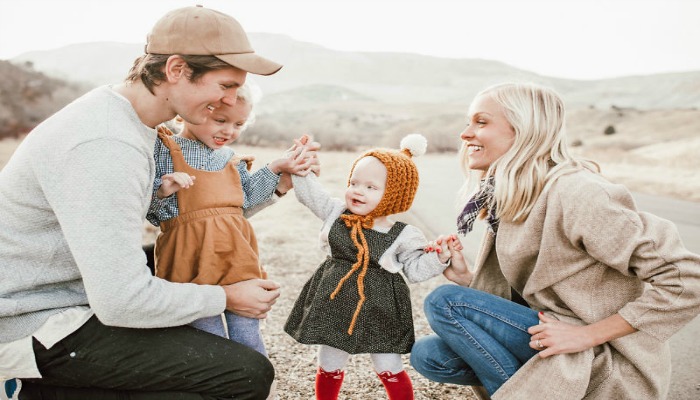 Have you been curious about if the people you follow on social media share your faith base? Well, we did the digging and here's what we found. There are many social media influencers who give off the "I'm a member of the Church" vibe without ever explicitly saying it. This is the magic of what is stated in 1 Peter 2:9 about being a "peculiar people." With social media, this prophecy is alive and well in our day.
Here are 9 influencers who are members of the Church.
9. The Food Nanny
The Food Nanny is, you guessed it, a food account. It was created by Liz Edmunds and Lizi Edmunds Heaps. A mother and daughter duo who have a passion for food and the gospel. Sister Liz Edmunds is currently serving as a senior missionary in Belgium. They have a cooking show on BYUtv also called The Food Nanny that has been running for 4 seasons. Check them out for some serious inspiration on how to bring your family together through food.
8. Hailey and Brad Devine
Hailey and Brad Devine are both passionate videographers and photographers.  The high school sweethearts married in the Salt Lake Temple after Brad returned home from serving his mission in Chile. Brad is half Chilean and half British, and Hailey is half Norwegian. They have 2 adorable daughters, Lucy and Greta. Together they have built their brand "Somewhere Devine." They also host international travel expeditions at least once a year somewhere divine (get it?). Their desire to give back and their sheer talent for video production is just a couple of reasons why 241k followers find them so endearing.
Related Link: Mormon Couple Using Social Media to Do Good 
7. Al Carraway
Previously known as Al Fox: The Tattooed Mormon, this motivational faith-based speaker is using her platform to spread the gospel message. She has 3 beautiful children and a loving husband. She is a published author and she consistently travels all over the world speaking about her conversion and life since joining the church.
Related Link: 3 Mormons: An Interview with Convert Al Fox Carraway 
6. Kristin Andrus
Kristin Andrus is a lifestyle, fitness, and food blogger with 6 kids. She has been married to her husband Jeremy for 14 years and the only thing that seems to divide them is their sports rivalry. While her husband cheers for BYU, she opts for U of U. Kristin is an accomplished mommy-blogger and influencer.
5. Clean Simple Eats
JJ and Erika Peterson are the creators and influencers of Clean Simple Eats, an account that shares fitness and health food journeys. Together they have 4 children and a thriving business. Erica Peterson is the sister of the previously mentioned Hailey Devine. They frequently post quotes from prophets and apostles, subtly sharing their faith through their platform.
4. Cute Girls Hairstyles
Mindy McKnight is a mother of 6, and she is the creator of the YouTube channel Cute Girls Hairstyles. She has been married to her husband Shaun for over 19 years and the two have made running this account their full-time jobs. Along with sharing hair tutorials, the couple shares their experience with adopting their two youngest children, Daxton and Paisley. The McKnights have a blog that contains a direct link to comeuntochrist.org, the church's missionary website, and they are not shy about sharing their beliefs with others.
3. Brooklyn and Bailey
Brooklyn and Bailey are the identical twin daughters of CGH founder Mindy McKnight. They both currently attend Baylor University while simultaneously running a YouTube channel together. Because of their mother's legacy, the twins are some of the very first second-generation YouTubers and influencers. They are not shy about the fact that they are members of the Church but they say that it is important for their channel to remain welcoming to all people.
2. The Bucketlist Family
Garrett and Jessica Gee met while serving missions in Vladivostok, Russia. Following their missions they both attended BYU. Garrett played for the BYU soccer team and later created a small app called Snapchat. Ever heard of it? He sold the app and most of his family's belongings. They use that money to live freely and travel the world as much as possible while documenting their travels on Instagram.
Related Link: Exclusive Interview with The Bucket List Family
1. Amber Fillerup Clark
Amber Fillerup Clark frequently posts Sunday morning pictures of her cute family all ready for church. She has also posted photos of her daughters in their blessing dresses and her wedding photos are featured on her blog, the Barefoot Blonde. Amber has been married for 7 years to David Clark. The two were married in the Oquirrh Mountain Temple on December 14, 2012. She has a successful business selling hair extensions and running her various social media accounts as an influencer.
Do you know of any other members of the Church that are social media influencers? Comment below.