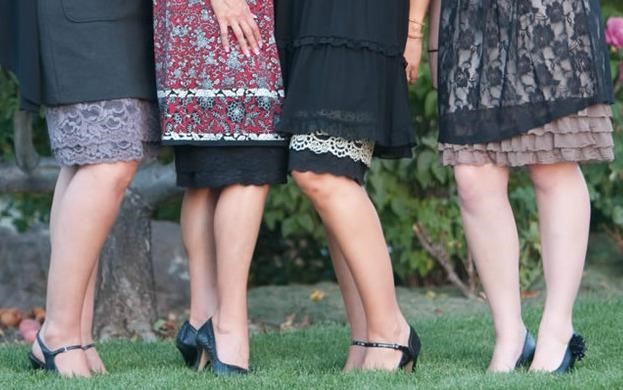 Layering is an important concept in fashion, and women who are experts at it really stand out.  Of course, fashion layering has practical implications in varying weather conditions, especially in the cold, when it's safer to wear lots of layers than to don one very heavy coat.  But our focus here is simply looking great. Fashion magazines take cues from whatever happens to be in vogue, and instruct women on how to put all the elements together for wow factor.
An article at Glamour.com with photos of trend-setting women, mostly celebrities, clues us in on the necessary items for high-fashion layering.  Their list includes skinny jeans, a sheer long-sleeved tee, a cashmere sweater, a chambray button-down shirt (in a great color), a bright-colored coat, knee-high boots, a knit sweater-dress, a printed scarf, a sleeveless shift dress, and a tuxedo blazer.
Layering for Latter-day Saint women may include all of the above, as they enjoy being as fashionable as other women, but there are other aspects of layering important to Mormon women that often don't concern women in general, unless they are of other conservative faiths, and that is layering for modesty's sake.
Mormon women (members of The Church of Jesus Christ of Latter-day Saints) who have made eternal covenants in Mormon temples wear a religious garment under their clothing symbolizing their vows.  The garments are white and two-piece, with a neckline roughly corresponding with the bra line, but with cap sleeves.  The bottoms come nearly to the knee.  Because of their sacred nature, Mormon temple garments cannot be altered to suit modern fashion, so modern fashion must be altered to suit the garment.  This required modesty guides Mormon women in the raising of their daughters to get used to the modesty demanded and dress as if they were wearing the garment.  Modesty in swimwear and gym wear is inspired by Mormon women's regard for their bodies as temples for the Holy Spirit, even though the garment is removed for swimming and vigorous sports.  Late prophet Gordon B. Hinckley said,
I do not hesitate to say that you can be attractive without being immodest. You can be refreshing and buoyant and beautiful in your dress and in your behavior. Your appeal to others will come of your personality, which is the sum of your individual characteristics.
Thus, layering for fashionable Mormon women often includes three or four pieces to increase the coverage of immodest clothing, both on the top and on the bottom.
Neckline Modesty
Ubiquitous in the closets of Mormon girls and women are an assortment of cap-sleeved stretchy tees to wear under strappy sun dresses and tops.  Second to the tees would be a few boleros or shrugs to cover the shoulders when tees aren't worn.  Honestly, it takes some experimentation and trying things on to make this kind of layering look natural but intentional.
Sewing ability is an enviable talent, and especially with evening wear and bridal gowns, a good tailor or seamstress can really help make an immodest neckline modest without layering.
And Then There are Those Legs
As far as legs are concerned, tights and decorative slips or underskirts (shown below) can save the day.  Luckily, many stylish clothing manufacturers produce shorts that come to the knee, and unlike during the mini-skirt trend of the '60's, there are longer skirts available in stores.
Shopping Trips from Hell
I think every Mormon mom with teenage daughters has experienced shopping trips from hell, where you spend hours searching for a prom gown, and all the cute ones are immodest.  It's more than frustrating, it's painful (sore feet and aching back) and so time-consuming.  To make things a little easier, a number of creative Mormons have established companies that produce modest clothing.  Across the board, they have discovered that not only Mormons feel a need to be modest.  Moslem women, Jewish women, and Christian women have flocked to these stores and manufacturers in gratitude for finally being able to find gorgeous, modern, but modest, clothes.
Simpleasthat blog has lots of layering ideas from a cute Mormon gal Rebecca Cooper who is savvy with fashion and modesty.   Some of her layering clothing comes from Shade and Down East Basics, both companies founded by Mormons with an eye to modest, trendy fashion.
ClothedMuch is another blog with lots of modest fashion ideas, especially from stylish Mormons.
And get a list of sixty-four (yes! 64!!) modest Mormon fashion bloggers at HouseofTong.com.
Online modest clothing stores include Down East Basics, Shade, Knee Shorts Clothing, Shabby Apple, Sexy Modest, Sweet Salt Clothing,  Mikarose, Junie Blake, Modest Pop, Jen Clothing, noVae Clothing, kneeshorts.com,  Latter Day Bride, Alta Moda Bridal, Lauren James Bridal, Totally Modest, A Dressy Occasion, Kosher Casual (Jewish), and Sweet Modesty (Moslem), to name a few.