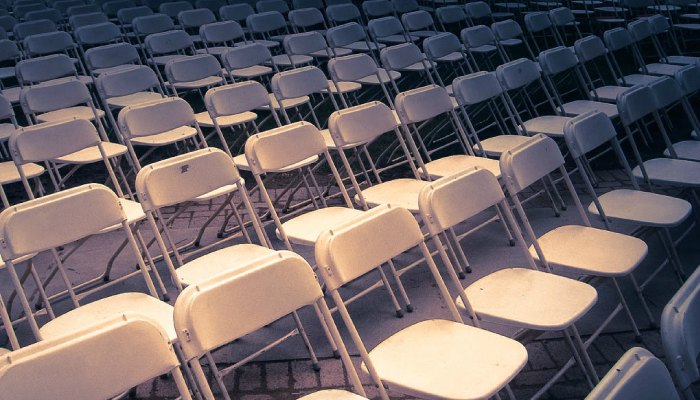 "What are we doing again?"
"We are going to the church to set up table and chairs."
"But we did that last week."
"Yes but that was for a funeral, this is for a wedding."
"Is this all Mormons do? Set up chairs then take them down?"
"Yes, son. Yes it is."
My eleven-year-old son has been taking the missionary discussions this summer and is always fascinated (some may say skeptical) when I open up another door into yet another facet of what it is to be Mormon. When I was called into the Relief Society presidency he was a bit miffed that I was no longer going to be in Primary with him. Then he was a bit miffed to be tagging along to the church building on his summer Fridays, "but it's not even Sunday!"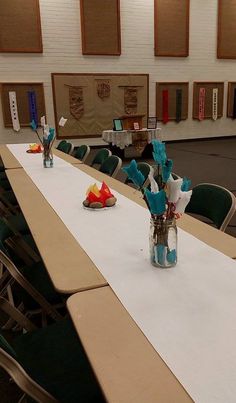 But for this particular day, I was excited. I was excited because we weren't going to be the only ones helping out. Four sets of missionaries joined in on the fun: our two sisters that teach him every Sunday followed by six Elders who opened his eyes to what may be his own future if he chooses to go on a mission.
"So they just set up chairs too? How exciting." His comment did not go unnoticed but I couldn't help but be a wee bit proud that he has taken to the Steyskal-Sarcasm so readily.
"There's more to being a missionary than setting up chairs, maybe you should ask them what they do all day."
As the obligatory chair logistics commenced, it was fun to see my son side-by-side with the Elders, asking them questions, having fun and engaging with them. Too often our Sunday meetings seemed rushed from class to class making a bee line for home as soon as the clock strikes twelve. But here in the church gym on a Friday morning, time stood still as he worked and played along with the missionaries.
Now, this might shock a few of you, but, not every facet of our church callings are fun. Some parts are tedious: the meetings, note taking, emails, texting, and budgeting can be rough. However, if we do it right, I've found that these behind-the-scenes obligations can be a great opportunity.
It's not just learning responsibility at a young age (though the Young Women presidencies I was a part of in my youth definitely gave me an edge on dependability and follow-through). It's not just the comfort level of public speaking or dressing respectfully that we can take into the work force. Opportunities are always there in God's church—we just have to find them.
A list of the not-so-arduous-can-maybe-even-be-fun tasks:
Meetings: Do you know the difference between Primary meetings and ward council meetings? Yeah, neither do I, but each meeting is an opportunity to learn more about your fellow Mormons-in arms. Whether we are discussing the Nursery Goldfish Thief or the missionaries' latest investigators, any time we start and end with a prayer is a time to lay away our judgments and focus in on our collective spirits. Old and young souls can converse and relate when we are all one in purpose and might.
Planning, re-planning and then making last minute changes: Just the other day the Elders Quorum announced the ward BBQ: B.Y.O.C.
"That's it, we just need to bring our own chairs?"
"That's what the ones in charge said."
"So all the food will be taken care of?"
"That's what I assume."
"No desserts or side dishes needed?"
"So far no, but don't be surprised if the day of we send out a text to B.Y.O.D and B.Y.O.S.D."
In other words—be prepared for lack of preparedness and don't let it bother you.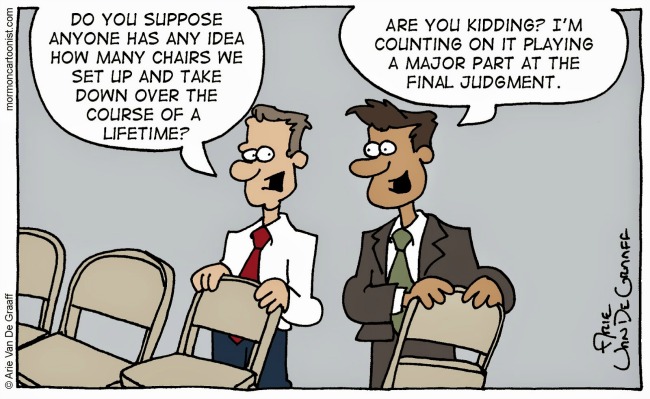 Budget compromises: As 2nd counselor in Relief Society, I called a man into our enrichment committee. All budget issues are now coined as a single entity named "Bob." I will be throwing poor Bob under the bus so much that we will start referring to him as "Flat Bob." The idea is to just let go of what you can't control and let your whimsy take over from time-to-time.
Logistics of stacking chairs/tables: this long-standing tradition of setting up and taking down has a domino effect. As soon as one lowly person folds up his chair, all you have to do is wait 15 seconds before you start hearing the clasp of other chairs being neatly folded and carted off.
If you imagine church activities as musicals, then the notion of people just getting up and joining in on the choreography of chair -stacking wouldn't phase you one bit. And random people bursting into primary songs would be the icing on the cake.
Maybe we aren't bringing in lost sheep in droves and maybe our chili won't win in the Annual Fall Harvest Cook-off (especially if you don't enter). But maybe, just maybe, we can start enjoying the work. In the very least, the change in attitude would make our ward clerks less antsy.
These obligations may feel never-ending, but with a different perspective, we can see that these opportunities are keeping us focused on the straight and narrow.
We can't be distracted by worldly temptations if our shoulders are to the wheel. Especially if that wheel is God's work.
"So Braden, what did the Elders tell you when you asked them about their missions?"
"Yeah, about that, I asked them what they did all day."
"And?"
"And it sounded a lot like setting up and taking down."
"So investigators are like chairs?"
"Yep."
"Hmm." This wasn't the first time my son's thought bubbles have left me speechless, "So ready to do it again next week?"
"Absolutely!" with no hint of sarcasm.