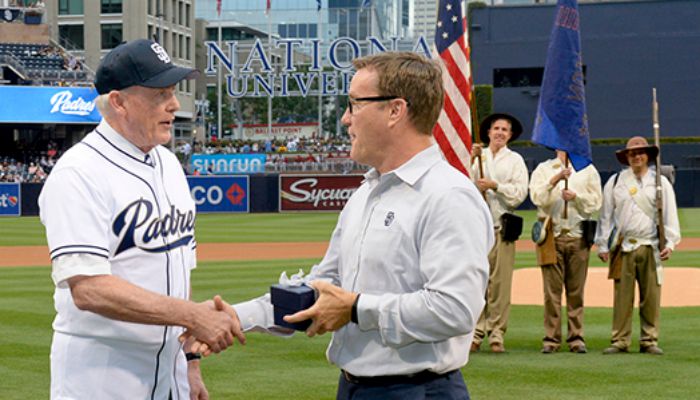 San Diego Padres' owner, Tom Seidler, received a special gift on the field from The Church of Jesus Christ of Latter-day Saints before the game on June 27.
As part of the team's Mormon Night, Elder Richard J. Maynes threw the first pitch and then presented Seidler with a crystal baseball to thank the Padres for their community service.
The MLB team has utilized the Church-sponsored service website, JustServe, to find different projects they can volunteer to help with. LDS.org reports that the Padres decided to start using site after a meeting with Church public affairs representatives Dayle Tedrow and Rebecca Bennion.
JustServe.org is a site the Church provides as resource for individuals and groups looking to serve in their community. The Red Cross, Habitat for Humanity, Catholic Charities and other organizations have endorsed the site. Although sponsored by the Church, anyone of any faith or organization can use it as a resource to find service projects in their area.
The program was first piloted in San Jose, California, and then Denver, Colorado, and Dallas, Texas. Since its launch a few years ago, JustServe is now well under way in much of the western United States, excluding Utah. LDS.org says has more than 90,000 volunteers, of all faiths, who have signed up to help and more than 10,000 projects that have been posted to the site.