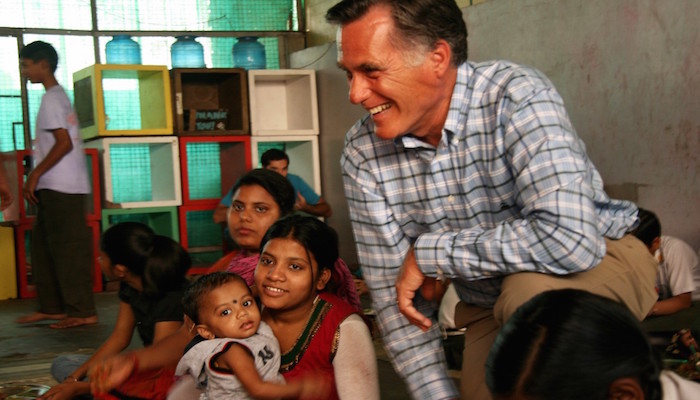 The Romney family recently returned from nine days in India, where they spent their time brightening the lives of Indian children through Josh Romney's humanitarian organization, Charity Vision.
"We performed vision screenings for school children and for the elderly," Mitt Romney said in his blog post. "We lifted spirits at an orphanage; and we witnessed the miracle of restored vision for individuals who had long suffered from cataract blindness."
Charity Vision aims to provide eyesight for those in 25 of the poorest countries around the world who may not have the means to do so themselves. Last year, the charity performed over 40,000 surgeries on a budget of just over one million dollars. Local medical professionals assist in providing surgeries, which allows Charity Vision to keep down the per-surgery cost.
"India is sensory overload: the horns, the press of people, the pollution, the heartbreaking poverty, and yes, the beauty of its landscape and edifices are overwhelming," Mitt Romney said. "Through it all, however, inspiring points of human light shined brightly: doctors who donate multiple days every week, a mother who has opened her family circle to include 108 orphans, children who tenderly care for a sister or brother."
The Romney family is grateful for the chance Charity Vision gives them to serve and use all they were blessed with to bless the lives of others.
What a blessing for me, my sons, and for my grandchildren to witness another great and free people building a better future for themselves, drawing on the strength of the human spirit. We return home with greater appreciation, both for India and for America.
To learn more about Charity Vision and its humanitarian efforts, visit CharityVision.net.