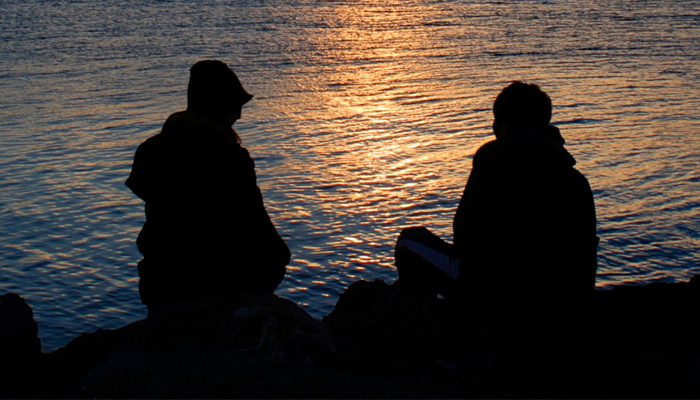 Here is an article designed to give you suggestions on how to help your child come back to the Church while still maintaining a healthy relationship.
As a parent of a child who has chosen to leave the Church, have you felt weighed down and yoked to a burden that seems to never sleep? Your sleepless nights may have been filled with concern, worry and sadness. You may question whether or not you will ever find rest, because let's be honest, "rest" doesn't really seem to be part of the job description for parenthood.
Here are some ways to best help your child (whether adult or teenager) return to Church.
1. Stop Blaming Yourself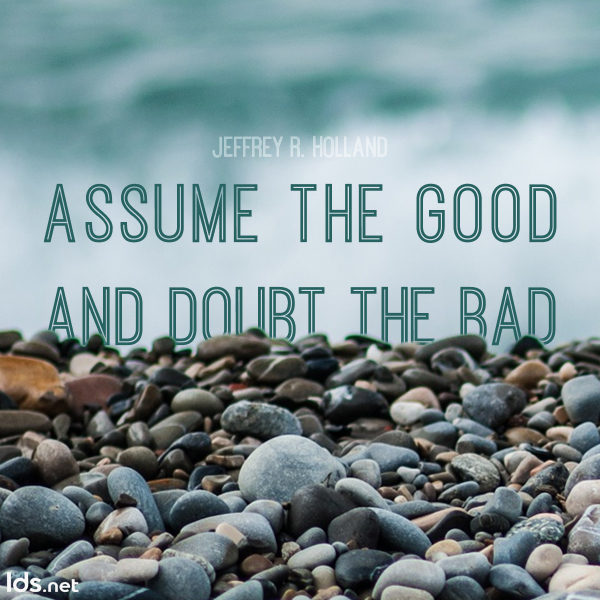 You may feel that your child's mistakes and decisions are a result of your parenting techniques. Stop these thoughts! They are not productive, healthy or useful. Allow yourself to be honest about your weakness and inadequacies and speedily repent, but do not dwell on what you could or should have done.
Trust in the atonement and the promise that "all that is unfair about life can be made right through the atonement of Jesus Christ."
Each time you begin to sense negative thoughts turn your focus to the Savior.
Let His words comfort you when He said,  "Look unto me in every thought; doubt not, fear not" (Doctrine and Covenants 6:36).
When you start to have thoughts of self-blame, stop them and replace them by saying to yourself. "I cannot change the past; trust God and His plan." Turning to God instead of to blame will change the way you look at the situation and will enable you to have hope in God's plan.
2. Be a Conduit, or Channel, of the Spirit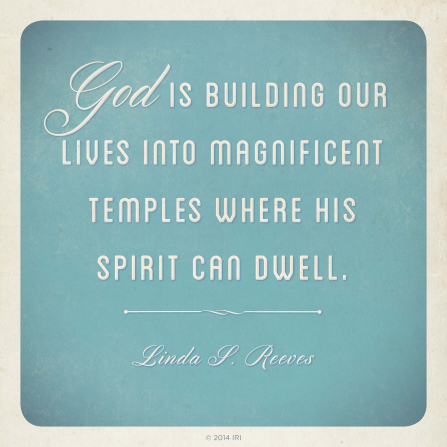 As the ultimate teacher, the Spirit can remind every person of truths they once knew before. You will be unable to help another if you do not convey the Spirit through your thoughts, words and actions. Help your child by living the doctrines of Christ daily and by strengthening your own testimony. Be a conduit and then trust that the Spirit can touch their hearts.
Are you uncertain how to talk about gospel related subjects with your child?
Rely on the Spirit to know when is the correct time to talk about gospel subjects. The Spirit will not only touch your child but will also inspire you with ways you can talk to your son or daughter.  It will most likely not be a magical statement that causes your child to return to the Church. Be patient with their progress and celebrate each small step.
Remember that there are times and seasons to helping a family member reignite their testimony. Let the Spirit guide your words so that your efforts to help your wayward child are not received as naggy, pushy or overbearing. When you feel prompted to speak, do not let emotions influence what you say. Let the only influence be the Spirit.
3. Communication Is Key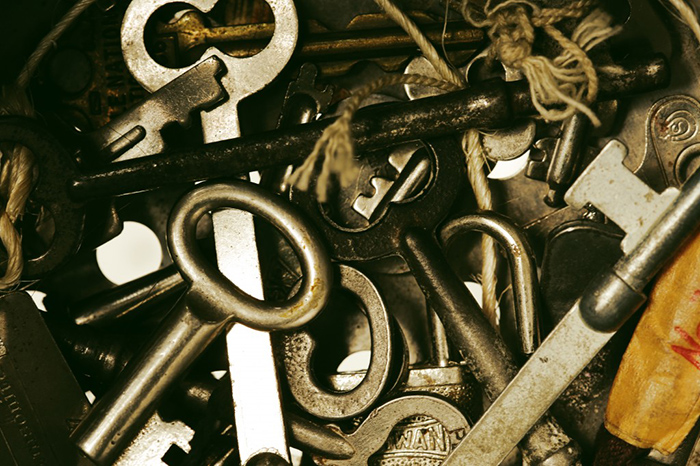 Force was and never will be part of God's plan for His children. Obsessing over the issue will seldom result in positive responses from your child. Communicate with your child that you respect their ability to choose, but do not shy away from sharing your desire for them to return into activity. Allow them to feel your love through the words that you communicate.
Dr. Justin Coulson a positive psychology researcher and author says that, "Regardless of whether our kids are rebelling against our morals, our religion or our politics, one thing is clear – forcing the issue won't work…Instead, parents can do little but be accepting, listen, empathize and set an example for their kids to follow. After trying on different values and beliefs, many will return to the values they were raised with."
4. Seek Opportunities to Serve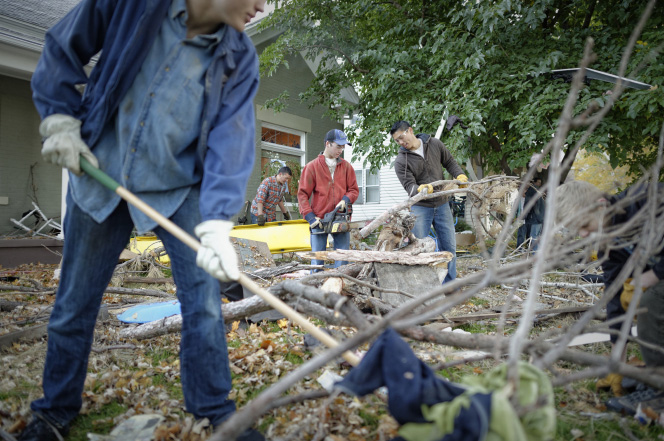 One really nonthreatening way to help your children feel the Spirit is to invite them to join you in rendering service. Service draws individuals to the Savior and engenders feelings of love and appreciation for others.
Some may wonder how service relates to spirituality?
[quote_box_left]Derek A. Cuthbert of the Seventy said "Service helps us to get to know the Savior, for 'how knoweth a man the master whom he has not served?' (Mosiah 5:13). As we immerse ourselves in the service of others, we find our spiritual selves and come unto Him."[/quote_box_left]
Not only can you give your child opportunities to join in serving others, but you can also seek opportunities to serve your child.The Lord can help you meet your child's spiritual needs through Christ-like service. President Spencer W. Kimball said,  "God does watch over us and does notice us, but it usually through someone else that he meets our needs."  
5. Provide Opportunities to Be Involved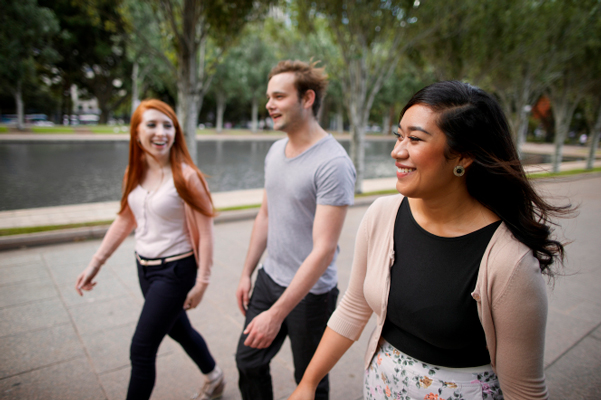 Do not shy away from inviting your children to attend church activities. They may reject your invitations but do not let fear stop you. Seek to find someone who can fellowship your child and ask that person to reach out and also invite your son or daughter to participate.
Sister Melanie Peruch, a returned sister missionary, gave the following advice:
 "Invite your child to do things with you and always have gospel discussions around them. Remember that each person just needs that spiritual reminder of what they once knew. Remember not everyone will return, no matter how hard you try, but you will be blessed in your efforts, so don't stop trying."
6. Attend the Temple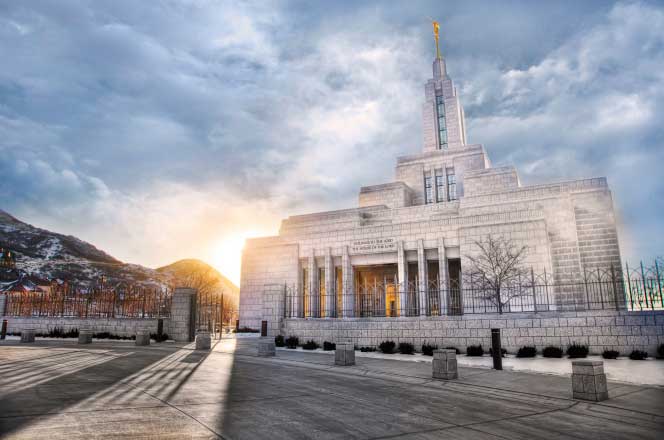 The temple is the perfect place to gain an eternal perspective. As you leave the temple armed with spiritual power, you will be blessed to know how to better help your child. Trust in the power that comes from temple attendance, and you will be able to receive insights that will aid you in helping your child return to activity in the Church.
President Thomas S. Monson has told us that  sometimes when our minds are cluttered with problems from daily life and…
"Sometimes our minds are so beset with problems, and there are so many things clamoring for attention at once that we just cannot think clearly and see clearly. At the temple the dust of distraction seems to settle out, the fog and the haze seem to lift, and we can 'see' things that we were not able to see before and find a way through our troubles that we had not previously known."
7. Never Give Up On Them, Never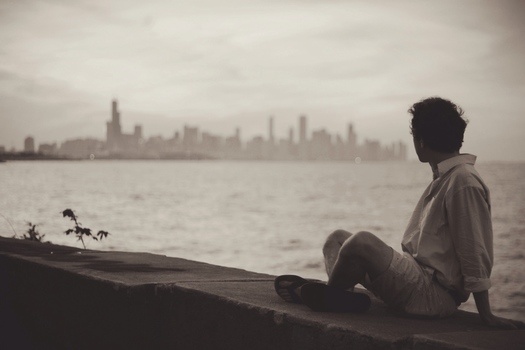 As with any trial, hope and faith are required. Elder Richard G. Scott gave the following council about helping a family member return to full activity in the Church after they have chosen to leave the church, "Never give up on a loved one, never!"  One of the greatest acts of faith and service we can perform on behalf of our loved ones who are leaving church  is to offer prayers on their behalf. Remember to be specific and honest in your prayers.
Many times we read the story of Alma the Younger and his remarkable transformation, yet we forget the fact that it was his Father's prayers that were the catalyst for change. The bible dictionary says, "The object of prayer is not to change the will of God but to secure for ourselves and for others blessings that God is already willing to grant but that are made conditional on our asking for them…Prayer is a form of work."
In Mosiah 27 we read, "Behold, the Lord hath heard the prayers of his people, and also the prayers of his servant, Alma, who is thy father; for he has prayed with much faith concerning thee that thou mightest be brought to the knowledge of the truth;"
 8. Look to your Heavenly Father for Parenting Strategies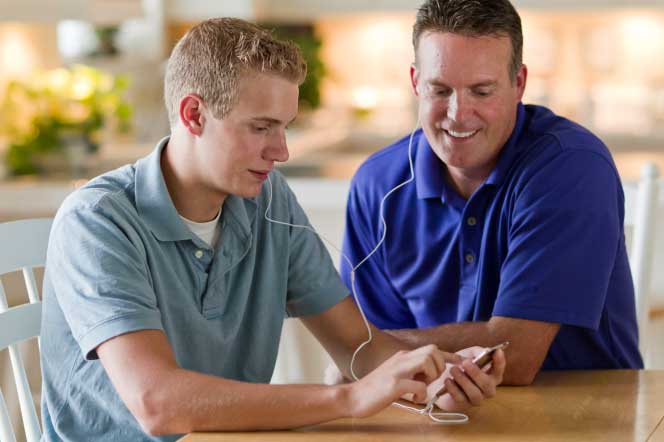 Your Heavenly Father perfectly understands what it is like to have children. Daily He watches as many of his children make choices that are different than His will, yet he loves them enough to let each person choose for themselves.
President Howard W. Hunter stated that,
"God's chief way of acting is by persuasion and patience and long-suffering, not by coercion and stark confrontation. He acts by gentle solicitation and by sweet enticement…He wants to help us and pleads for the chance to assist us, but he will not do so in violation of our agency. He loves us too much to do that, and doing so would run counter to his divine character."
 9. Seek to Uplift and Encourage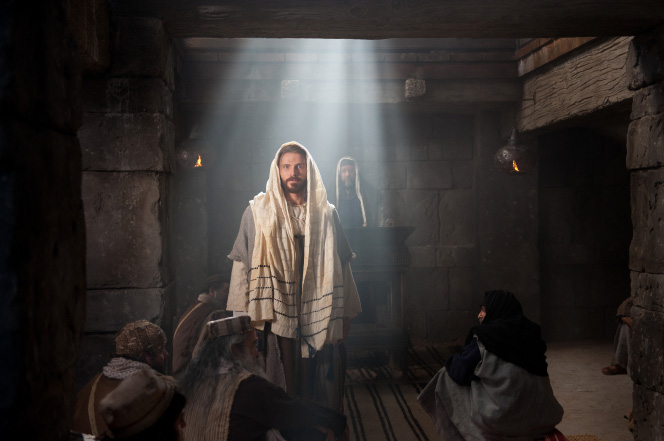 The words we speak are very powerful and can hurt or heal. The  way you speak  to your child is extremely  important. Be positive even though you may disagree with your child's choices. Do not criticize. Doing so will just put a strain on your relationship. Encourage, honestly compliment and express your love. The scriptures instruct us  to:
Let no corrupt communication proceed out of your mouth, but that which is good to the use of edifying, that it may minister grace unto the hearers.

Let all bitterness, and wrath, and anger, and clamour, and evil speaking, be put away from you, with all malice:

And be ye kind one to another, tenderhearted, forgiving one another, even as God for Christ's sake hath forgiven you.
Rosemary M. Wixom, General Primary President said that, "How we speak to our children and the words we use can encourage and uplift them and strengthen their faith to stay on the path back to Heavenly Father."
10. Forgive, Forgive, Forgive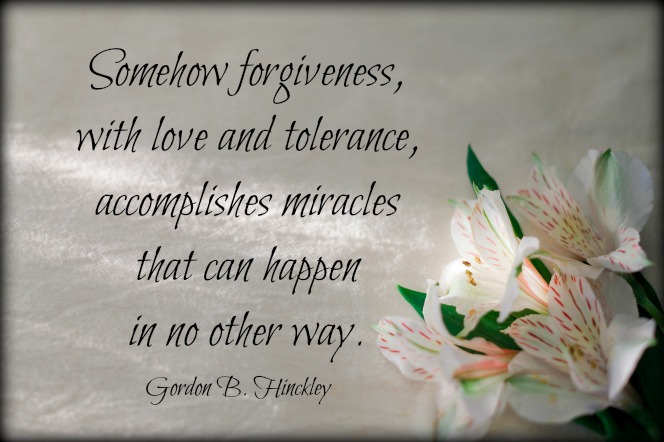 Forgiveness is a healing balm that can mitigate burdens that you and your child have carried for much too long. Even if it is difficult, choose to offer clemency. Forgive your child, forgive yourself, forgive the past and present so that the future can be brighter. Don't delay. Be the first to say you are sorry.
The sincere phrase "I'm sorry, will you please forgive me?" can be more powerful than almost any thing else you can choose to say. Even if you honestly  feel that you are not to blame, lay down your pride and ask for forgiveness. Act today. Forgiveness is the first step to understanding and healing.
Elder F. Enzio Busche, as member of the First Quorum of the Seventy, gave this advice "When you cannot love someone, look into that person's eyes long enough to find the hidden rudiments of the child of God in him."  He also suggests that
If someone hurts you so much that your feelings seem to choke you, "forgive and you will be free again."
11. Strive to Understand More Fully
Evaluate how well you really know your child. When was the last time you asked him or her about their dreams, cares and what they feel passionately about? Take opportunities to try and understand their point of view and perspective. Seek to listen more than you speak. Doing so will help your child feel validated and will enhance your relationship.
Spend quality time doing activities together. Many misunderstandings can be avoided if each party seeks to understand. Even if your child seems unwilling to comply, strive to try and look at situations through their eyes.
12. Seek for Unconditional Love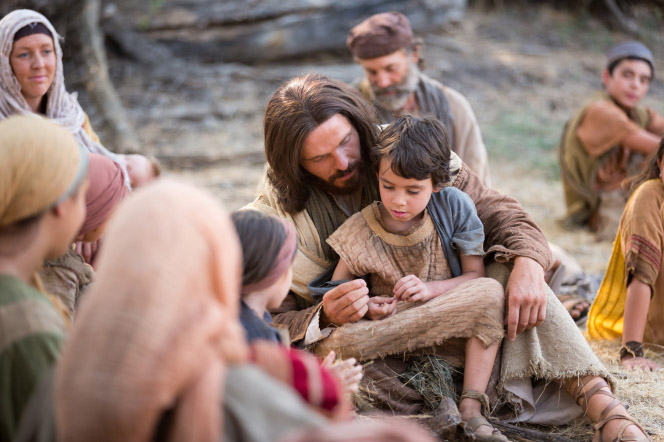 Ask God to give you unconditional love, so that you can view your son or daughter through the lens that only He can offer. The Lord can help us change our weaknesses into strengths. Do you believe that? He can heal our hearts and change our perspective. Although love seems to come natural and instinctive unconditional love may be more difficult to master. Ask Him to help you love unconditionally.
13. Remember They are Heavenly Father's Children First
Simply remember that your child is Heavenly Father's child first. Derive comfort in the knowledge that a being who is omnipotent, and perfect is mindful of your son or daughter and that He is aware of each person. Do not try to calculate using an earthly timetable. We love Him because He first loved us ( all of us including His wayward children).
Remember, remember, remember they are His children and He has a plan for each and every child. As you continue to pray for your children, the Lord will give you direction on how best to help them return to the Church. Never ever give up on them because Heavenly Father never will.
What are some ways you have reached out to wayward family members in your life? Comment below.