Come, Follow Me: June 8 — 14


Alma 8—12: "Jesus Christ Will Come to Redeem His People"
---
Alma goes to Ammonihah (Alma 8):
After Alma preached to the people of Gideon, he returns to his home in Zarahemla to rest. During this time, he checks on the affairs of the Church in Zarahemla and then goes to the land of Melek to teach (which means "king" in Hebrew). In verse 4, we see that people came to him from all over the land of Melek to hear him preach and, consequently, many were baptized. When he finishes his work there, he travels three days north (verse 6) to the city of Ammonihah.
In verse 7, we learn that it was customary to name cities, and even small villages, after the people who founded them. If you look at the construct of Ammonihah, it fits some constructs in Hebrew, with Ammon as the person's name, the syllable "I" as "my" and "hah" as "towards."
The people of Ammonihah had once believed in and practiced the gospel taught by the prophets. They were Nephites who had willingly turned away from the light and embraced the false principles taught by Nehor. Thus, unlike the Lamanites, they had sinned against the light and not because of the traditions of their fathers. Not only that, but they were planning the destruction of the liberty of the people, a fact that God reveals to Alma in verse 17.
Unlike the people of Melek, those in the city of Ammonihah reject the words of Alma. In verse 11, we see that they knew Alma was the high priest and that the Church had been established in many parts of the land. They inform Alma that they are not of the Church and don't believe its foolish doctrines. In addition, the people point out (verse 12) that since Alma is no longer the chief judge, he has no power over them. Then they spit on Alma, revile him, and cast him out.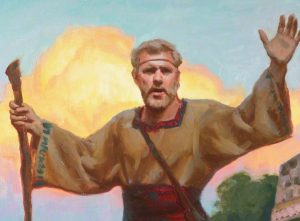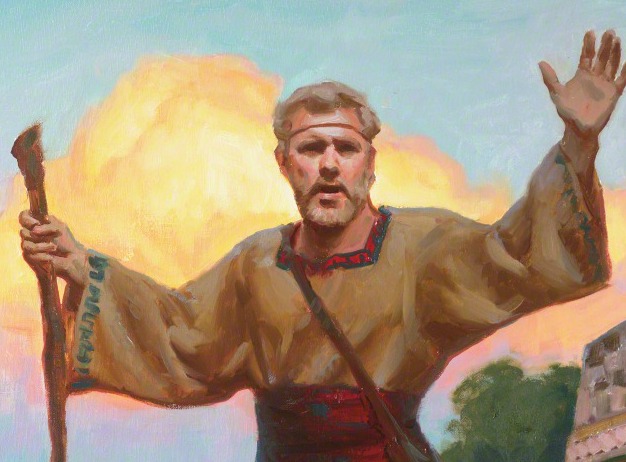 Alma leaves sorrowing. He suffers great anguish of soul for the people of Ammonihah. Alma had experienced bitter repentance and had seen the depths of hell. He knew where these people were heading, and it grieved him. Many of us have felt similar grief for those who have turned against knowledge and light. Some of these people are our own children, parents, or siblings or missionary companions. How can you describe this sorrow? What can we do with it?
An angel appears to Alma (verse 14) and identifies himself as the angel who caused Alma to repent (verse 15). His first message is, "Blessed art thou, Alma." In spite of all these who are wicked, Alma has been faithful. Why did the angel bear this message to Alma? Why does the angel tell Alma to rejoice? What message does this have for us?
The angel tells Alma to return to Ammonihah (verse 16) and tell the people they have a choice—repentance or destruction. Perhaps we should pause and review what situations cause a society to be ripe for destruction.
The people are wholly wicked and refuse to repent.

The righteous are persecuted, killed, or driven out.

It is impossible to raise a child up in righteousness.
As we read the story of Ammonihah, does the city appear to fulfill these requirements?
In verse 17, the angel reveals to Alma that the people of Ammonihah are planning to destroy the liberty of Zarahemla. In verse 18, we see that Alma "returned speedily" to the land of Ammonihah. Compare Alma's behavior to that of the prophet Jonah, who was called to preach repentance to the land of Nineveh. What did Jonah do when he received this commandment to preach? Why? Which city was more frightening, Nineveh or Ammonihah? Which people were former believers? Why does that make a difference?
Alma enters through the south entrance to the city. He has not eaten in quite a while and approaches a man to beg for food (verse 19). Miraculously, the man, whose name is Amulek, had received a vision wherein an angel had told him to receive a prophet who should come to him. Alma spends some time in the home of Amulek. Amulek feeds Alma with food, and Alma feeds Amulek and his family spiritually. He is there long enough that the people of the land become even more wicked during this time (verse 28).
In verse 29, the Lord sends both Alma and Amulek forth to preach. In verse 30, it says that they were filled with the Holy Ghost. Verse 31 says that they had a great deal of power, so that even prisons couldn't hold them, but they delayed using this power. What are some reasons that they would hold back?
Alma commands the people to repent (Alma 9):
As soon as Alma begins to teach, the people of Ammonihah begin to contend with him. They say it's because since he's only one man, why should they believe him. The phrase, "…although he should preach to us that the earth should pass away…." They're using this as a superlative that could never happen, but Alma records in the scriptures that this is ironic, because the earth will indeed pass away. This is proof that the people of Ammonihah had forgotten what former prophets had taught them.
They do it again when they say (verse 4) they won't believe Alma even if he says their city will be destroyed in a day. When they refuse to repent and kill and cast out the righteous, this is exactly what happens. They have lost the awareness of the power of God. Is this happening in your society today?
In verse 6, the people again mock Alma because he's only one man. The people look like they are going to lay hold of Alma, but they don't, so he begins to preach boldly (verse 7). He starts out telling them they are "wicked and perverse." What does perverse mean? Alma condemns them for not remembering certain things. What are they and why is it important for them to remember? What things does the Lord want us to remember? How does He help us remember them?
In verse 14, Alma begins to talk about the Lamanites. In verses 15 – 17, why will judgment be more tolerable for the Lamanites than for the people of Ammonihah? In verse 18, how does Alma say the people of Ammonihah will be destroyed? Why not destroy the people the same way the Lord destroyed Sodom? (See verses 19 – 22.)
Look at verses 23, 24. Why will it be more tolerable at judgment for the Lamanites than for the people of Ammonihah? Alma preaches to the people about the coming Messiah. He then frankly tells them that they are a "lost and fallen people" (verse 30). In verse 31, the people are furious that Alma has called them "hard-hearted and stiff-necked."
Interestingly, people who are nearing destruction because of their wickedness think that everything is fine within their society. When the city of Sodom was about to be destroyed, Lot was allowed by the angels to go and warn his grown children about the coming destruction. They didn't believe him, thinking that Sodom was just fine and that it was not a wicked city. How does this happen? Is this happening where you live? Those people who think that they are right become angry when you challenge that belief.
The people wanted to cast Alma into prison, but the Lord wouldn't suffer that to happen at that moment. In verse 34, we see Amulek standing forth to preach to them.
Amulek testifies as a second witness (Alma 10):
Amulek begins by introducing himself, starting with his lineage, which was very important in Jewish, Old Testament culture. Amulek was the great-grandson of Aminadi, who "interpreted the writing which was upon the wall of the temple, which was written by the finger of God." Do we know anything about Aminadi from the Book of Mormon? Does this help you realize how many stories are missing? What about the stories of your ancestors? Do your parents have stories that have never been passed on?
Aminadi was a descendant of Nephi, who, going back, was descended from Manasseh, son of Joseph. So those who descended from Lehi were descended from Joseph. Who else came out of Jerusalem with Lehi? Whom do you think they were descended from? The Mulekites were descended from the tribe of Judah. At the time Lehi and Mulek left Jerusalem, all these tribes were often called "Jews" because they all lived in Judea.
In verse 4, Amulek begins describing himself. What kind of a person is he? In what ways has he been very successful? In verses 5 and 6, what do we learn about Amulek's religious commitment? Why would God choose a man like Amulek to be a second witness to Alma and to face many trials of faith that would require standing strong in the faith even in the face of death?
In verse 7, Amulek begins to describe how he met Alma. He testifies that he saw an angel, and Alma has also testified that he saw an angel. Sometimes, when we have extremely powerful spiritual experiences, we are counseled not to share them. Why are both men so open with their visions?
In verse 12, we see that the people were astonished because there was a second witness. Imagine you were in this group of people. Would you feel differently with two witnesses and not just one? Why do our missionaries serve two-by-two?
Some of the most cunning men try to question Alma and Amulek to find something they could witness against so the two prophets can be killed or imprisoned. The scriptures go on to explain how their corrupt lawyers worked. Read verse 17. What advantages did Amulek have?
In verse 22 and 23, Amulek talks about the prayers of the righteous and how they kept the wicked in Ammonihah from being destroyed. How many righteous people must there be in a city to keep it from being destroyed because the others are so wicked? (See Genesis 18: 16 – 33.)
In verse 26, how has Amulek not testified against the laws of Ammonihah? How do their laws condemn them? In verse 27, who has corrupted their laws? In verse 31, we are introduced to Zeezrom, a corrupt lawyer. Zeezrom's story is one of the most interesting in the Book of Mormon. We can assume that his eyes and heart are set upon material things as it states that his object is to "get gain."
Amulek contends with Zeezrom (Alma 11):
Alma 11 begins by explaining how judges are paid. The scriptures mention that the Nephites did not follow the standards of measurements used by the Jews. There's no value judgment to be made here because there are no measurements or monetary standards required by the Law of Moses, which emphasizes fairness. The availability of precious metals and other resources would influence their value.
In verse 20, however, we see that the judges stirred up the people to contention so that more cases would be brought to court. In modern times, what is meant by a "litigious society"? What are the outcomes in societies like these? Do you live in one?
The judges stirred up the people against Alma and Amulek. In verse 21, how is Zeezrom described? What talents did Zeezrom have that he could have used for good? He tries to tempt Amulek, but Amulek discerns his thoughts by the power of the Spirit. In verse 24, Amulek says that Zeezrom knows there is a God, but that he loves money more than God. Where does God belong in our list of priorities?
In Zeezrom's "discussion" with Amulek (through the end of the chapter), Zeezrom tries to twist Amulek's words in order to accuse him before the people, but Amulek becomes even bolder. He unfolds to Zeezrom and the people the nature of God, the nature of the atonement, and the resurrection.
At this point, the people are astonished and Zeezrom begins to tremble. Why do you think they were affected like this?
Alma speaks to Zeezrom (Alma 12):
Alma, seeing that Zeezrom has been so affected by Amulek's testimony, takes over preaching to Zeezrom and "a great multitude" that had gathered. In verse 3, he begins to accuse Zeezrom and to expose his ruse, inspired by Satan. By verse 7, Zeezrom is converting, and by verse 8, he is sincerely inquiring about the things of God. How does this change his position among the people? What are the possible outcomes for Zeezrom?
Read verses 9 – 11. Why do some people only receive a small portion of God's word? How can we position ourselves to receive more? Look at verse 14. How are we judged, and by what are we condemned? In verse 16, what is the "second death"? How has Christ prepared a way to overcome this second death?
In verse 20, and chief ruler comes forward and begins to ask questions of Alma and Amulek. How can you tell by his questions that he already has some knowledge of the gospel? What does Alma teach about the choices in the Garden of Eden and the Fall? Beginning in verse 31, why does God give us commandments? Why is humility required before we can repent?
https://www.churchofjesuschrist.org/media/video/2020-03-0540-amulek-testifies-of-jesus-christ-alma-10-11?lang=eng