"The Word of God Grew and Multiplied"
Cornelius, a centurion in Caesarea (Acts 10:1 – 8):
Caesarea was a beautiful Roman resort on the Mediterranean coast of Israel. Roman ships sailed into the seaport there and Herod and other Roman governors in Israel spent as much time there as possible. Cornelius was a centurion, a commander of 100, with 80 being infantrymen and 20 being servants. Some centurions had even more responsibility but still kept the same title.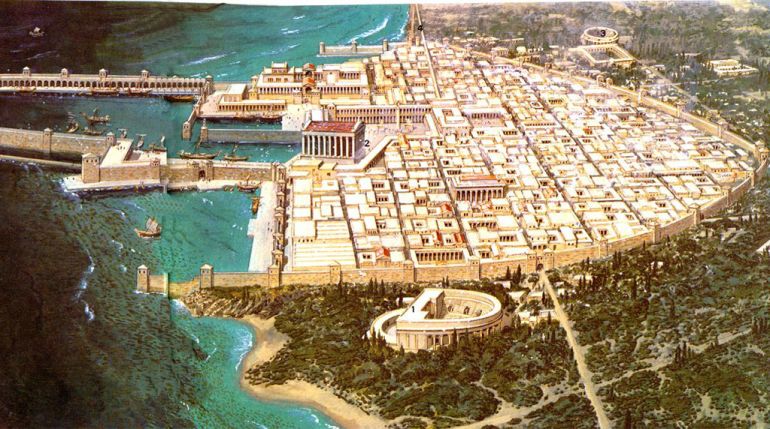 Cornelius had somehow acquired a testimony of Christ and was humble and devout. He was prayerful and gave alms generously. When Cornelius was praying, an angel appeared to him and told him to summon Simon Peter from Joppa, who was residing in the house of Simon the Tanner. Cornelius sent two servants and a soldier who also was a believer. Joppa (Jaffa, Yaffo) is located about 40 miles south of Caesarea on the coast. They may have traveled by boat.

Peter went up upon the housetop to pray (Acts 10:9):
Homes were built with flat roofs in the Holy Land. A pipe carried rainwater from the roof to an underground cistern to store it for the 6 dry months. Once the winter rains stopped, the rooftop became a room of the house, with furnishings. Peter went up there to pray.
Peter's vision (Acts 10:10 – 18):
Peter suddenly became very hungry and would have eaten, but he received a vision instead. A sheet lowered, held together at the four corners, and it was full of unclean beasts. Jews cannot eat any birds that themselves eat carrion; they cannot eat land animals unless they chew the cud and have cloven feet, and they cannot eat any sea creatures that do not have fins and scales. All other creatures are unclean for eating. The Lord offers these unclean animals to Peter and invites him to slay and eat. But Peter rejects the offer saying that he has never eaten anything unclean.
Because of these dietary rules, Jews did not eat at the tables or enter the homes of Gentiles. The video created by the Church and shared in this lesson online is excellent. Watch how Peter hesitates at the door of Cornelius' house and looks at the doorposts. Peter is looking for a "mezuzah," a little box containing prayers attached to the doorposts of Jewish homes as commanded in Deuteronomy 6:9. The prayers are…
"Hear, O Israel: The Lord our God, the Lord is one. Love the Lord your God with all your heart and with all your soul and with all your strength. These commandments that I give you today are to be on your hearts. Impress them on your children. Talk about them when you sit at home and when you walk along the road, when you lie down and when you get up. Tie them as symbols on your hands and bind them on your foreheads. Write them on the doorframes of your houses and on your gates." 
He does so out of habit. Every house he has ever entered has had a mezuzah which he would touch and then place his fingers on his lips. When Peter had his vision, which the Lord showed him three times, the message was "What God hath cleansed, that call not thou common." Peter was contemplating the meaning of the message when the Holy Ghost told him that three men were seeking him. They had already arrived at the house of Simon the Tanner.
Peter preaches to the Gentiles (Acts 10:19 – 48):
The Lord told Peter to go with the three men, doubting nothing. Note how timely and specific the Lord's dealings were with Peter during this experience. Peter was the president of the Church, the presiding prophet of that dispensation. This was not a "knowing not beforehand what I should do" experience. This was all strange to Peter, but he was strongly and specifically guided at every turn. This was a very important development in taking the gospel to the world.
After lodging the three men for the night, Peter gathered a few men from Joppa and then left with the three messengers. He arrives at Cornelius' house and responds humbly when Cornelius kneels before him. Cornelius has a number of his friends and family there to hear Peter preach and they receive the gospel so enthusiastically, being observably inspired by the Holy Ghost, Peter sees no reason that they should be kept from baptism.
The apostles in Jerusalem hear about Peter baptizing Gentiles (Acts 11:1 – 18):
When Peter arrived back in Jerusalem, the other apostles accused him of going into the home of someone uncircumcised and even eating with the Gentiles. Peter recounted the vision, the words of the Lord, and the sincerity of the believing Gentiles. Then the other apostles believed and said, "Then hath God also to the Gentiles granted repentance unto life."
The apostles and disciples spread the gospel around the Mediterranean (Acts 11:19 – 21):
Acts 11 says the gospel was being spread at the time that Stephen was persecuted and executed. Missionaries had gone to Phenice (Phoenix) in southwest Crete, Cyprus, Antioch, and Cyrene. This map will help you to locate these places.
Barnabas and Paul win many converts in Antioch (Acts 11:21 – 26):
Paul and Barnabas spent an entire year in Antioch assembling a congregation and winning converts.
The Saints send relief to Jerusalem (Acts 11:27 – 30):
A dearth arose when the seasonal rains failed to come, and the Saints abroad sent relief to those in Jerusalem.
Herod executes James and imprisons Peter (Acts 12):
The Herod talked about in Acts 12 was not Herod the Great, who was governing Judea when Christ was born, but his grandson, Herod Agrippa. In fact, this is the third Herod we've encountered. Herod Antipas, a son of Herod the Great, was governing in Galilee when Christ was crucified. Pilate sent Christ to him and Antipas sent Christ back to Pilate. Herod Agrippa was Antipas' nephew and was King of Judea from 41 A.D. to 44 A.D.
Agrippa had been embroiled in politics in Rome when Tiberius was ruling. After some adventures because of recklessness with money, Agrippa got into trouble again for allying himself with Caligula. He was imprisoned in Rome by Tiberius. While in prison Agrippa had seen a good luck sign — an owl sitting on a rope over his head. This sign, however, if seen again, would indicate his ruin. Agrippa was freed when Caligula became the emperor, so the sign of coming good fortune came true. Then, Agrippa was made king of Judea. In Judea, Agrippa was very popular with the Jews. He persuaded Caligula not to erect a statue of himself there, because it would inflame the Jews.
In Acts 12, we see Agrippa pleasing the Jews by killing James by the sword and putting Peter in prison, which he did during the Passover. After the Passover, Agrippa went to Caesarea to sponsor games in honor of Claudius of Rome. At the games, Agrippa appeared onstage in a garment made completely of silver. It glinted in the sun and those who saw it called him a god. Agrippa didn't argue with that, but shortly thereafter he saw the owl again. He was stricken with a bowel disease that essentially ate his insides and killed him. Acts says he was eaten by worms.
The story of Peter's imprisonment is inspiring. He was released by an angel and went to the home of John the Beloved's mother. The family could hardly believe it was Peter and left him waiting outside the gate. True to his character, Herod Agrippa executed the prison guards.
Paul and Barnabas preach the gospel in Cyprus and Antioch (Acts 13):
Paul and Silas teach in the synagogues and do win some converts. Their method of preaching is the same as Peter's was at Pentecost, building on the kingship and promise of King David and showing how the Eternal King came from his lineage. Nearby Gentiles are envious of the Jews and want to be taught, so Paul and Barnabas agree to teach them, winning many converts. Back in Antioch, the Jews rebel against their teachings, so Paul and Barnabas turn wholly to the Gentiles.
Note that in verse 1 a holy man named Manaen is mentioned. He grew up with Herod Antipas (who tried Christ and sent Him to Pilate) and Saul. Imagine how interesting his story would be to hear.
Persecution comes with the preaching of the gospel (Acts 14):
Paul and Barnabas had much success in Iconium among both Jews and Gentiles, but unbelieving Jews turned some Gentiles against the missionaries and the Church. Elements from both the Jews and Gentiles intended to stone the disciples, so they had to flee the city. In Lycaonia, the disciples performed miraculous healings and were hailed as gods. The priest of Jupiter actually brought garlands and animals to sacrifice and celebrate.
This is really important and the big reason why the Jews were the only people wicked enough to kill their God. The world was pagan, having many gods. If Christ had performed His miracles in Greece, people would have cheered, "Hooray, you are a god. Where do you want your statue"? Only the one-god Jews could have been offended enough to do away with Jesus.
Jews from Antioch did come and managed to stone Paul, who was carried from the city as if he were dead. Paul and Barnabas continued to travel in what is now Turkey, ordaining elders and strengthening the Saints. Finally obtaining some rest in Antioch, they sojourned for a time with the apostles there.
The question of circumcision (Acts 15):
Acts 15 is a great example of the difference between doctrine and policy. Eternal doctrines do not change, but policy changes through the influence of revelation are signs of the true and living church.
The apostles had continued to behave as cultural Jews and expected converts to do the same. They were expected not only to keep the Jewish dietary laws but also to be circumcised. In verse one we see certain church leaders from Judea teaching that one could not be saved without circumcision. In certain ways, this very thing happens today as we judge each other by cultural standards and not by God's standards. Paul and Barnabas decided to engage in a conference in Jerusalem to discuss the matter.
In verse 5, we see believers who were Pharisees arguing for circumcision. There are Pharisees in every faith, those who favor the law and cultural traditions over the spirit. These men were that way as Jews and as Christians. The apostles recounted their experiences with the converted Gentiles, their sincere belief, the sacrifices they made, the miracles that were performed because of their faith.
Peter proposed that circumcision should not be a requirement for them, but only to refrain from certain repugnant and unhealthy dietary habits — eating strangled things or the blood of animals. (Interview former missionaries to other countries, and you will find that these things may have been forbidden on their missions, too.) They also decided to require chastity and the avoidance of foods and things associated with idol worship.
Contention among the servants of God (Acts 15:36 – 41):
Church leaders are people with body parts and passions. A sharp disagreement arose between Barnabas and Paul over the choice of companions.
---
Come, Follow Me for Individuals and Families