"Be Ye Doers of the Word, and Not Hearers Only"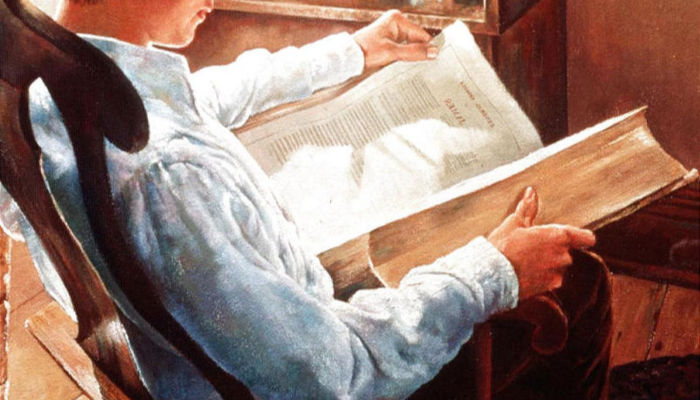 James has been called James the Just, and his epistle is meant for Jewish converts dispersed all over the known world. It seems certain that James was the brother of Christ. We know very little about Jesus' family but it would be wonderful if we did. John 7:2 – 5 says Jesus' brothers wanted Him to appear openly in Jerusalem because they doubted Him: "For even his brothers didn't believe in him" (NIV). If this was the case, then a testimony came later. Some sources say Christ made a personal appearance to James.
A good discussion would be how important families are to people who are called to do difficult things. Sometimes it seems like Joseph Smith's calling was a family calling. In fact, individual members of Joseph's family were heroic examples of being "doers of the word" and "not hearers only."
Doers of the word (James 1):
James starts right out by rejoicing in tough times and challenges to our faith. He says the trying of our faith helps us to be patient. How has that been true in your own life?
Verse 5 is famous for us because it's the verse that prompted the young Joseph Smith to go to the woods to pray for guidance:
If any of you lack wisdom, let him ask of God, that giveth to all men liberally, and upbraideth not; and it shall be given him.
There is a caution in verse 6: "But let him ask in faith, nothing wavering." What does it mean to ask in faith, nothing wavering? It means we are fully willing to act upon the knowledge and enlightenment we receive. If we gain knowledge and don't act upon it, it's good for nothing. How many missionaries have taught the gospel to investigators who believed them but refused to make the sacrifices necessary to join the Church, or even to attend a meeting? Joseph Smith is a prime example of being willing to follow the Lord no matter what.
Beginning in verse 13, James talks about temptation. God cannot and will not tempt us to be evil. People are tempted through their own lusts. Every good and perfect gift comes from above. Then James talks about being doers of the word:
But be ye doers of the word, and not hearers only, deceiving your own selves.
For if any be a hearer of the word, and not a doer, he is like unto a man beholding his natural face in a glass:
For he beholdeth himself, and goeth his way, and straightway forgetteth what manner of man he was (verses 22 – 24).
What are we expected to do as doers of the word? We've been accused of being a "works-based gospel," thinking our works will save us. How is this not true? Why are works necessary?
Pure religion and undefiled before God and the Father is this, To visit the fatherless and widows in their affliction, and to keep himself unspotted from the world (verse 27).
Faith without works is dead (James 2):
James begins by counseling us not to be a respecter of persons. If a rich man and a poor man were to enter the chapel at the same time, who would you greet, who would you be drawn to? James accuses us of despising the poor. This UNICEF video demonstrates our natural tendencies to judge people (even children) by their appearance:
Verses 8 and 9:
If ye fulfill the royal law according to the scripture, Thou shalt love thy neighbor as thyself, ye do well:
But if ye have respect to persons, ye commit sin, and are convinced of the law as transgressors.
Note that the law to love your neighbor shows up first in Leviticus. It's an eternal law established from the beginning.
Verse 13 says, "For he shall have judgment without mercy, that hath shewed no mercy; and mercy rejoiceth against judgment."
To the Jews, the thought of justice without mercy was frightening. Contemplate what that would be like.
James then writes a narrative that includes giving good wishes to the poor but doing nothing to help them. Then he adds this famous sentence, "Even so faith, if it hath not works, is dead, being alone." There are Protestant religions that rely completely on grace and say all you have to do is confess your belief in Christ. Discuss why this can't be true. James says that the devils also believe in Christ. Are they saved? In verse 22 James says our faith is made perfect by our works; by them, we are justified.
Governing the tongue (James 3):
People say a lot of things. It would be interesting if all the words uttered today that were untrue, unclean, destructive, or offensive were deleted, how many words would be left? Why is governing the tongue an important work for us? James says a person who can control their speech can control their body as well.
Verses 16 – 18 contain excellent advice:
For where envying and strife is, there is confusion and every evil work.
But the wisdom that is from above is first pure, then peaceable, gentle, and easy to be entreated, full of mercy and good fruits, without partiality, and without hypocrisy.
And the fruit of righteousness is sown in peace of them that make peace.
Sin is the failure to walk in the light we have received (James 4):
James says that the friendship of the world is enmity to God. It's another way of saying we can't serve two masters. There is a lot written nowadays about Latter-day Saints pursuing perfectionism rather than perfection. What is the difference? How much of perfectionism is trying to impress the world rather than being qualified for the kingdom of God? How stressful is it to try to do both at once?
James says that if we draw night unto God, He will draw nigh unto us. Why does God wait for us to approach Him? How does this relate to Joseph Smith's reading of James and seeking the Lord in prayer?
Await the Lord's coming with patience (James 5):
James doesn't have much good to say about the rich. There are many rich people who do good things, however. What are the dangers and temptations for the rich? What sins are they likely to commit?
Verse 7 refers to life in Israel: "Be patient therefore, brethren, unto the coming of the Lord. Behold, the husbandman waiteth for the precious fruit of the earth, and hath long patience for it, until he receive the early and latter rain." It only rains in Israel between mid-October and mid-April, and locally, people call the spring and fall rains "early and latter." It does take patience to grow crops. Especially in the spring, the winds can reverse. Instead of coming from the Mediterranean, they come in dirty and dry from the Arabian desert. This makes it even more difficult to be a farmer.
James talks about healing the sick: "Is any sick among you? let him call for the elders of the church; and let them pray over him, anointing him with oil in the name of the Lord: And the prayer of faith shall save the sick, and the Lord shall raise him up; and if he have committed sins, they shall be forgiven him" (verses 14, 15).
---
Lesson Resources:
churchofjesuschrist.org — Come Follow Me