"Rejoice with Joy Unspeakable and Full of Glory"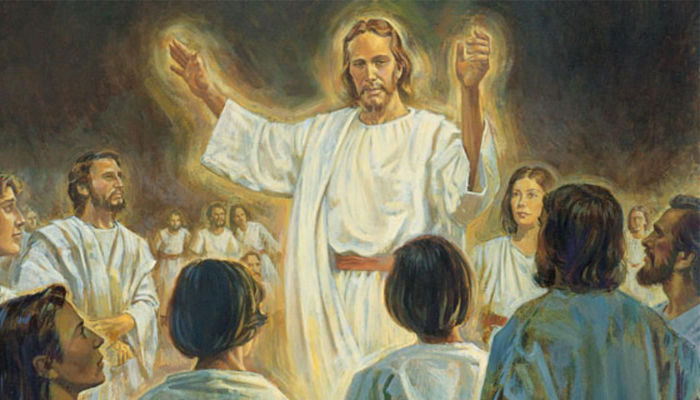 Scholars can't seem to agree on whether the Epistles of Peter were written by Peter himself, dictated to a scribe more fluent in Greek, or written by someone else who admired Peter. Scholars also can't agree on when the epistle was written. Peter and Paul were both executed by Emperor Nero of Rome in 64 A.D. Assuming the author was Peter, he was writing to Christian converts in Greece and Turkey, all of whom were under Roman rule.
Salvation comes after the trial of our faith (1 Peter 1):
The world was a challenging place to live in for new Christian converts. There was a huge chasm between the pagan faiths and lifestyles and the doctrines and practices of Christianity. Peter is telling the early saints that it is all worth it: there are blessings in this life and salvation in heaven.
Peter commends the saints for having faith in the resurrected Christ, whom they have never seen. He then reminds them that they are judged by their works (verse 17) and that they have been redeemed by the ultimate sacrifice.
A royal priesthood (1 Peter 2):
Verse 5 says the following:
Ye also, as lively stones, are built up a spiritual house, an holy priesthood, to offer up spiritual sacrifices, acceptable to God by Jesus Christ.
Evangelical and Born Again Protestants believe that Jesus was the great high priest and there cannot be any priesthood after Christ. But a holy priesthood and a royal priesthood (see verse 9) are mentioned several times in the epistles of the apostles. In Protestantism, members visualize a "priesthood of believers" with no special authority (authority residing in the Bible, not in a priesthood). How does our doctrine differ from these ideas and how could our doctrine of the priesthood being extended to every worthy man and shared by women be described in this verse?
Beginning in verse 5, Peter talks about a spiritual house. For believers, Christ is the chief cornerstone, but for unbelievers, He becomes a stumbling block. How do you see this in your own life and in the world today?
Verse 12 talks about how the Gentiles view the Christians as evildoers. This is true today as well. What should we do about it? Peter tells us…
…whereas they speak against you as evildoers, they may by your good works, which they shall behold, glorify God in the day of visitation.
In verses 13 – 17, Peter admonishes the saints to be honorable and to be obedient to kings and magistrates. In verse 18, Peter cautions servants to be subject to their masters and to do their best work. He does mention suffering; he acknowledges that life is hard for servants, but their suffering can be for their good. Why didn't Christ and the early apostles attempt to do away with slavery? They were surrounded by it, and it certainly isn't acceptable according to Christian doctrine. Peter says wrongful suffering can be sanctifying:
For this is thankworthy, if a man for conscience toward God endure grief, suffering wrongfully (verse 19).
Christ preached to spirits in prison (1 Peter 3; 1 Peter 4:6):
Christian sects today don't know quite what to do with verses 18 – 20. They have the idea that Christ descended into hell during His 3 days in the tomb although they have no details. But the early Christians seemed to know much more about Christ preaching to the spirits in the Spirit world. Here are the verses:
For Christ also hath once suffered for sins, the just for the unjust, that he might bring us to God, being put to death in the flesh, but quickened by the Spirit:
By which also he went and preached unto the spirits in prison;
Which sometime were disobedient, when once the longsuffering of God waited in the days of Noah, while the ark was a preparing, wherein few, that is, eight souls were saved by water.
Verse 6 in 1 Peter 4 says,
For for this cause was the gospel preached also to them that are dead, that they might be judged according to men in the flesh, but live according to God in the spirit.
These are the verses Joseph F. Smith was pondering when he received the wonderful vision that we now have as Doctrine and Covenants Section 138. We know a great deal more about the Spirit World and the salvation of the billions of people who lived before Christ because of this revelation. It is a jewel, a pearl of great price. How does the information contained in Section 138 affect you?
Our trials can be consecrated (1 Peter 4):
Most of this chapter discusses bearing up in the face of improper judgment from the world and consecrating our difficulties to God by staying firm in the faith.
Elders care for the flock (1 Peter 5):
The elders which are among you I exhort, who am also an elder, and a witness of the sufferings of Christ, and also a partaker of the glory that shall be revealed:
Feed the flock of God which is among you, taking the oversight thereof, not by constraint, but willingly; not for filthy lucre, but of a ready mind;
Neither as being lords over God's heritage, but being ensamples to the flock (verses 1 – 3).
The Lord's Church today is organized according to this ancient pattern. The Elders, as leaders, are servants and don't receive money for their labors for the flock. They lead by example. They have authority to fulfill their callings.
Make your calling and election sure (2 Peter 1):
There are many exhortations in the New Testament to make our calling and election sure. This means that we are sealed up to eternal life, guaranteed to inherit the Celestial Kingdom, as long as we don't commit the unpardonable sin. This occurs when we have proven that our will is exactly aligned with God's and that we are willing to sacrifice all things for Him.
One's calling and election is also called receiving the Second Comforter (Christ) and "the more sure word of prophecy":
We have also a more sure word of prophecy; whereunto ye do well that ye take heed, as unto a light that shineth in a dark place, until the day dawn, and the day star arise in your hearts…(verse 19).
Verse 9 contains an interesting phrase:
For if these things be in you, and abound, they make you that ye shall neither be barren nor unfruitful in the knowledge of our Lord Jesus Christ.
But he that lacketh these things is blind, and cannot see afar off, and hath forgotten that he was purged from his old sins (verses 8 and 9).
It's really fruitful to search for this phrase in both the Old and New Testaments. If you picture a watchman on a tower, he is able to see afar off. The Lord refers to such a watchman in D&C 101:54:
And behold, the watchman upon the tower would have seen the enemy while he was yet afar off; and then ye could have made ready and kept the enemy from breaking down the hedge thereof, and saved my vineyard from the hands of the destroyer.
In the Old Testament, before the Babylonians attacked, the Lord chastised the Jews for their wickedness, accusing them of being unwilling to see afar off.
How are you able to see afar off, while people of no faith don't have that ability? Why is it important?
While some scholars think Peter did not write this epistle but that it was written much later than Peter's martyrdom, here, it sounds like he is foreseeing his death, that God has shown it to him:
Knowing that shortly I must put off this my tabernacle, even as our Lord Jesus Christ hath shewed me (verse 14).
False prophets (2 Peter 2):
Peter warns of false teachers and prophets who have led and will lead many astray. Peter recounts the stories of Noah being saved from the flood and Lot being saved from Sodom—the Lord has power to save the righteous.
Peter then talks about the fall of those who once were enlightened. If they abandon their beliefs it's worse for them than if they had never believed.
The Second Coming (2 Peter 3):
People in the Last Days will doubt the possibility of the Second Coming. They will scoff and walk after their own lusts. It will feel like the Lord is delaying His coming:
The Lord is not slack concerning his promise, as some men count slackness; but is longsuffering to us-ward, not willing that any should perish, but that all should come to repentance (verse 9).
But it will come upon us suddenly:
But the day of the Lord will come as a thief in the night; in the which the heavens shall pass away with a great noise, and the elements shall melt with fervent heat, the earth also and the works that are therein shall be burned up (verse 10).
---
Come Follow Me for Individuals and Families