"For the Perfecting of the Saints"
Ephesus is located on the west coast of what is now Turkey and was a bustling trade city under Greek and then Roman rule. Paul spent two years there during his travels. Some say Ephesus is the burial place of Mary, the Mother of Christ.
Tradition says that Paul wrote the epistle to the Ephesians around 62 A.D. while he was imprisoned in Rome, but scholars are split on who wrote the epistle and when. It may have been dictated to a scribe by Paul or written later by someone close to him. The epistle may not even have been written to the Ephesians at all. There are no personal messages that were common in Paul's letters, and he spent enough time in Ephesus to have had very personal relationships there. But the themes are familiar to Paul's epistles.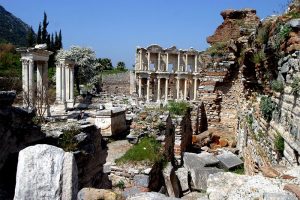 Before the foundation of the world (Ephesians 1):
Paul talks about how we are foreordained to be the "children of Christ." When he talks about this happening "before the foundation of the world" remember that other Christian faiths do not teach about a pre-existence for us, although they picture Christ and Satan existing before mortal life. There are many points for discussion here:
How does your knowledge of the pre-existence change the way you identify yourself?
What does foreordination mean? Does it mean predestined?
How can our behavior in pre-mortal life affect our life in mortality?
Can you see in the beginning of this chapter how a Christian denomination might teach predestination and unconditional salvation for the chosen, or salvation by grace without works? (See also Ephesians 2:8, 9.)
Verse 10 says the following:
"That in the dispensation of the fulness of times he might gather together in one all things in Christ, both which are in heaven, and which are on earth; even in him…."
How does the ongoing restoration of Christ's church show that these things are happening?
A foundation of prophets and apostles (Ephesians 2):
Verses 19 – 22 say the following:
"Now therefore ye are no more strangers and foreigners, but fellowcitizens with the saints, and of the household of God; And are built upon the foundation of the apostles and prophets, Jesus Christ himself being the chief corner stone; In whom all the building fitly framed together groweth unto an holy temple in the Lord: In whom ye also are builded together for an habitation of God through the Spirit."
Other Christian denominations visualize the prophets of old in these verses. They do not believe that there have been any prophets since Christ, although the Bible says Judas and Silas were prophets after the death of Christ (Acts 15:32). If apostles and prophets are foundational to Christ's church, what blessing is found in having them today?
Knowing the love of Christ (Ephesians 3):
Again, Paul emphasizes that all can be children of Christ who come unto Him. He exhorts us to become aware of the love of Christ and to be unified in that love. Paul counts it a privilege to have been called to gather in the Gentiles to the church.
One Lord, one faith, one baptism (Ephesians 4):
Today there are over 45,000 Christian denominations, each with its own doctrine. Verse 5 is used by these denominations to exclude others from being God's true church. During Paul's life, apostasy was just beginning to creep in, and the one true church was led by the apostles directly connected to the Savior.
Who is the One Lord? How can we know Him and His nature?
What is the One Faith? How can it be identified?
What is the One Baptism? How is it practiced? Why is authority important?
Verses 11 and 12 guide the organization of the restored church today:
"And he gave some, apostles; and some, prophets; and some, evangelists; and some, pastors and teachers; For the perfecting of the saints, for the work of the ministry, for the edifying of the body of Christ…."
Paul talks about "winds of doctrine" and people who mean to deceive, portending the apostasy, in verse 14:
"That we henceforth be no more children, tossed to and fro, and carried about with every wind of doctrine, by the sleight of men, and cunning craftiness, whereby they lie in wait to deceive…."
Verse 19 talks about "being past feeling." Those Gentiles who are of the world are blind to the spirit and can't feel it speaking to them. This is evident in our own society. Paul talks about how anger arises in the hearts of men and how the Spirit brings peace to our lives:
"Let all bitterness, and wrath, and anger, and clamour, and evil speaking, be put away from you, with all malice: And be ye kind one to another, tenderhearted, forgiving one another, even as God for Christ's sake hath forgiven you" (vs 31, 32).
Wives, be subject to your husbands (Ephesians 5):
This is not a popular sentiment today. But Paul's admonition is softened by his counsel to husbands:
"So ought men to love their wives as their own bodies. He that loveth his wife loveth himself….Nevertheless let every one of you in particular so love his wife even as himself; and the wife see that she reverence her husband" (vs 28, 33).
The whole armor of God (Ephesians 6):
Any discussion of the armor of God makes a great family activity. There are many films with dragons that are slain because a knight finds that one vulnerable spot in a dragon's armor. Visual aids are easy for this sort of activity. Build armor and then make a game of finding the vulnerable spots (Ephesians 6:11 – 18).
In Ephesians 6, Paul talks about children being obedient to parents and servants being obedient to masters. Note that slavery was common in Paul's day (and in Christ's day), but church leaders never preached against slavery. Why? This is a great discussion for an adult group or a group of youth.
---
---
Lesson Resources:
churchofjesuschrist.org — Come Follow Me