You want to share the gospel using your mobile and you love taking pictures. Instagram might just be the perfect tool for you!
Instagram today has over 300 million active users and it was acquired by Facebook in 2012. It continues to grow rapidly and has become fertile ground for sharing the gospel.
Instagram is a fast growing, mobile app based social image sharer. Instagram is a tool to take, improve and share photographs and other images on your smart phone. Instagram is quickly being adopted by brands that want to appeal to its young user base. If you are interested in sharing online images, Instagram is quickly becoming the default social media tool.
Who is on Instagram?
Instagram  reports having more than 300  million active users, as of December 2014, passing Twitter. In fact, Instagram is growing so fast (it had only 150 million active users in September 2013), that finding reliable and up to date data break downs of its current users is nearly impossible.
And Instagram continues to grow quickly, adding active users three times as quickly as Twitter over the last three quarters of 2014.  Instagram's user base is exceptionally active posting more than 70 million photos every day.
Who is the Average Instagram User?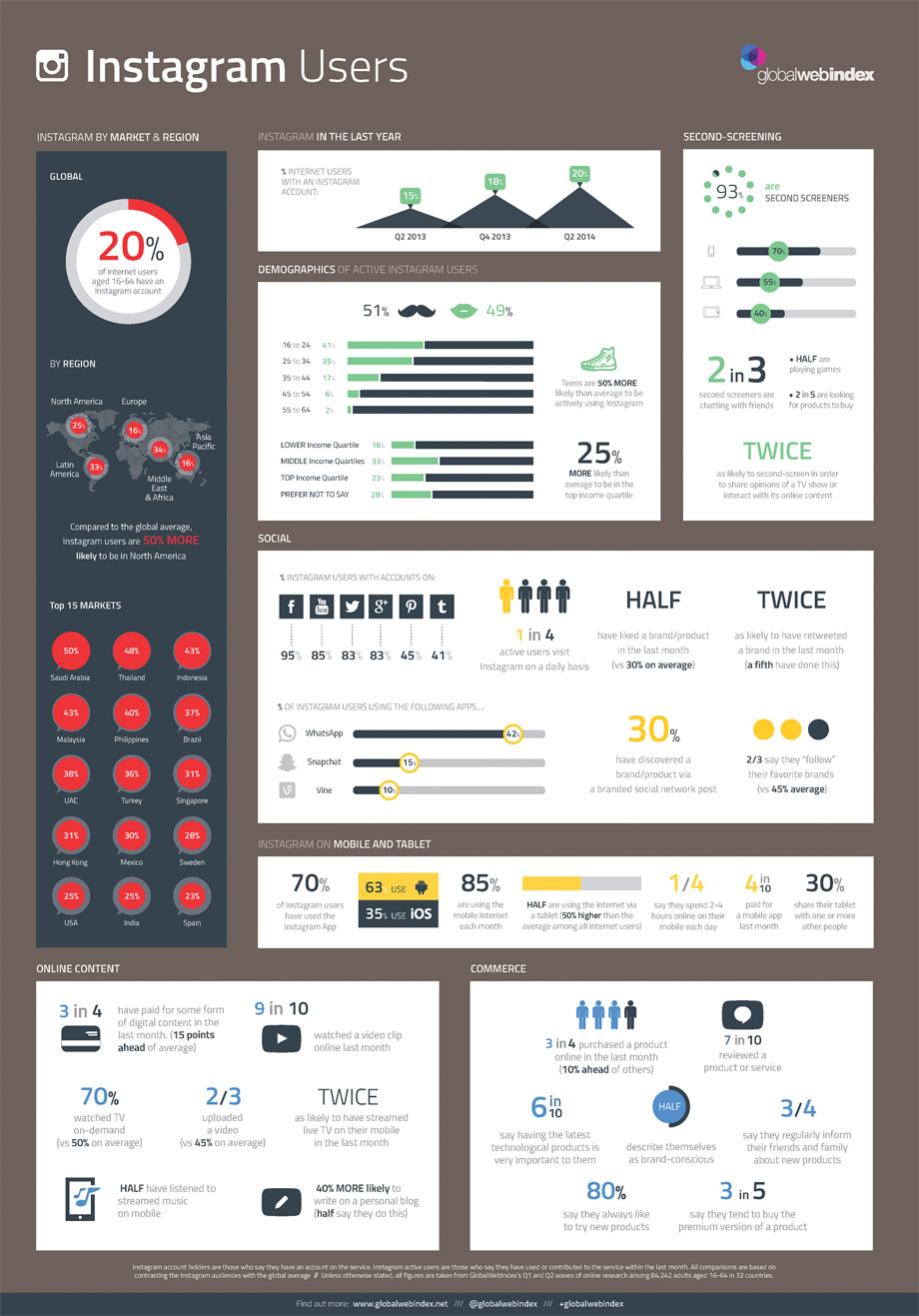 Instagram users are young. As of 2013, 90% were under 35 years old. Instagram uses tend to be more urban than rural, and teen users of Instagram are much more active on the site than other age groups.
One of the remarkable facts about Instagram, is that nearly all Instagram users, use the site while also using another kind of media. Instagram is overwhelmingly used while users are watching TV, or Netflix, or browsing the Internet.
Even though it was bought out by Facebook, Instagram seems to be maintaining the cool factor that is already being lost on other new services like Twitter.
What Features Does Instagram Offer?
Instagram is used on a smart phone with a camera. At it's most basic, Instagram is basic, user friendly photo editing software. Users can then share those images on Facebook, Twitter, or the Instagram social network, along with brief messages and hashtags. While commenting is possible on Instagram, it rarely happens.
Photo Editing
The main feature of Instagram is its easy to use photo editing tools. Instagram is not for advanced users, but its interface and presets are simple enough, that anyone can make reasonably good looking pictures. It allows users to make any of the basic edits you would find on any photo editing software, but what really makes Instagram stand apart is a series of filters.
These filters are a combination of effects that work together very well. Many of them are themed such as a filter to make it look like vintage photos, or a picture with sunrise lighting.
Hashtags
Hashtags on Instagram work in the same way they do on other social media sites. Hashtags are phrases that signify a specific theme so that others interested in that theme can find your image. Instagram uses hashtags also to signify communities and events on the site.
Videos
Instagram released their video creation tool shortly after Twitter released Vine, their 6 second video app. Instagram videos are limited to 3 to 15 seconds.
Share
Instagram was initially popular not because of its own social network, but because it allowed you to post your beautifully edited photo to your other social networks. Instagram allows users to share a single photo to Facebook, Twitter, Tumblr, Foursquare, and Flickr. This makes it an especially effective tool for sharing images across an array of networks. And makes Instagram a good choice as an additional social network because it can help enhance and simplify your photo sharing on those sites.
What Makes Instagram Unique?
Instagram has high quality image filters that are very easy to use. Users describe Instagram making them look artistic or creative. Unlike other photo editing apps, however, Instagram makes sharing those images with your social networks (including the Instagram social network) exceptionally easy.
What Do People Share on Instagram?
To give you a sense for what kind of content is most popular on Instagram, let's run down a few of the most popular hashtags on the site:
#Love #instamood – The love hashtag has been the most popular on the site since it began. And many hashtags on the site begin with "insta" or "IG" both abbreviations for Instagram. Instamood is the most popular of these and is used to show a picture that they believe will evoke emotion. Which is the point of pictures after all
#instagood #photooftheday #bestoftheday – Many of the most popular hashtags are used to point out pictures that the user believes is excellent. At its heart, Instagram is for people to show off pictures they think are really cool, and these hashtags preserve that spirit.
 #cute  #beautiful – Unsurprisingly because of its visual nature, Instagram users talk a lot about the way things look, particularly the way nice things look.
#me – You will not have to spend much time on Instagram before you realize that Instagram is a crucial part of the increasing popularity of the selfie and #me is the go to hashtag for your selfie.
#tbt #instagramhub #jj – There are many events and communities organized around hashtags on Instagram. #TBT for instance, means throw back Thursday, and is used for people to show old photos. Pay attention, and you'll notice different fun events on Instagram that you can participate in.
#iphoneonly – For the first couple of years, the Instagram app was only available on iPhone. When Instagram opened to Android, many users noticed that the new users focused on documenting their own life, whereas the early adopters focused on the most beautiful pictures. Though it is dwindling, there still tends to be a cultural divide on Instagram between these two camps.
Should You Use Instagram?
Instagram is perfect for people who enjoy taking photos on their smart phone. Whether you enjoy documenting the beautiful things you see, or your everyday life, Instagram is more a tool for optimizing photo sharing than social network.
Because of its narrow role as a photo sharing site, Instagram is probably a poor choice as your only social media site, unless pictures sharing is the only thing to get from social media. But Instagram is a perfect supplement for those other sites.
Instagram is perhaps the worst place for privacy, and professional photographers want to stay away since Instagram's terms of service make keeping copyrights on your images very difficult.
Getting Started
Take a Photo
Once you are on the Instagram home page, select the icon on the top right to add a new picture to your feed.
This will take you to the add screen.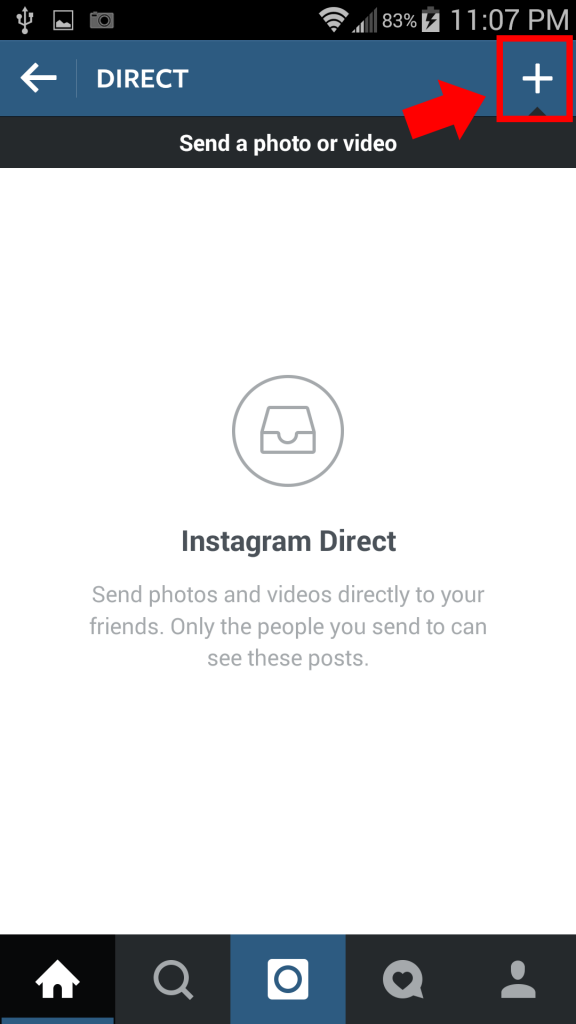 Select the + button to add a new photo or video.
Selecting this button will bring up the camera from your phone.
There are a few options on this screen. On the top row, from the left. First, this button will bring up a grid on the screen so you can best center your image. The center button will switch from the reverse facing camera to the front facing camera on your phone. The right most button toggles the camera's flash.
On the bottom panel, from left to right. The first button will allow you to upload a photo from another source to put on your Instagram account. The large center button is to take the photo, and the far right button toggles the still picture to video. Instagram allows you to post videos up to 15 seconds long.
Wait until you've got the perfect shot, and then take your picture.
Filters/Borders
Once you've finished your picture, you will be taken immediately to the filter screen. Choose from one of the twenty filters. The most commonly used filter is "normal" which doesn't change the picture at all, so if you're in a rush, or like your image as is, don't feel as though you need to choose a filter.
Tilt
Above the filter list there are three buttons, the left most is the list of filters, the second button is to change the overall brightness of the image. The right button will bring up a number of photo effects.
The first of these is "Adjust" this will allow you to adjust the tilt of the image. Simply scroll horizontally across the control bar, and the app will create a dynamic zoom affect. This is one of the more spectacular effects of the app, so you should definitely check it out. When you've adjusted the tilt to your desire click on the check mark.
Other Photo Effects
The toolbar has many different settings that you can adjust to get your picture looking exactly as you want. Most are as simple as using a slide bar, so it's easy to adjust your image to what you find ideal.
Share
When you're finished click on the right pointing button on the top right of the screen. And it will take you to the share screen.
At the top of this page you have two options, you can either direct message the image to one of your followers, or you can send the image to all of your followers. The active choice is highlighted. You can write your message to share. And then choose each social network you want to share the image on. Simply clicking the name of the social network will activate it.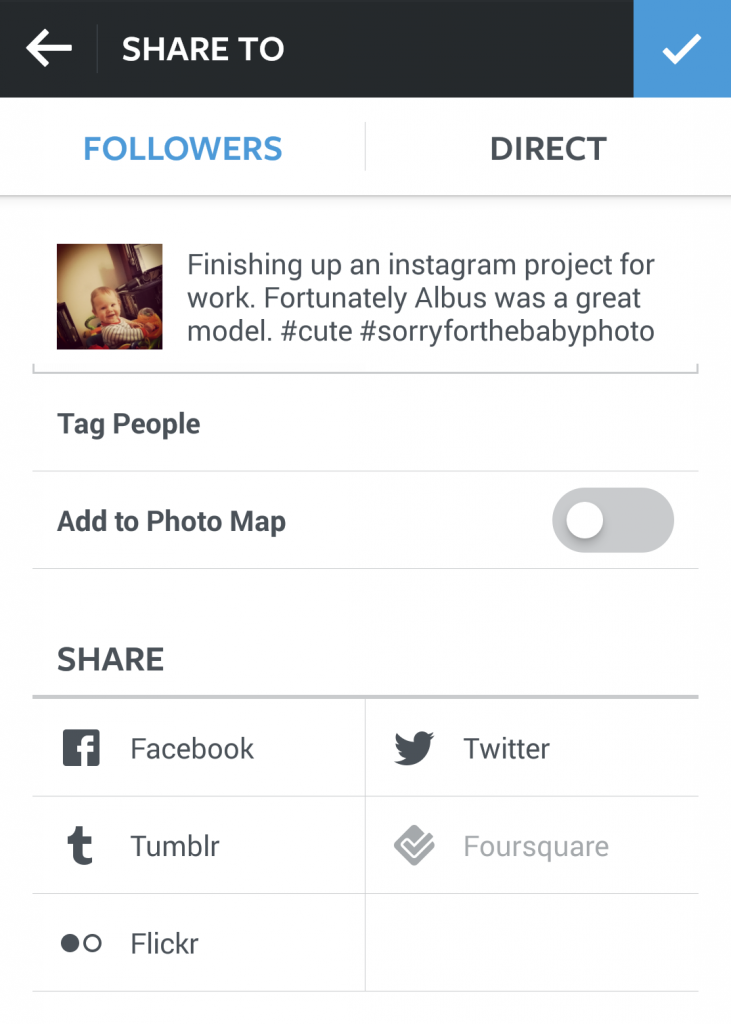 Terminology
Explore: Images that are popular across Instagram. If you go to the search button, and click on photos, you will be taken to the explore section of Instagram.
Feed: The images taken from all those you are following that show up on your Instagram home page.
Filter: The basic photo tool of Instagram, this is a collection of preset edits that can make mundane photos stand out.
Geotag: When you post a photo on Instagram you have the option of Geotagging it with the coordinates of where you are in the world. These coordinates are referred to as a Geotag.
Gramming: Instagram as a verb. Gramming can refer to taking and posting photos, or looking at others photos on Instagram.
Photomap: A feature of Instagram that allows you to see where your photos were taken, if you chose to enable the Geotag feature.
Measurements of Success
Twitter has a number of ways for others to interact with your content. And each of these types of interactions have different effects. By looking at these types of interactions, we can get a better sense of what social success on Twitter looks like.
Conversation Rate
On Instagram your Conversation rate is the number of comments you get. Comments are a major option on Instagram, but only 3% of interactions on the site happen through comments, most users interact exclusively through likes.
Applause Rate
There is no official phrase for the Instagram Applause rate. But the idea is clear, it is signified by a heart on the site, and most Instagram users refer to them as likes. Though this has settled some, many Instagram users still engage in what they call like for like, where there is an implicit understanding that when they like your photo, that you will like one of theirs in order to strengthen both of your social networks.
Amplification Rate
Instagram's amplification rate comes through shares. But shares is a secondary option on the Instagram feed, and it's not a major part of the Instagram culture. Because of this, you will need to work harder to build your own group of followers because your images will have less of a ripple affect than on other social media sites.
Results
Instagram is an ideal medium to communicate easy to understand messages, but the applause rate is the only effective measure to see if people are responding to your messages. So make sure that you are promoting positive content that people will feel comfortable saying that they like.
Remember that because Instagram is mostly a place for images, that the true results of your work there, will be hard to measure there. Instagram connects to many other social sites, you may consider trying to complement your spiritual Instagram posts, with similar themed posts on other social media sites where you could have more substantial conversations.
In the end, you will probably never know the full results of your efforts on Instagram, so rest assured that sharing uplifting content will make a positive impact even if you won't always be able to measure it.
CONNECT WITH LDS INSTAGRAM USERS
Who Should I Connect With?
Connect with other major LDS Instagram contributors to give yourself a head start.
Increasing your Connections
Because it's more difficult and less common to share posts on Instagram, than on other social media sites, if you want to increase your influence, you will want to increase your number of followers. Because Instagram is so new, the best approaches to do this are still changing, but here are the best current approaches to increasing your connections on Instagram:
Finding People to Follow
Start by looking for people that you know, either personally, or people that you admire and want to follow. Go to the home page, and select the search button on the bottom of the page. You then have the option of searching for photos or people. Select people. Instagram will suggest people to follow from your friends on the social media sites you've connected. you can also type their name in the search bar, and Instagram will bring up the most relevant results.
When you select a user it will take you to their page. Select the follow button, and this will put all of their content in your home page feed. You can also view all the images that user has uploaded on their page.
Follow Other People
The most reliable way to develop Instagram followers is by following other people, especially when you're first starting out. Think through your friends, family, and acquaintances, look through e-mail contacts, and take advantage of Instagram's many suggestions of people to follow.
Participate in Communites and Events
Look through the most popular hashtags and Instagram communities. Find those events or contests that sound like fun, and participate. The others who participate will be more likely to follow you, if they know that you enjoy posting the kinds of picture that they like looking at.
Comment
We've mentioned several times that commenting is not something that happens often on Instagram, so if you want to stand out to others, than post that comment. They will instantly become more interested in who you are, and what attracted you to their page. If they find similar interests, they may then follow you in response.
Create Your Niche
Instagram users with large followings know what their followers like, and they give it to them. Just like other social media sites, Instagram doesn't need to have only one purpose, but focus on the things you like the most, and those with shared interests will gravitate toward you.
Use Both Popular and Unique Hashtags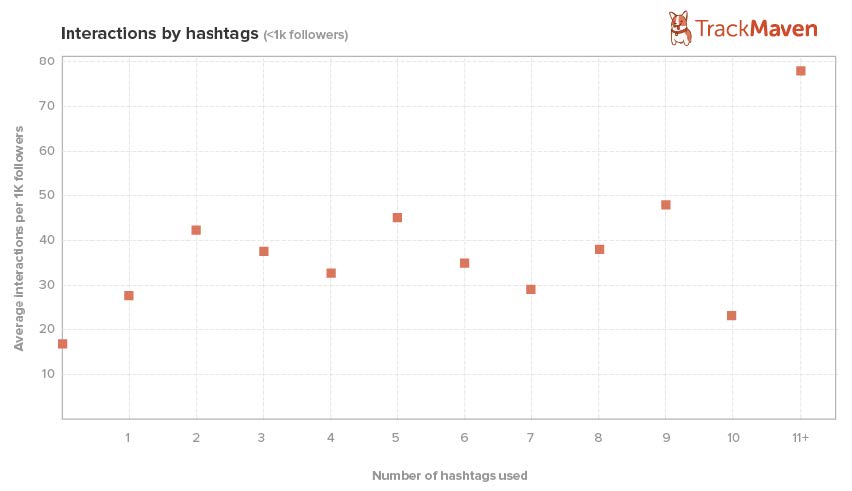 The benefits of using popular hashtags are obvious, lots of people are searching for them. But it's also easy to get lost in the crowd. Unique hashtags on the other hand, may not have as big of a crowd, but it will be easier for others to find your content. Rather than creating your own original hashtag, consider finding hashtags unique to your niche, so that others will be searching for it, just not as many as the most common hashtags.
While there is a general culture on the site, that suggests the ideal number of hashtags is one or two, the data suggests that the number of hashtags has very little effect on engagement. There's no character limit like on Twitter, so it's easy to get carried away. So the best rule of thumb is to use all the hashtags you think are useful, and no more.
Don't be Boring

If there is one piece of advice that Instagram users emphasize for success over all others it is this. Don't be boring. A photo sharing site for the masses has the potential to become cluttered with selfies and pictures of food (as Instagram sometimes is) so if you want to stand out, think about what others want to see, not necessarily what you want to take a picture of.
You've decided that you want to use Instagram. You're familiar with the basics of using the site. And you know how to get followers. Now it's time to use Instagram to help share the gospel.
Be authentic
While on Instagram, you've got to be yourself. Images that are personal in nature get nearly 15% more traction on the site than other images.
But being authentic and personal doesn't have to mean being dull, even if you think your life is. Focus on posting the type of images that are unique to you among your group of friends. Consider an early morning seminary selfie next to a clock that says 6 AM. This may be a regular part of your life, but it may be unique among those you share with. This combination of personal and unique allows you to be authentic while still being interesting to your followers.
Interact With Others
Some people suggest that the best way to increase your followers on Instagram is to like thousands of random images a day. While this may have a temporary increase, these new followers will have no inherent interest in you or the types of images you want to share. So you should interact with others on the site, and I'm not suggesting you be stingy with your likes, but make sure you're motivated because you actually like the image, not because you want to increase your follower count.
Be consistent
Developing social media consistency will help people feel as though following you will be predictable and worth it.
Post periodically
Many Instagram users complain about "Photo Dumps" when one user will not post for days, and then post dozens of pictures at once. The trouble is that these photos can clog up their feeds, and it's difficult to get to the images that do interest them. So remember that if you want to post about mutual, post one picture that is the best. And you should never post more than two pictures in rapid succession.
Continue to Post
Unlike other social sites, Instagram doesn't have an ideal frequency for posting to the site. Those who post often, and less often both maintain and grow their followers. But you most continue to post. Instagram sites that don't post any material for several weeks or months are at risk of losing followers.
When should I Post to Instagram?
Most people post on Instagram on Thursdays, so you may want to avoid then so that your content is most visible. But even though people are posting then, people actually interact the most with content on Sundays. So consider posting content over the weekend so that it's available for those looking through their feeds.
Cultural Consistency
You don't want to sound out of place on Instagram or your followers are likely to disengage from you. Because it grew so rapidly, Instagram maintained a lot of the culture of the early adapters. So it's important to take some time understanding the way others on the site are participating before venturing out on your own. Pay particular attention to how users you want to emulate are engaging on the site, and try to follow the same approach.
Edify
When we look at the most popular hashtags on Instagram, they are all about beauty and emotion. And the primary way of interacting with others is through a giant heart. Instagram is a place to share the good things in life. Take advantage of this culture. People want to feel good.
Images can seem like an odd way to share the gospel. Many Latter-day Saints feel more comfortable sharing their testimonies through words. And images are usually of the Savior, that most of us couldn't create on our own.
But there are many opportunities to show your faith through images. As Latter-day Saints we believe that all things testify of Christ, so the visual medium of Instagram is an ideal place to share that beauty that you see, whether it's in those around you, or in beautiful scenes. You can also take images of yourself following through on your commitment to the Savior. Make sure to smile.
Quote images are also very popular on Instagram, and can be a more simple way to share gospel messages through a visual form.
Uplift
Believe it or not, you can affect how much people engage with your images simply through your colors. People respond much better to bright earthy tones, such as light blues and greens, as opposed to dark or angry colors such as bright reds, or dark purples.
The filters you use can also effect the engagement you get. Because there are twenty set filters, it's easy to see what people use and what they respond to. And what people like the most is a filter called Mayfair. This filter shines a soft light on your subject, and gives your image undercurrents of the blues and greens that users respond so well too. Next people respond to plain photos that show exactly how things are.
So if you know a little bit about how to uplift people, you can have a major impact on Instagram, because people want to feel uplifted. Negative tags such as #drunk result in huge drops in engagement. This is likely because almost all engagement is through a giant heart shaped button, you want to to share images that will cheer people up, and give them something to smile about. Thoughtful or brooding pictures would fit best on another site.
Also be aware of who else is in your images. You do not want to post images that may be embarrasing to others, or that could be culturally insensitive.
Be Wise
Physical Safety
Instagram records the location of every photo you take, unless you disable the location services on your phone. These locations are not available to your followers by default, however. For each picture, you have the option of adding the location publicly.
There are some fun reasons to have your photo locations shared. This creates a photo map, which can be interesting to explore. However, you can always add the location to your photos later. If you have any reason at all to feel uneasy about sharing your location, simply wait until your at a safe place, and you can then edit your photo and add in your location.
Learn the Tool
The tools of Instagram, are exceptionally easy to use. But the culture is much more difficult. Reading through this guide should get you ready to contribute. But for the first few days spend more time looking at photos and reading comments, then you do taking pictures and posting comments. There's no reason to take more time to observe than this, but this little bit of time will help you avoid making a misstep as you're starting out.
Connect
The best way of connecting with others on Instagram is through hashtags. Look at the hashtags others are using on the photos you like. Google Instagram hashtag events to know what are the best times to reach out. Hashtags identify you as being a part of a specific conversation, and can connect you with other interested individuals you may have never met before.
The Church is also very active on Instagram. To find all of the Church's current social media initiatives visit social.churchofjesuschrist.org. This site will list the various ideas and hashtags the Church is currently promoting.
Be Vigilant
Instagram has recently made a major effort to eliminate fake accounts, so this problem may be over. But Instagram has a reputation for being full of accounts that are only meant to spam you. Be aware of awkward or stilted conversation. If something feels off, do some research before engaging with or following an Instagram account.
Don't steal
Because Instagram is a site where people share their own creative content, not stealing is an important part of the moral fabric of the site. If others find out that you've stolen images from someone else, you will lose a lot of respect. In this way, it's a lot different than other social sites, where sharing others content is expected, on Instagram you can maintain a site while only sharing your own content and fit in with the culture.
If you click on the additional option buttons next to a post, you do have the option to share. This isn't common, but is an available way of sharing an image you really like without taking credit for it. This is the only way to share someone else's content on Instagram appropriately.
Go Do It!
Kickstart your Instagram by completing this activity:

1) Share a Funny LDS Themed Meme.
2) Add a picture from your own mission, or with permission the mission of a relative or friend, to Instagram.
3) Add an LDS related hashtag to a photo you've shared on Instagram.
4) Upload a picture of your favorite temple to Instagram. One bonus point if you are in the picture.
5) Share an old family photo on throw back thursday. Use the hashtag #familiesareforever
6) Take a picture of a Book of Mormon. Add the most stylish Instagram filter.
7) Find a picture of someone who has been married in the temple. Like or comment on it.
8) Take a photo with friends, and write a caption about the effect of the gospel on the life of you and your friends.
CAUTION FOR INSTAGRAM'S DANGERS
Time wasting

Time wasting is not a major concern on Instagram. As of 2014, users spent an average of 21 minutes a day on the site. And almost all of that time was while multi-tasking. Because Instagram is usually a secondary social site, there is some risk that by adding it to an already full schedule of social media use it could become too much. So that is a danger worth considering, but it's pretty safe on it's own merits.
Anonymity
While Instagram is beginning to experiment with validating accounts the same way Twitter does, as of now, anyone can pose as anyone on Instagram. So be careful that you don't trust the identity of anyone. This means Instagram should never be used to share personal information.
Psychological
One of the biggest dangers of Instagram has to do with its visual nature. Predicting what you'll see on the site can be difficult. The site has improved cutting back on pornographic images significantly, and reporting images is much easier. But the risk of being exposed still exists, and is still much more common on Instagram than on more long-term and popular sites such as Facebook.
The other psychological danger of Instagram is that almost nothing you see is real. Everything has been put through a filter to make it look prettier, and yet, when we see these images, it's very easy to believe that's the way people really look, or how their things really are. This disconnect from reality is likely to cause the same kind of issues of depression that other social media sites have.
Privacy
Complete privacy on Instagram is nearly impossible. So be aware that anything you post is potentially for the entire world to see. In fact the Instagram terms of service say about as much.
While your photos will only go to the feeds of your followers, the images, by default, can be searched and viewed by anyone, unless you go to your profile and change your user settings to private. This means privacy is either an all in or all out proposition for Instagram.
Because social media is about engaging with new people, Instagram works the best if you don't use those privacy settings, but you need to be aware that it makes your images available to everyone.
This presentation goes over the basic promises you make in Instagram's user agreement, that can help you understand your privacy rights on the site.