"Be Ye Reconciled to God"
The saints support each other both in tribulation and joy (2 Corinthians 1):
Paul and his companions have suffered so much during their travels through Greece and Asia, that sometimes Paul despaired for his life. He knows that the members in Corinth have also faced tribulation. Paul talks about the peace that Christ offers, but also about how the members of the church comfort each other during times of trial.
Paul, his companions also have reason to rejoice. A good discussion would be how to rejoice in the midst of adversity.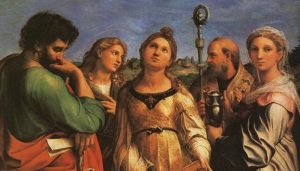 Offering forgiveness (2 Corinthians 2):
In 2 Corinthians 2, Paul discusses and gives advice regarding a member of the congregation who transgressed but who is trying to come back into full fellowship. The man has suffered for his transgressions. it appears that some of that suffering was due to the actions of the membership of the congregation. Paul urges them to forgive and accept him back.
Is it possible for us to progress in righteousness if others stick us with the label of our prior transgressions? Even if we repent fully there's not far we can go.
The glory of God can shine through us (2 Corinthians 3):
Paul recalls the story of Moses who came down from Mt. Sinai carrying the lesser law. His face shone and the Israelites had him cover his face with a veil. Paul finds two lessons here. First, Moses shone even from receiving a law that can't save us. Christ's gospel, then, should bring even more glory. Second, the Israelites couldn't abide the glory God wanted to give them. At the end of the chapter, Paul says we should be able to happily look in the mirror and see the glory of God.
Have you been able to discern the light that glows from people who have the Spirit? A quote attributed to St. Francis of Assisi says, "Preach the Gospel at all times. When necessary, use words." How does our example, even our appearance, attract people to the gospel?
Current afflictions are worth eternal glory (2 Corinthians 4):
There is a familiar quote in 2 Corinthians 4:
"We are troubled on every side, yet not distressed; we are perplexed, but not in despair; Persecuted, but not forsaken; cast down, but not destroyed (vs. 8, 9);…"
Joseph Smith used this quote and it certainly applied to him and to the early members of the Restored Church. Joseph said,
"Hell may pour forth its rage like the burning lava of Mount Vesuvius . . . and yet shall "Mormonism" stand. . . . God is the author of it. He is our shield. . . . It was by Him we received the Book of Mormon; and it is by Him that we remain unto this day; and by Him we shall remain, if it shall be for our glory; and in His Almighty name we are determined to endure tribulation as good soldiers unto the end" (D&C 121:7–8).
The last two verses of 2 Corinthians 4 emphasize that our worldly suffering is short, but our eternal glory can be both eternal and magnificent:
"For our light affliction, which is but for a moment, worketh for us a far more exceeding and eternal weight of glory; While we look not at the things which are seen, but at the things which are not seen: for the things which are seen are temporal; but the things which are not seen are eternal" (vs. 17, 18).
We are reconciled to God through Christ (2 Corinthians 5):
The atonement enables us through repentance to become new creatures. Through Christ, we can be reconciled to God. Paul talks about the frustration inherent in not giving ourselves over to the world. As new creatures, we desire to partake of a glory that is mostly unseen, while the temporal world (and our own temporal bodies) challenge us at every turn.
Enduring to the end, then, is an important part of our reconciliation with God. Paul emphasizes that we are judged by the works we do in the body:
"For we must all appear before the judgment seat of Christ; that every one may receive the things done in his body, according to that he hath done, whether it be good or bad" (v. 10).
We are the temple of the Living God (2 Corinthians 6):
Paul continues to encourage the Corinthian saints to walk in the light. They slight themselves if they yoke themselves in any way to the world. Paul says that today is the day of salvation, and indeed, that could be said about every day that we live. Brigham Young said that he and others of the saints in Utah walked with God in such a way that they were "saved all the time." People who live this way become the "sons and daughters of God."
A good discussion could help us realize what it means to become the sons and daughters of God. A few ideas:
We receive His light and help while we live in mortality
He owns and protects us, guides us, while we live in mortality
As His sons and daughters, we are emissaries of Christ while we live in mortality
If we make temple covenants we are actually sealed into God's family in eternity
If we keep our covenants we can become co-heirs with Christ
Godly sorrow versus the sorrow of the world (2 Corinthians 7):
In a previous epistle, Paul had chastened the members in Corinth. Now he is rejoicing. His admonitions made the Corinthian saints sorrowful, but it was "godly sorrow" which led them to repent. Godly sorrow can only come to us if we are humble and listen to the Spirit, which helps us to understand the nature of our sin and that we have offended God. It gets us to a place where we would face anything in order to be reconciled to Him.
---
Come, Follow Me for Individuals and Families