Sharing the gospel on Google+ is simple and powerful. Because Google+ is owned by google, anything shared there gets higher priority in the google search engine. If you're ready to share the gospel online, this is a great place to do it because others are more likely to find things you've shared!
In the last year, Google+ increased in rank from 6th to 3rd social media site based on monthly average user. After Google+ launched in 2011, it attained 50 million users in only 3 months, something other social media sites took years to do. If you are ready to start or expand your social media presence, Google+ is a great place to start.
Who is on Google+?
Google+ reports having over 1 billion total accounts and 540 million active users each month, but only 300 million of those users actually visit the Google+ site (the others are using features of Google+ such as hangouts or "+1" or a blog post).
Nonetheless, 300 million users in the Google+ stream is a substantial number, and with Google+ features such as photo storage and video chats, and Google+ accounts being connected to Gmail, youtube, blogspot, google maps and google search,  nearly every internet users is connected to Google+ if not directly on the site.
Who is the Average Google+ User?
Google+ users are young, educated, influential risk-takers. With 77% who like to try new things, and 75% who regularly inform friends and family about new products and services, they are at the front of fast growing markets, and they like to tell everyone else about it!
Google+ attracts a crowd who is constantly connected—to the internet through multiple devices, and to other social media sites. They are brand loyal and love to share brands, products and ideas in their own circles as well as through writing reviews.
Tapping into this community opens the door to great influence.
What Features Does Google+ Offer?
Participating in Google+ requires creating posts that can include text, links, videos, images, events and polls.
You can post privately to individuals, to a specific circle such as close friends or colleagues, to all of your circles, or publicly. (More information on circles to come.)
Mentions
To mention a specific person in a post, use the "@" or "+" symbol followed by their name. An email and/or text notification will automatically be sent to them (depending on their settings), ensuring that they don't miss the post.
Posts will be shared with anyone mentioned in the post as well as any other circles or individuals you choose.
Hashtags
Google+ automatically adds hashtags related to your post, which you can delete or add to. You can click on the hashtag link of a post to see related posts or search for a specific topic by using the # symbol followed by the topic  for which you are looking in the search bar. Hashtags are a great way to bring together people from all over the world with a common interest.
Trends
The Google+ stream has posts from anyone who has shared with circles you are in, interspersed with posts tagged  "What's hot and recommended" with a flame icon. You can click the flame icon to control how many trending posts show up in your stream, or click the "What's hot and recommended" link to go to the "What's hot" page and see more.
On the top of the "What's hot" page is a list of the phrases and hashtags being used most often on Google+ currently. You can click on any of these to view a specific trending topic. These are updated in real time with red and green arrows showing what is gaining or losing popularity, so Google+ can be a source to know what is currently newsworthy and interesting.
Profiles
Each Google+ user has a profile page that contains a wealth of information. The top of the profile page features a profile picture, a banner picture, a short bio, and a button to add them to your circles. Beneath that are  "About" and  "Posts" pages. You can also choose to make your "Photos", "Videos", "+1" and "Reviews" pages visible to others (they are always visible to you).
The "About" page included an extended bio including their story, contact information, education and work experience, people in their circles, Google+ communities to which they belong, links to other social media sites and links to other sites to which they contribute.
You can choose which information you want to share with which circles. For example, you could share your work experience with your all of your circles, but your email and address only with your family circle.
Mobile Apps
Google+  has apps available for iPhone, iPad, and Android and is accessible by any mobile web device. Not all settings can be changed from a mobile device, but profiles and the Google+ stream have an easy mobile-friendly interface.
75% of Google+ users access the internet from a mobile device, so this is how much Google+ activity occurs. Get it on Google Play.
What Makes Google+ Unique?
Circles
The circles in Google+ are appealing for users who like to choose who sees specific content. It is easy to share with individuals by selected a specific person, with a specified group of people by selecting one or more circles, with a larger audience by selecting extended circles (people in your circles and in their circles), or with the public.
Animated Gifs
Google+ is unique in that it displays animated gifs in the content feed without requiring a click on the image. Animated gifs are like a mini video. They are usually short and they are not restricted to a specified size by a video player. Usually animated gifs are created and shared because they are funny.
Other Unique Features
Google+ is very versatile with the ability to create polls, share a photo albums, or create an event. Google+ will also create a story for you, or add effects to your pictures such as falling snow of .gif animation if you enable "Auto Awesome".
Google Analytics lets you see how many times a post has been reshared and how many public views it has. This data collecting system gives you a real picture of how effective you are at sharing your content.
Because Google is connected to much of our internet use, it gains a picture of who you are, where you are, and what you like through your use of youtube, maps, blogger and search, and can tailor the trending posts according to your interests.
According to Stelzner of Social Media Examiner, "Google+ is more of an interest-based network, whereas Facebook is the place where people connect with others they already know."  It's a great place to make new connections and increase your influence outside of your circle of known friends. 
Google+'s connection to the google search engine also makes it very powerful. In your Google+ settings you can choose a target audience and google will help you reach that audience. You can also increase the value of a page in the search engine by giving a "+1" vote to that page. Unlike "likes" on facebook, "+1" votes are considered in the search engine.
What Do People Talk About on Google+?
Google+ is filled with users who love to share what they love–pictures of their families, links to articles they enjoyed, and product reviews. Overall it has a more academic feel than facebook and the articles and pages that are shared are generally meant to educate and not just entertain. Because of hashtags, people can find the specific topics that interest them.
Should You Use Google+?
Google+ is perfect for people who want to connect to a young, educated, loyal user base. It is great for people who want to share and store pictures and videos and who want to be part of a connected, academic community. Google+ is perfect for those who want the power of google behind their social media sharing, for those who want privacy control in their sharing, and for those who want to talk about things that are important to them, including family and faith.
Google+ is not ideal for those who want a fast-paced up to date news source.
Getting Started
How to Use Google+
After you have set up your Google account, you should see "+YourName" either in the top right or top left hand corner. This is your Google+ page. If it only says "+You" (it actually says You, not your name), you need to click on that to enable your Google+ account.
If you already have a youtube or Gmail account, you simple need to click on +YourName to access your Google+ account.
Finding People to Follow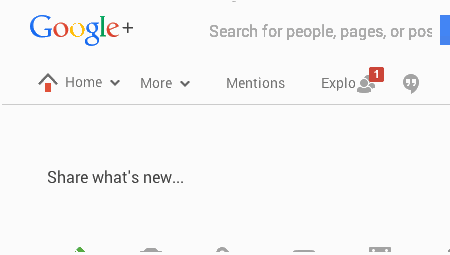 Start by looking for people that you know, either personally, or people that you admire and want to follow. On the right side you will see suggestions of people you may know, or you can type a name in the search bar. You can then choose to add those people to your "Family", "Friends", Acquaintances" or "Following" circle. Or you can create a new circle such as "Book Club" or "Work" or "Church".
Use these You can add people to more than one circle.
You can also "Follow" a page such as The Church or a business, or "Join community" for a group such as LDS Women.

Your Google+ stream will be filled with content from people in all of your circles and communities. To see content from people in a specific circle, such as those you are following, choose that tab on the top of your stream.
Creating a Post

Writing a post is very simple. On the Google+ homepage, a box will say "Share what's new…" Typing in that box will allow you to compose a post. You can also click on "Photos", "Link", "Video", "Event" or "Poll" depending on what you'd like to share.
Sharing Content on Google+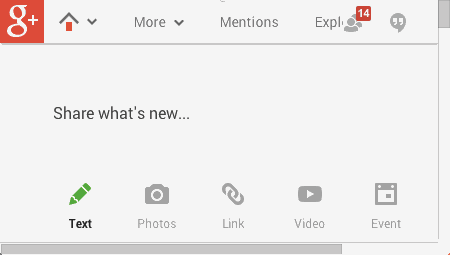 To share an article, click on "Link"at the bottom of the compose post box, then paste the link to the article. Google+ will create a box for the article, and you can add text above it in your post.
To share an image, click on "Photos". You can drag and drop image files, upload from your computer, or choose images from your Google+ photos. You can share multiple images together and include text with them by typing in the text box.
To share a video, click on "Video". You can search for a youtube video directly in the post box, insert a video url, choose from your own youtube videos, record a video, or upload a video.
Like other social media networks, visual content in more likely to gain engagement and be reshared.
+1 button: Underneath each post is a button with + followed by a number, showing how many people have "liked" that post. Click on that button to +1 the post. Both the authors and others in your extended circles will be able to see posts which you have +1 . You can also enable the +1 page on your profile to show others all of your The posts you have +1.
Circles: Circles are a way to organize all of your contacts. Friends, family, acquaintances and following are the default circles. You can create additional circles and you can put people into more than one circle.
Comment: Next to the +1 button is a text box to leave a comment on a post. You can share text or a link in a comment.
Extended Circles: People in your circles and in their circles.
Follow: A follow is someone who is following your Google+ account. They can add you to their circles and your posts will appear in their stream.
Hashtag (#): A hashtag is any word or phrase right after the # symbol, without spaces.  You can click a hashtag and it will take you to a list of posts using the same hashtag.
Mention: A mention is when you include others in a post by using the @ or + symbol. People can also mention you in their posts.
Profile: This is the picture and bio information you include on your public page. It will also have your Google+ username, a list of all your posts, and photos, videos and +1 posts if you choose to enable those pages. Another user viewing your profile will only see what you have enabled that circle of people to see.
Share: When someone shares your post with their followers. Do this by selecting the Share (arrow) icon on a tweet.
Measurements of Success
Google+ has a number of ways for others to interact with your content. And each of these types of interactions have different effects. By looking at these types of interactions, we can get a better sense of what social success on Google+ looks like.
Conversation Rate
On Google+ your conversation rate is the number of comments and mentions you get. People can comment on a post in the comment box below each one. To increase the size of the conversation of Google+, be a part of the conversation. You are much more likely to get comments if you comment on others' posts and mention them in posts that are relevant to them.
You can also get conversation rolling by asking an interesting question.
Applause Rate
+1 is a way to tell the writer that you liked their content, and to save the post so you can see it again later. By sharing uplifting content, and speaking to your unique group of followers by choosing appropriate circles to share specific content with,  you will find that others +1 your content more.
Amplification Rate
On Google+, amplification occurs through sharing by clicking the arrow icon under the post.
To increase the number of shares you can simply ask people, which has been shown to work (don't over use this though). Posts with links, images and videos also get more shares. And users who share more often have their own content shared more often as well.
When you share someone else's post, add a comment letting others know why you are sharing that content.
Results
It can be difficult to see whether or not you are touching people through Google+  but there are a few ways to actually measure your results.
One thing to look for is that occasionally hashtags promoted by the church can be hijacked by its enemies posting vile or misleading content. By posting enough positive content on church promoted hashtags, we can drown out those voices, so that people who search for those hashtags will have a good experience.
You especially want to look at your conversation rate, as a way to measure results. When you start a conversation, and can continue that, it gives people the opportunity to consider the gospel more in depth than they would through a single post.
One last way you can see real results is through direct posts. You can send messages and content directly to an individual rather than a whole circle. You can ask questions and extend invitations to see how others are accepting the messages you are sharing.
Who Should I Connect With?
Connect with other major LDS Google+ contributors to give yourself a head start.
Increasing your Connections
One way to develop as much influence on Google+ as possible is to increase your number of followers. There are some tried and true methods to making this happen:
Follow Other People
The most reliable way to develop Google+ followers is by following other people, especially when you're first starting out. Think through your friends, family, and acquaintances, look through e-mail contacts, and contacts on other social media sites.
Google+ also recommends people for you to follow. You will see recommendations on the top right of your main stream, or others' profiles. You may also consider following those who interact with the same posts as you do.
Complete Your Profile
People are much more likely to follow you if your profile looks complete. So include an accurate and reasonably length bio, and have both a profile and banner picture on the site. As your circumstances change, make sure to update your bio so that people know that your site is active.
Focus on Now
As with all social media site,  people like to discuss current events on Google+. And people like to follow others who are engaging in the same conversations. So go and talk about what is happening right now. For Latter-day Saints, one of the best times to connect with each other is during general conference, when many will tweet using the #ldsconf hashtag.
Join Communities
Google+ communities are one of the best ways to connect with other users of similar interests. As you contribute to these communities, share your beliefs naturally. If you are in a photography communities, share photographs you have taken of your family or the temple. If you are in an outdoor enthusiast community, share about a scouting activity.
On the drop down menu under Home in the top left, select "Communities". You can then browse communities by topic. You can also search for specific communities in the search bar.
Provide Value
Why do you enjoy going to Google+? Or if you aren't sure go back to our article on "Why Sharing the Gospel Online is Important" and look at the psychological reasons people reach out to social media.
Then provide those things for your followers. If you love reading interesting sport facts, then find some and share them. If you love reading quotes from apostles, than share those. Find a reason why people would want your posts appearing in your feed.
Advertise Your Username
You don't need to organize an advertising campaign, but you should take some actions to make sure it is easy for people to find you.
Anyone who connects with you through Gmail will be able to find you easily in Google+, but for others who you interact with outside of email, put your Google+ username on your other social media accounts. Consider including it on your business card. Make sure there's a link to it on your blog or website. In your settings select "Help others find my profile in search results."
You want to make sure that people who want to find you on Google+ are able to do so easily.
You've decided that you want to use Google+. You're familiar with the basics of using the site. Now it's time to use Google+ to help share the gospel.
Be authentic
While on Google+, don't be afraid to be yourself. Don't force gospel (or other) conversations unnaturally, but don't hide those parts of yourself either. Use this platform to give others a glimpse into your life.
Profiles & Bio
Your profile and bio on Google+ are the perfect place to highlight who you are.
Don't be afraid to highlight your church membership in your bio. Say directly that you're a Mormon, or refer to a part of you that's connected the church, such as serving a mission, or a calling you may have.
While your profile picture should probably be an image of you, each profile also allows for a banner picture. Your banner picture can be the Savior or you could also include an image of you at a church building or temple.
The purpose of including these items in your profile is to let others know about your church membership. Some people want to talk about religion but hesitate to ask because they feel it's a personal subject. Hinting at your church membership in your profile let's them know you're open to talking about it.
Interact With Others
Most voices are social media are too loud or too quiet. They are either telling all about themselves but not actually responding to others or having conversations, or they are reading everyone else's content without every responding or posting their own.
In either case it's a one-sided conversation, which isn't a conversation at all.
Read, post, and interact with others. Join communities, comment to others posts, respond to comments on your posts, and use hashtags to be part of a larger conversation. As you engage more fully in the social media conversation, others will be more likely to engage with your content.
Develop Your Niche
Google+ communities make it easy to find your niche of social media world and connect with others who share your interests and will appreciate the content you share. Find a place where you can contribute something meaningful.
You can also use the hashtags that others producing similar content use. By producing lots of content about the kinds of things you love, you'll connect with others with similar interests.
Be consistent
Developing social media consistency, on Google+ as well as across social media sites, will help people feel that they really know you and that following you is predictable and meaningful.
Consistent Tone
Of course we all have good days and bad days, but it is harder for our followers in social media to understand our changing moods like our face-to-face friends can, so it's important to develop a consistent tone which allows followers to feel like they know us and know what to expect from us.
If you are usually upbeat and optimistic, a sarcastic post may alienate your followers. If you usually share spiritual thoughts, a political jab will make your followers feel like they don't know you anymore.
Not everything you post will fit into a nice, neat category and that's okay, it's what keeps your posts interesting. But your followers should never feel surprised or alienated by something you post.
Post Often
One of the primary factors in developing an audience is by posting often. Google+ generally focuses on longer posts and links to articles, and the Google+ stream consists of two columns with posts that are not exactly chronological. With those two things in mind, you want to post with the frequency that will ensure your followers have time to read what you are posting, and that they will see your content in their stream.
Research shows the optimum frequency to get coverage of your posts is twice a day, during the week.
When Should I Post?
Google+ is connected to Gmail (or company emails run through Gmail), so it is most often accessed when people are using their email–during the work week.
The best time to post are 9:03am and 7:04pm. Obviously you can't always post on the exact minute, but you can use this as a suggestion to keep in mind and consider saving an article to post in the evening instead of the afternoon.
Cultural Consistency
Your posts should fit with the culture of Google+ or your followers are likely to disengage from you.
Take some time reading others' posts and getting a feel for the particular form of social media, then make sure your own posts, while portraying an accurate picture of yourself and aligning with your consistent tone, also fit the educated culture of Google+.
Edify
One of the major reasons people come to social media is to feel good, yet it is also an easy place to complain about products and life circumstances. Be  aware and curb your desires to vent or complain, and instead choose content that is edifying intellectually or spiritually.
You can create your own edifying content, or share that which has already been created by the Church and others. You can find thousands of Memes (images with a quote) on blogs and pinterest with quotes from General Authorities, or share Conference highlight videos.
Be aware of the tone of your own posts as well and make sure the tone as well as the content is edifying.
Uplift
Be a positive voice in the Google+ conversation and have fun! Join communities that allow your interests and personality to thrive.
Use circles to share appropriate content with appropriate people. Share your ideas and beliefs, but never with the intent to force, manipulate or offend.
Never say anything to anyone on Google+ that you would not say in a face to face conversation. And always be aware of possible misunderstandings in written word and across cultures and backgrounds.
Be Wise
Physical Safety
Google+ is frequently accessed on mobile devices, so take the same precautions with Google+ as you would with texting while driving.
Your Google+ profile includes your work location, and home address. Be sure those things are only visible to people who personally know you.
Learn the Tools
Reading through this guide should get you ready to contribute, but you may want to spend a the first few days reading posts rather than writing or commenting on them to get a feel for the culture of Google+. Also spend this time completing your profile and setting up your circles.
You can practice with circles and the different types of post by sharing with family or an individual such as a spouse or close friend.
Connect
Google+ is a great way to connect with those around you, and hashtags and communities are great  ways to do it. See "What's hot and recommended" and consider writing about one of the trending topics or commenting on trending posts.
Other sites, such as hashtags.org aggregate all the content and identify what topics are trending the most.
You can also participate by using hashtags that the Church is promoting. These hashtags will often appear on official church videos, or during broadcasts. The Church has a complete list of hashtags for individuals and events. By using the suggested formatting and spelling, you will make it easier for those who want to talk about the same topic to find your content.
Hashtags help identify you as participating in a specific conversation, and can connect you with other interested individuals you may have never met before.
To find all of the Church's current social media initiatives visit social.churchofjesuschrist.org. This site will list the various ideas the Church is currently promoting.
Be Vigilant
Google+ has less of a problem with false information and hoaxes than other social media sites because much of what is shared is links to original sources. But, as always, don't believe something just because you saw it on the internet, and don't pass it along until you've confirmed it. A quick Google search can confirm whether most stories you see are true.
Also consider checking out Snopes.com for general stories and HolyFetch.com to check if LDS themed stories are true or not.
Don't steal
Most of what you share on Google+ will likely be someone else's content. Just make sure you don't claim it as your own. If you are sharing an article of video, use the link button so others are taken directly to the original source. If share an image, tell where the image came from if it is not your own.
If you use someone else's words or ideas,  attribute it to them and use quotation marks for direct quotes.
Go Do It!
Kickstart your Google+ sharing by completing this activity: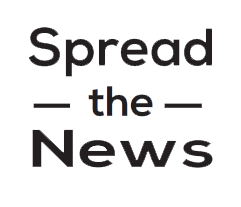 Instructions
Comment on two LDS themed news articles for each of the topics below. Find articles at:
Brainstorm
Topic
News Source
Title of Article
Humanitarian Aid
1.
1.
2.
2.
Church Leadership
1.
1.
2.
2.
Families
1.
1.
2.
2.
Historic Events
1.
1.
2.
2.
Missionary Work
1.
1.
2.
2.
 Share
Share a link to your favorite article on Google+
Join an LDS community such as LDS, The Church of Jesus Christ of Latter-day Saints, or Mormons
Include relevant LDS hashtags such as #mormon, #sharegoodness, #ldschurch, #sharethegift, or #PresMonson
Time wasting
Time wasting is easy to do on Google+. It may not be so much the amount of time you spend there as what you are supposed to be doing at that time. Because Google+ is connected to your email, it's easy to get distracted from work, church or family responsibilities that you meant to be taking care of in your email.
Anonymity
It is uncommon to have anonymous users because each account is connected to a google account and generally an email, but it is of course possible to set up a fake account so always avoid any user who doesn't have their name on their profile page.
Psychological
A friend once said, "My facebook life is way better than my real life." And that is true for any social media site.
We give and see only small glimpses of each others' lives and then quickly determine that everyone else is living a happier, more exciting, more organized life than we are. Remember, you are always getting only a small glimpse of the positive things people choose to share. Do not ever use this as a point of comparison for your own life. Simply enjoy and celebrate others' joy and successes.
And then take a break! Enjoy your face to face relationships.
Privacy
Google+ is set up to give you a lot of control of your privacy. Take the time to establish your profile settings so only those you know and trust can see your personal information. And set up your circles so you can quickly and easily share content only with those you want to see it.