Sharing the gospel on YouTube is a completely different challenge. If you're up for it, here's what you need to do. This is part of LDS.net's Sharing the Gospel through Social Media series.
YouTube is one of the most popular social media networks in the world. Users join and contribute content from around the world, connecting with more and more people everyday. It seems that everyone these days uses YouTube and shares its content over emails and various social networks, but is the website something you'll be actively interested in? Below you'll find an array of questions and functions relevant to the site to help you decide if YouTube is for you.
Who is on YouTube?
Because YouTube gains extraordinary amounts of traffic within and outside of the U.S., many different kinds of people can be classified as YouTube users. Some users are athletes, bodybuilders, comedians, video bloggers (vloggers), musicians, aspiring musicians, dancers, artists, gamers, DIY specialists, and average people.
Who is the Average YouTube User?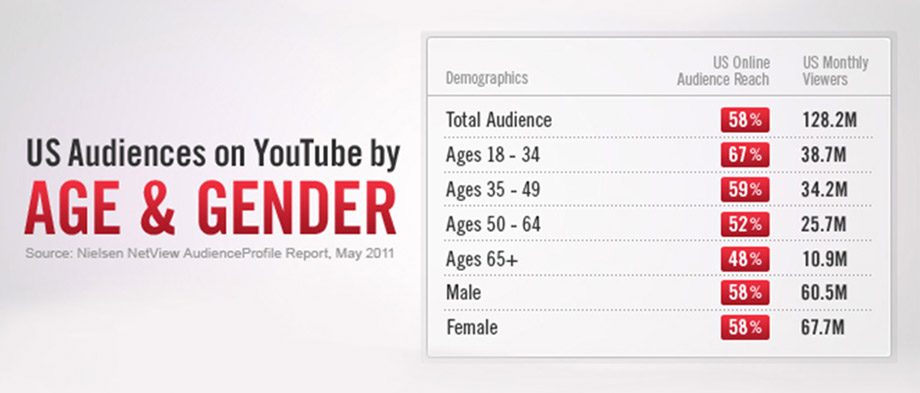 According to youtube.com, the average YouTube user is between the ages of 18-34 years old. Other sources, such as jeffbullas.com suggest that the average YouTube user visits the website 14 times per month, spending an average of 25 minutes per day ( 5 hours and 50 minutes per month) viewing content on the site. Additionally, it's estimated that 70-80% of YouTube traffic comes from outside the United States.
What Features Does YouTube Offer?
Being one of the most popular social media networks in the world, YouTube offers an outstanding array of features and options for its users. Below you'll find out what can be accomplished by having a YouTube account.
Uploading Videos
To upload a video, you must first have an account through Google. It can be a YouTube or Gmail account, but you must be signed in. Once signed in, click the "Upload" button in the top right corner of the screen as displayed above. After clicking it, YouTube should take you to a page that looks like this:
From that point you should be able to upload any video from your computer's internal storage. YouTube accepts these video formats: .AVI, .MKV, .MOV, .MP4, DivX, .FLV, and .ogg and .ogv., MPEG-4, MPEG, VOB, and .WMV as well as videos taken from mobile devices.
Channels
Anyone who has a YouTube account that uploads videos is considered a user that has a channel. Your channel is the social media equivalent of having a profile. Unless you change your privacy settings, anyone can see your channel, comments on your channel, your "About" section, what you post, who you've subscribed to, and any recent playlist additions.
Sharing Videos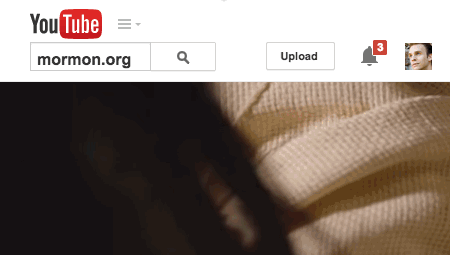 Sharing videos from YouTube is a great way to connect with family and friends. So you want to share that funny cat video you found? YouTube has made sharing even easier for its users and viewers. Below the video you should be able to find the "Share" button.
Once selected, various options and social media networks should pop up. Included are Facebook, Twitter, Google +, Blogpsot, Reddit, Tumblr, and more. You can also copy the URL code highlighted in blue to send over email.
Editing Videos
YouTube has its own video editor for making simple edits to their videos after they are uploaded. With the video editor you can trim or add clips, add filters, insert text or audio and more. Learn how to edit videos here.
Playlists
On YouTube, a playlist is a way to organize your own videos or videos others have uploaded to YouTube. For example, many people save videos to their "Favorites" which is considered a playlist. Learn how to create playlists here.
Viewing History
YouTube keeps an active record of the videos you watch and the terms you search on the site. To access your History, click on the "History" tab with an hourglass symbol next to it as seen above. Once there, YouTube will show you a full list of the videos you've watched since you created your account.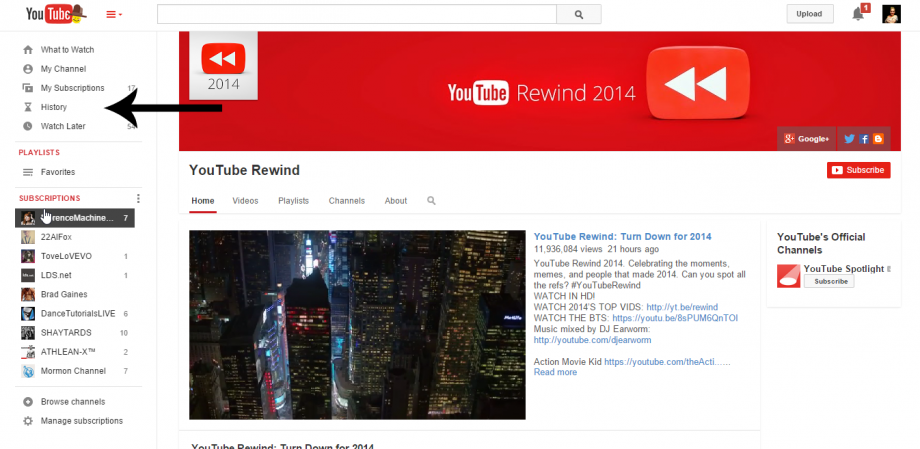 Watch Later
YouTube also offers a feature that allows users to watch videos later for any reason. While searching and scrolling through videos, simply direct the cursor to the thumbnail of the video, and in the bottom right corner a small symbol of a clock will appear. Click it and find it at a convenient time in the wide bar on the left side of the screen underneath the "History" tab.
My Subscriptions
On YouTube, subscriptions are what power the spread of videos and increasing popularity that certain videos receive. When you subscribe to a certain channel, you'll be notified via YouTube when any users you've subscribed to have uploaded any new videos. Subscriptions are helpful when you don't have time to search your favorite users or look for new content being uploaded. Underneath the same bar as mentioned above, you'll see a feature that reads, "My Subscriptions," which is directly above the "History" tab. This tab includes all of the users and channels that you've subscribed to and allows you to access and manage your subscriptions. Under this option, which can be found at the top right section of the screen, you can select those you're subscribed to, unsubscribe them, send yourself notifications, create new collections where you can organize your subscriptions, and search through those you're subscribed to.
Mobile Apps
As popular as YouTube is, you can bet that the creators of Google have also created an app for the website. This app is available for iPhone, Android, Windows Phone, tablets, iPads, and more. Get it on Google Play.
What Makes YouTube Unique?
Being one of the first video accessible and sharing websites created, YouTube provides many unique characteristics to the social media world. Long has it been a trailblazer for other video sharing websites, setting the standard for social media sites that never before dreamed of incorporating the features YouTube has offered. As it has teamed up with Google, YouTube is becoming increasingly user-friendly. For years users have searched keywords and lyrics to find songs and videos, and YouTube has done its best to match the user with what they're seeking. Stephen Cook from insidetechnology360.com mentions the power that the YouTube community has, also pointing out the instant accessibility is has, 
The fact that pretty much anybody can upload a video of their own to the World Wide Web is an exciting idea for many, and YouTube allows for them to do this.
YouTube is also unique as it has quickly become a complex network, creating its own community and providing members with hundreds of features and options, which caters easily to members of the Church and sharing the gospel.
What Do People Talk About on YouTube?
Unless you're sharing a video or making a comment on a video, most people don't talk  on YouTube. The site doesn't offer obvious ways of sending messages, and to send a message to another user requires visiting their channel and selecting their "About" section, where a button will appear reading "Send Message." A popular form of communication (aside from reading the body language happening within the video) is through comments. Often comments are powered by opinion and can quickly become heated discussions. If you're not careful, you could be reported for spam or abuse by the comments you leave. The most common form of communication on YouTube is the knowledge which is transferred from the eyes and the content seen is processed through the brain. The content could be what you're viewing, seeing how many views your video has received, or processing future events such as saving the video to one of your playlists, subscribing to the channel, or erasing the video from your viewing history.
Should You Use YouTube?
Signing up for a YouTube account is definitely a personal decision. While millions of videos and channels are streamed and viewed everyday and often nothing serious occurs, (stalkers and murders tracking you down, school shootings, etc.,) allowing personal information to appear on the internet can be an intimidating prospect. While you can change the privacy settings on your account, considering the majority of the content found on YouTube before creating an account is always a wise decision. If you enjoy streaming videos for free, customizing nearly every featured offered on the websites, spreading the gospel in a digitized or animated form, and creating and uploading videos, then creating a YouTube account may be the right decision for you. If you don't like waiting for advertisements to pass on most videos, scrolling passed opinionated comments, and potentially coming across gory, pornographic, and explicit content, then maybe you should reconsider creating an account. As with any social media network, though, there's going to be pros and cons to the given site.
Learning about anything that provides an opportunity for a decision is always a wise choice. YouTube is a complex network that offers a variety of features, so learning as much as possible about it is a smart move. Below you'll find more detailed explanations of what the site entails.
Getting Started
Anyone who knows how to use a search bar and navigate through the results is someone who will know how to use YouTube. But as you come to develop your preferences for certain videos and seek ways to organize and provide feedback for channels life becomes a little more complicated; especially when you're seeking to share gospel-centered messages.
Signing Up for a YouTube Account
Signing up for YouTube is really easy. It's even easier if you already have a Gmail account.
Finding People to Subscribe to
Filling up your YouTube newsfeed with positive and gospel-centered videos allows you to block out a lot of sketchy content that can be found on the site. Finding Church-related channels is also incredibly easy, as you can search for them by names and keywords in YouTube's search bar.
Creating a Video
With the creation and constant development of smartphones and cameras, creating a video is a breeze. Unless you plan on editing your video, simply record the content and upload it to the site by plugging your camera into your computer or uploading the video from your mobile device. The video can be as unique as you want, making your desired content into a vine (a short, 7 second video), a personal interview or story, or a full-fledged film. These different types of videos will also depend on the types of devices you're using to create them with.
Sharing Content on YouTube
If you're seeking to share gospel-centered messages on YouTube, such as personal stories of how your testimony has grown or making a mini-movie around a gospel topic, you should probably know how to do it. In the content above we've covered topics such as how to create your YouTube account and upload videos, but what comes next? The first step after creating, editing, and uploading your video to YouTube is sharing it. If you're seeking to expand your audience, share your video on any social media platform you have access to. Ask your friends and family to share it for you on their profiles and ask to tell their friends to do the same. You don't have to know thousands of people to expand your audience. Start off small and expand the group that you're trying to reach out to. Remember: be creative, be positive, and only upload videos that you'd be proud to share with your mom.
Terminology
YouTube has created their own glossary of popular words used on the site, but know that you don't have to be familiar with all of the words provided to know what people are talking about as they refer to the website:
Annotations Video Annotations are an uploader-controlled, dynamic overlay on videos that allows you to overlay text on a video and/or make parts of the video clickable. You can add, edit and delete annotations to your videos, controlling the text, placement, timing and link URLs. URLs can only be directed to YouTube.com.
Audience Retention The Audience Retention report (formerly known as Hot Spots in Insight) measures your video's ability to retain its audience. It shows when viewers fast-forward, rewind or leave your video.
Avatar The square image on your channel page that represents your channel across the site.
Blog Outreach A strategy of sharing your videos with a targeted list of blogs, sites and/or online communities and influencers. This includes sending your video link and/or embed code to blog editors and others in the hopes that they embed or share the video with their audiences.
Blog Roll A list of blogs, sites, online communities and influencers relevant to a particular category or type of content. Used for blog outreach.
Bulletin A message that channel owners can send to their subscribers. Bulletins show up in subscribers' feeds. Channel owners can attach videos to a bulletin.
Calls to Action (CTAs) These prompt the viewer to take an action.
Channel or Channel Page YouTube.com/CHANNELNAME. A channel is the public page for a user account on YouTube. It contains uploaded videos, playlists, liked videos, favorited videos, channel comments and general activity. Some creators manage or create content across multiple channels.
Comments These are written comments on videos, channels, playlists or in response to other comments. Comments may be posted either on the watch page or on a channel page.
Community Actions Any actions taken by a viewer on or around your channel and content. Includes likes, favorites, subscriptions and comments.
End-card or End-slate A graphic that creators include at the end of their videos. End-cards typically include specific Calls to Action to subscribe, watch more content, or visit a channel page. They may also contain credits for the video. Generally, end-cards prominently feature annotations.
Engagement Interaction between the creator and the audience, the viewer and the video, or the creator and the site. Can be measured by the number of interactions (comments, favorites, likes, or new subscriptions) per view.
Favorite(s) A user action that adds a video to their channel's Favorites playlist. This action can also be broadcast to subscribers
Feed A stream of activity either for one channel (via the channel page feed) or for multiple channels (the homepage feed). Feed activities include uploads, updated playlists, video comments, channel comments, new subscriptions, bulletins, likes, favorites and sharing. Users control what feed activities they broadcast and, by subscribing to channels, what feed activities are broadcasted to them in their homepage feed.
Hangouts on Air Google+ Hangouts are a live video chatting feature, and they can be broadcast on your YouTube channel.
Hook Content that is meant to keep viewers interested in what happens next. Ideally, a video's hook happens within the first 15 seconds.
Hosted Playlist A collection of videos linked by additional hosted videos. Hosted videos can act as intros, outros and/or interstitials. Hosted videos can contain an actual host (person) or creative branding that acts as a host.
Like(s) A user action that shows appreciation for a video. This action can be broadcast to subscribers in the feed.
Metadata The textual information that describes a video, channel or playlist. Video metadata includes title, tags and description. Playlist metadata includes title and description. Channel metadata includes a description.
Optimization An action that increases the potential success of a video, channel, playlist or content strategy.
Other Channels Module An optional module that allows the channel owner to feature other channels on their channel page.
Packaging Graphics and/or content that adds context to a video. Packaging can build your brand, connect your host with the audience, add relevant context to archived content, or add scripted/annotated Calls to Action.
Playlist A playlist is a collection of videos that can be viewed, shared and embedded like an individual video. You can create playlists using any videos on YouTube. Videos can be in multiple playlists. Uploaded videos and favorited videos are default playlists on your channel.
Pre-buzz Audience interest in a tent-pole event occurring in the days and weeks leading up to it.
Programming The practice and strategy of organizing videos, shows or channel content and activity into a daily, weekly or season-long schedule.
Recommendation Activity A strategy in which a channel likes, favorites or comments on a video in order to promote that video to their subscribers through the feed.
Series Playlist A playlist that locks the videos into one specific playlist. Meant for serial or episodic content that follows a narrative story arc, videos included in a series playlist cannot be added to other playlists on the channel.
Share Ability to distribute videos via social media, email or direct links. This action can be broadcast to subscribers.
Suggested Videos Video thumbnails that appear in the right-hand column of watch pages and the homepage, or the tiled thumbnails that appear when a video has finished playing.
Subscriber / Subscription By subscribing to a channel, users will see that channel's activity in their homepage feed. Subscribers can also opt into email communication from subscribed channels on a per-upload and weekly digest basis.
Subscriber Box See Other Channels Module.
Tags Words or phrases used to describe the content of your videos. Added to videos at time of upload (see Metadata).
Teaser A short video that acts as a preview or trailer for longer content. Can be used to promote larger content initiatives or announcements.
Templates Different pre-set channel designs that can be used to highlight videos, playlists and other channels.
Tent-pole Programming and Publishing Content creation and publishing strategy that is meant to draft off of the popularity of large cultural events. Programming and publishing tent-pole content is meant to maximize audience.
Thumbnails The images selected to represent your videos or playlists on the site.
Traffic Source The referral source of a video view. The page, module or site that drove a viewer to a video.
Vlog A video-blog. A casual, conversational video format or genre featuring a person talking directly to camera.
Watch Page The page where the majority of video viewing happens. URLs with the format youtube.com/watch?v=
are watch pages.
Watch-time The amount of time in aggregate that your viewers are watching your videos. Watch-time is estimated in Analytics.
YouTube Analytics A tool that provides information across various metrics for videos, channels and audience. Available in your user account.
Measurements of Success
A simple way of defining what measurements of success is by the number of shares, likes, and views a certain video, post, or image receives. Below are three categories that compose the overall measurement of success and how you can better understand it as you seek to share the gospel over YouTube.
Conversation Rate
Conversation Rate means the number of people talking about your video. It's that simple. Unless your video has gone viral and experienced great amounts of shares over other social media platforms, it's unlikely that anyone will be talking heavily about your video. This is why it's important to share your video like crazy, because yes, you do want traffic, especially if it's about the gospel.
Applause Rate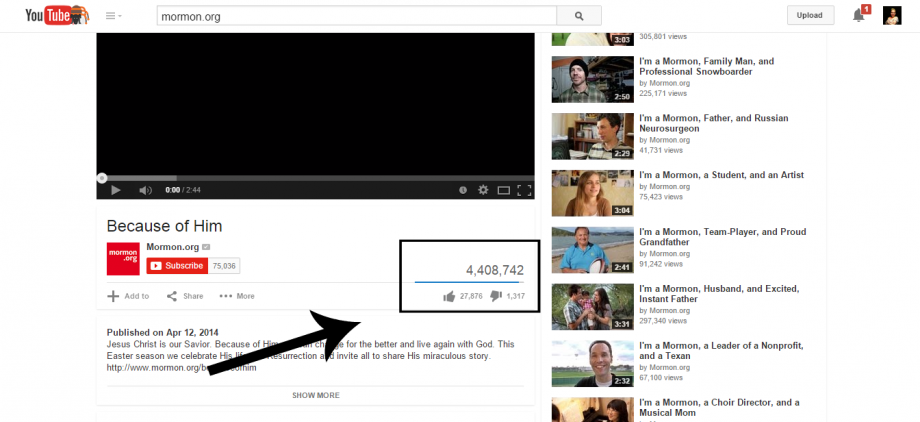 Similar to the Conversation Rate, the Applause Rate relates to the number of "likes"and "views" received on a single video. It's much easier to recognize when someone has watched and liked your video as YouTube provides a visual of these numbers.
Amplification Rate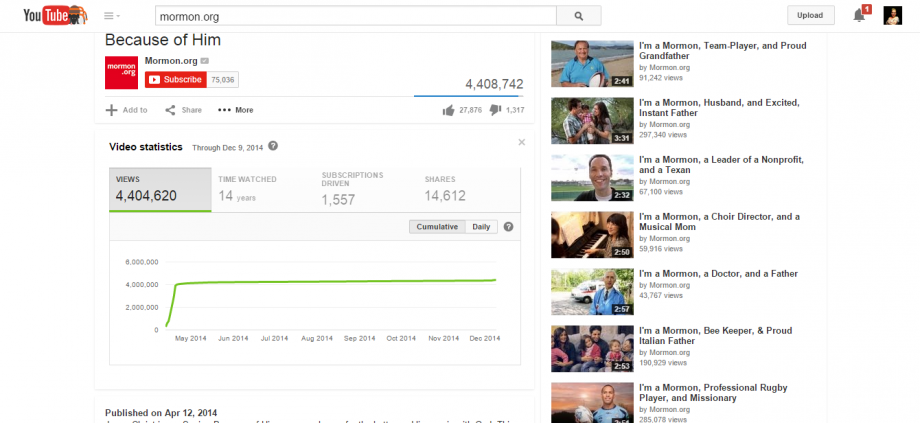 The Amplification Rate is associated with how many shares a video receives. YouTube also offers this in a visual form for its users and can be found under the "More" section next to the "Share" button on YouTube. The more shares on the video, the better the results.
Results
All three of these rates are extremely important when it comes to spreading the gospel. Normally users on any form of social media like to have their profiles private with only a few people they know as their friends or followers. When sharing the gospel, remember that you're trying to connect with other users and channels, and don't be afraid to publicize your username and messages.
Finding specific users on YouTube can be a challenge, especially when those you're searching for are hidden behind more popular channels. Below are some suggestions concerning who you should connect with and the benefits of following those who share Christ-like messages.
Perhaps your friends and acquaintances on other social media platforms don't have a YouTube. No worries, below are a few suggestions of channels to start subscribing to. After you've subscribed to the given users, you should be able to have an idea of what you're looking for on YouTube.
Increasing Your Connections
When talking and sharing messages about the gospel, it's important to remember that increasing your connections isn't a bad thing. Start following people and inventively people will start following you.
Subscribe to Other People
On YouTube, it's not creepy to subscribe to other channels, in fact, users will appreciate it. It's usually a safe bet to subscribe to users following the given channels above or who those channels subscribe to. If you want to increase your followers, you must first follow others.
Complete Your Profile
On YouTube, it's easy to forget to update every feature on your channel as the site offers so many options. Some of the most common things people forget while updating their channel is changing your profile picture, uploading channel art, and adding featured channels.
Fortunately, YouTube will remind you of these things on the right side of the screen as you access your channel. If you're seeking to share Church-sponsored messages, perhaps you'd want other LDS channels featured on your channel, and update your channel art with a Christ-centered picture. Of course, these are just suggestions.
Focus on Now
It's not uncommon for videos to be posted and then become viral years later. Often videos uploaded to YouTube will go through a certain life cycle of being popular, dying down, and eventually coming back. But it's important to remember that the majority of videos that are watched and gain attention are those that are uploaded concerning popular or controversial topics.
In the YouTube world, users love drama and conflict, which isn't always the best. But speaking out about topics such as the Ordain Women Movement and President Eyring meeting with the Pope will always gather attention, as these are huge historical events within the Church. Just be sure to keep them gospel-focused with a positive message.
Provide Value
While you're keeping your subscribers up-to-date on the latest Latter-day Saint news, make sure you're providing value to their newsfeeds as well.
It's easy to get caught up with controversial topics and explanations concerning why Joseph Smith had teenage brides and stories relating, but it's most likely that you're trying to spread the gospel.
Those who are subscribed to your channel want to see the positive things about the Church, not negative or opinionated videos and comments.
Advertise Your Username
It seems more fitting for celebrities and singers to advertise that they want subscribers on YouTube, but it would be kind of weird for the average Joe to declare on Facebook that he wants more YouTube subscribers. If you're seeking more subscribers, have a purpose and a theme, and stick with it. In a gospel-related sense, your purpose would be sharing the gospel. Your theme would be gospel-centered and Christ-like messages. Hundreds of LDS YouTube users have done this and gained thousands of subscribers. So, how will you contribute?
YouTube is a complex website full of rules, regulations, features, and of course, videos. But it can also be a complex task to share the gospel using this site. Below are some tips to help get you going on the right track for enlightening your audience to the messages of the Church.
Be Authentic
Though it's fun to copy the latest video trends and vines, make sure that (for the most part) you're sharing original work with your audience. Your videos can be serious, funny, or informative, all of which have been done by LDS users. And don't be afraid to get creative!
Be Consistent
As your group of subscribers grows, make sure to be posting or sharing videos often. Users love when they see that those they've subscribed to are keeping with the latest trends and posting regularly. It doesn't have to be an everyday occurrence, but allow those who've subscribed to you know that you'll share things with them no less than once a week.
Edify
So you've planned a unique way to share the gospel. It could be DIY tutorials, survival and food storage tips, LDS comedy, or simply sharing with your subscribers the latest Bible video released by the Church. Allow me to give you some additional advice: don't be afraid to branch out a little bit. Your users are used to seeing food storage videos uploaded by you. So what? Share the latest comedic video released by Studio C.
Uplift
As it has been mentioned before in the sections above, your subscribers will be looking to you for uplifting content. It doesn't have to be far to one end of the funny spectrum or to the other end of the dead serious spectrum, just be sure that you're sharing content with your subscribers that you'd be proud of later.
Be Wise
Some subjects that pop up in the news that are Church related don't always provide the best perspective on what we believe. If you want to subscribe or share a video, make sure to research who you're subscribing to and watch the full video before sharing it. Those who are subscribed to your channel are looking for the true facts concerning what you believe, so think before you share anything.
Be Vigilant
Part of keeping up with the latest trends is being vigilant to the newest videos, memes, and breaking news. Keep an eye open for these things by following, liking, and subscribing to Church related pages on any and every social media platform. This way you won't miss a thing.
Don't Steal
Another aspect of being vigilant is knowing when to place the correct copyrights so you're not accused of plagiarism or fraud. Don't let the feelings of jealousy keep you from adding to any videos where the content originally came from. Other users may have published that idea first, but being fair is much better than being accused of criminal activity.
Getting caught up in the complex webs of YouTube's features is a very real thing. From wasting time to accidentally allowing viruses to hack your computer, you should be aware of the main dangers that YouTube also offers in less noticeable ways.
Time Wasting
Though the average YouTube user spends only 25 minutes a day on the site, it's a very real danger to get caught in the content you're viewing and waste hours a day on something silly. A good way to manage this is to set a timer and keep with it, or have someone remind you to shut down the computer. Just because puppy compilations aren't as deadly as sirens, they can be just as enthralling.
Pornography
Isn't it great how virtually everything's available on the internet? That was sarcasm; don't answer that. Those who struggle with pornography addictions have a harder time than those who don't suffer with the addiction, as pornography is readily available on the same site you get your canning tutorials off of. Luckily, there is a way to stop this. On the bottom of any screen on YouTube is an option that reads, "Safety: Off." If you click this option, you can turn on the safety mode and YouTube will automatically show only safe content, keeping the explicit content hidden. This is also a good feature for parents that have curious children.
Psychological
Aside from the psychological damage caused by pornography and social media time wasting addictions, YouTube also can mess with your mind by providing easy access to harmful videos. Videos that can be found on YouTube may include violence, gore, explicit content, abuse, or how-to guides for inappropriate activities, such as DIY piercings, tattoos, and other taboo content.
Spam Sites
On some computers, YouTube may have ads advertised on the sides of the screen. These ads may be flashy and attention-grabbing, but you have every reason to ignore them. Clicking on these advertisements can lead to generous amounts of virus or hackers that may cause the demise of your device.
Other ways spammers and hackers reel YouTube users in is through free downloads in the description below tutorials. Usually these downloads will offer free games or software, but remember that some of these "free offers" will, in the end, cause you to pay repairs on your computers.
Privacy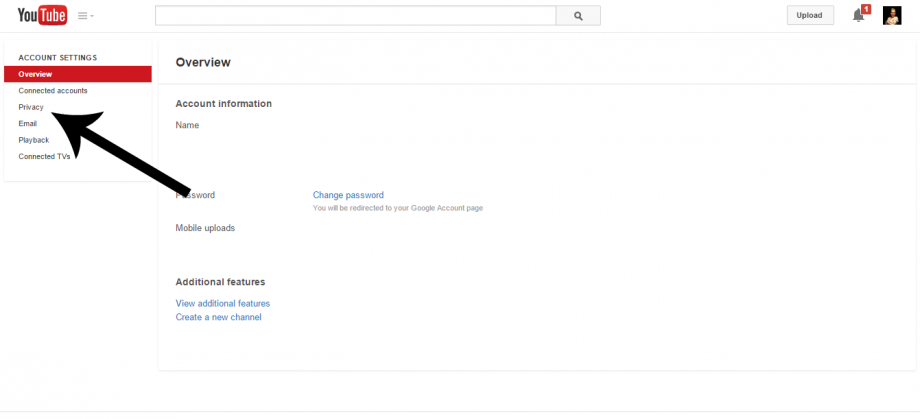 Protect yourself by preventing any future invasions of privacy. If you've neglected updating your privacy settings while creating your account, be sure to by clicking on your thumbnail on the top right of the page, where a box will appear including your name, email, sign out, add account, creator studio, and finally a symbol of a gear.
Click the symbol of the gear. From that point, YouTube should take you to a page where you can access your privacy settings from the options on the left side of the screen.
YouTube can be a great or devastating site, depending on how you use it. I would hope that with the content you've read, that you're inspired to share the gospel and #Sharegoodness with the rest of the world.