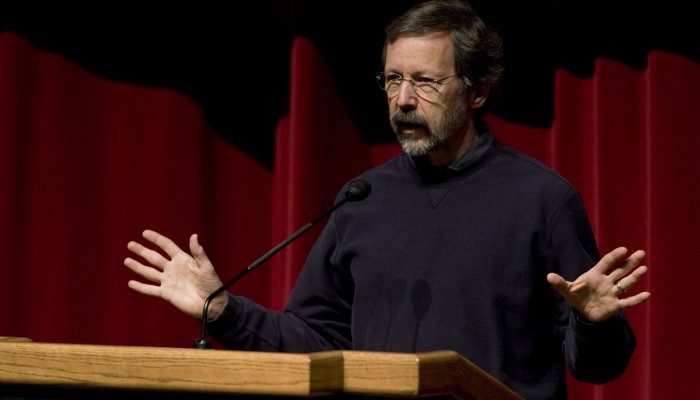 Ed Catmull, President of Pixar Animations, spoke to BYU students about failure, success and creativity on January 28, 2015. 
Catmull spoke of his own personal journey and emphasized how his failures helped him to progress and eventually become successful.
From an early age Catmull, who grew up in Salt Lake, aspired to become an animator like his hero Walt Disney.
Catmull took art classes throughout his high school career and decided to major in art while at the University of Utah. However, Catmull decided to make a big change in order to better understand different aspects of animation. "I switched from art to physics," Catmull said.
In 1974, Catmull graduated from the University of Utah and received his bachelor's in computer science and physics. After graduation, Catmull set out to achieve his goal to create a fully computer animated feature film.
Twenty years later, Catmull's dreams were realized in 1995 with "Toy Story," the first CGI feature-length animation.
However, his journey wasn't all smooth sailing, there were a few bumps in the road which helped him to achieve success.
"All of our movies suck at first," Catmull said. "A lot of people don't believe me when I say that. They think I'm being self-effacing or modest, but I don't mean it in that sense. I mean it in the way that the film sucks."
For example, the first version of the Pixar film "Up," experienced many changes and drafts before achieving the final product.
The original version took place "on a castle floating in the sky. There was a king in the castle that had two sons. The sons didn't like each other," Catmull explained. "And the people in the castle were at war with the people on the ground."
"This version didn't make it far," Catmull said. "All that was left was the bird and the word 'up.'"
The next version featured an old man named Carl who floats away in his house with a stowaway and ends up in Russian territory.
The third version kept Carl and his stowaway, but added another old man to the storyline. Carl and his stowaway find this old man living in a secret location because of magical eggs that have the power to keep him alive forever.
The final beloved version of "Up" was then created and solidified, becoming a classic story of true love and adventure.
Catmull told BYU students that they need to learn from failures and don't let them weigh you down. "If you aren't failing, then you aren't trying different things," Catmull said. "Don't look back for excuses, look back for lessons."