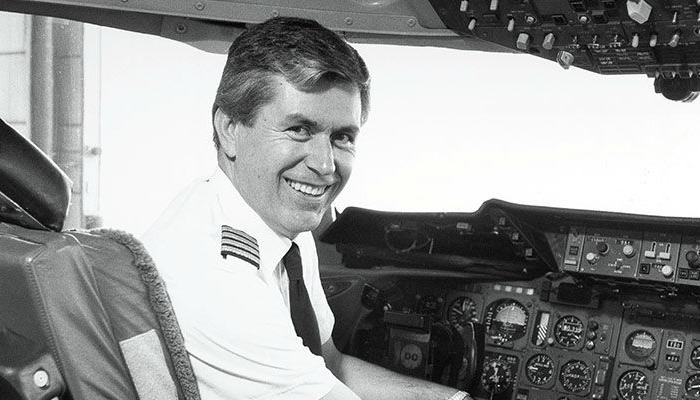 He was then working for Lufsthansa Airlines at the time and was a stake president. The interview is in German with English subtitles and was done shortly after the Frankfurt Germany Temple dedication. The interviewer questions him about his faith and Mormon practices.
Dieter F. Uchtdorf was called as second counselor in the First Presidency of The Church of Jesus Christ of Latter-day Saints on February 3, 2008. He was sustained as a member of the Quorum of the Twelve Apostles of the Church on October 2, 2004. He has served as a General Authority since April 1994.
When he worked for Lufthansa, having been hired in 1965, he began as a pilot. From 1970 until 1996 he flew as captain of the B737, Airbus, DC10, and B747. While also working as training and check captain, he received several management responsibilities. These positions included Section Chief Pilot B737, head of Lufthansa pilot school in Arizona, head of all cockpit crews, and finally Senior Vice President Flight Operations and Lufthansa Chief Pilot. He was also chairman of the Flight Operations Committee of the International Air Transport Association.
President Uchtdorf shared the following on his Facebook page concerning the interview:
I recently came across a television interview that I filmed 30 years ago around the time of the dedication of the Frankfurt Germany Temple. As you can see, I was a much younger man then. In addition to serving as the chair of the temple committee, I also was a stake president and chief pilot of Lufthansa. It was a very busy time indeed.
As I drove from the temple open house to the television station, I prayed in my heart that I would be able to appropriately and effectively share my thoughts about my faith and why the temple is so important to members of The Church of Jesus Christ of Latter-day Saints.
As I arrived, I was told that the interview would be only 2–3 minutes. However, when the breaking news that the station thought was going to happen didn't materialize, they ended up extending my interview to nine minutes.
Because the interviewer didn't expect such a long interview, we reached a point in our discussion in which the interviewer no longer had any prepared questions to ask. This allowed for us to discuss topics which wouldn't have come up otherwise. We even spoke about how members of the Church dress (on account of my fashionable-at-the-time white socks and skinny tie).
But as I go back and watch this interview, the thing that strikes me most is that even now—30 years later—the questions and answers we spoke about then are very timely today.
I would invite you to watch (we have added subtitles) and think about how this discussion from 30 years ago still can apply to you today.
I recently came across a TV interview I filmed 30 years ago. The questions and answers we spoke about then are still very timely today. pic.twitter.com/AgQKvZTJh6

— Dieter F. Uchtdorf (@UchtdorfDF) June 27, 2017