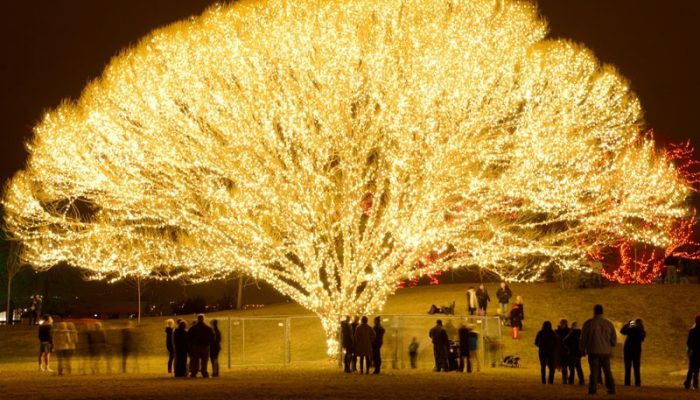 For most, Christmas is a religious time of year where people recognize the holiday as a time to celebrate the birth of Jesus Christ. While the meaning of Christmas can be easily lost amid the hustle and bustle of the season, residents of Draper, Utah, are claiming that a lit tree in their city brings an added touch of religion to the sacred time of year.
To members of The Church of Jesus Christ of Latter-day Saints, the golden-lit tree reminds them of the Tree of Life from Lehi's dream in the Book of Mormon. The tree is wrapped with more than 1,000 strands of sparkling holiday lights. The result is an incredible look-alike of the religious symbol.
According to KSL, Luke Walker has been working on the design plans for the tree, with the help of the company Brite Nites, for the last three years. He explains that the city of Draper wanted the willow tree to be a "wow-factor" for people visiting the city park. He says,
Because of the similarities the tree has to the tree in the Book of Mormon story, people have started to coin it the 'Tree of Life.'
The tree looks like it is twinkling, thanks to Walker and his design team who included 350 spark lights. The spark lights flicker on and off every three seconds to give it the twinkling effect.
With a group of four to five people, it takes a good three and a half days to complete the string the lights on the tree, and about two to three days to remove the lights. LDS Living reports that the holiday display costs more than $25,000.
The tree is in the Draper City Park located at 12500 South 1300 East.