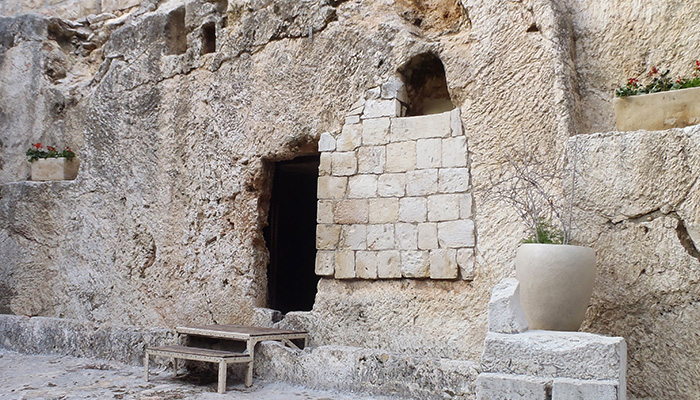 A combined mutual activity I attended years ago impacted me a lot; we were split into groups and reenacted Christ's last days on earth. We went into a room, sat on the ground around small tables and had the Last Supper.
We waited for some time, went through some more rooms. Finally, we arrived at the door leading to the stage. A circular table, propped up on its side and dressed up like a large stone, blocked the door.
One of the leaders rolled the stone, and I walked into the "tomb." But there was no body, only white linen around. It felt surreal. He had risen.
Throughout that night, you could feel the spirit so strongly, it was one of my favorite mutual activities, that He went through the Atonement for us to live again, that He died for all of our sins.
An Hour Of My Time to Grow Closer to Christ
I've always wondered why the disciples couldn't stay awake? They knew Christ was going to die. He only had them wait an hour while He was in the Garden of Gethsemane.
He went again to pray, came back and His disciples were asleep. But this time, he didn't wake them. Why were they asleep? Why couldn't they stay awake when  Christ needed them most? Would we have been different?
We may think, how easy it would have been for the disciples to stay awake, and to wait for Christ, all he asked from them was an hour of their time.
Christ does ask for an hour of our time. During sacrament meeting, would we put away our phones? We have the Sacrament because of Him. During the talks, would we use our phones, when a speaker is giving a talk and doing a "bad" job at it?
I have to admit, I have even done that. But what if there was something the speaker would say that I needed to hear? Would I have missed it because I was busy using my phone?
Imagine if Christ sat by you, your head burried in your phone during Church. "What, could ye not listen with me one hour?" He might say. We'd stop using our phones then, but once He went away, would we bring out our phones later on? Might He walk in on us a second time, just like He did with His disciples?
How true is the scripture that Christ told His disciples, after He came back for the first time Matthew 26:41 " Watch and pray, that ye enter not into temptation: the spirit indeed is willing,
but the flesh is weak
."
But we truly can give him our time. Here are some ways I've tried:
1)
Putting our phones away during church

es

By doing this, we're giving Him our attention. Think of it as meeting up with a friend, would you be using your phone, or would you be busy talking to your friend? At times I still struggle with using my phone at church. I gotten to the stage of not using it during Sacrament meeting, I have room for improvement,  If I can do it, anyone can.
2)
Remember His sacrifice and what He went through for all of us
We need to realize just how much love He has for us. He made it possible for every single person to live again.
By remembering this, we gain the thought and image of Him making the sacrifice. We're taking time from our busy lives and thinking of Him. I like to think of a small child, telling his parents how much he loves them, with his arms stretched out saying "I love you this much!" but then I imagine Christ wrapping his arms around us.
3) Love and serve as He would have done
Christ took time to serve others, he had the compassion we can only wish and strive for, but from using our compassion and helping others, we are being more like Him. Would we wash our friend's dirty feet (Mosiah
2:17)?
4) Use the gift of the Atonement
Going along with #2,  He did not sip from the bitter cup and call it good.
He drank from it so we may return to God again.
The atonement is always there. Whether we will use it or not, it depends on us. Would we seek the help which is right there? No matter where we are in life, we can always rely on His atonement.
5) Be Disciples of Him in word and in deed
If we're followers of Christ, we need to watch what we say, and what we do. People are always watching.  in word, speaking with kindness, and deed, doing good for others. I think of the commandment, "thou shalt not take the name of the Lord thy God in vain"
6) Study the scriptures
Instead of "Read" we need to "Study" the scriptures. By  studying  we're getting more out of them vs just reading. We can study certain subjects; we can search in the topical guide. We can still study the scriptures by just reading each chapter in a row without reading about a certain topic. But still "study" in a sense that you're putting in time to read and actually learn from the scriptures.
7) Listen to the Sacrament prayers, and take them to heart
I saved this for last, because it sums up the other 6 pretty nicely.  how many times have we sat through the sacramental  prayer not paying attention to the words? We should change that.. because they're so powerful and full of meaning. They speak about remembering Christ, and taking His name upon ourselves, and that we will always have his spirit to be with us. I would recommend to go read through them in D&C 20:77 and 79.
The Poem
My last suggestion for you is to make the atonement personal as only you can.
For me, that was with poetry. When I was 18, My Sunday School teachers were a married couple. Easter was coming up and the lesson was going to be about the Garden of Gethsemane. I offered if they would like, I could write a poem to go along with the topic. They said yes.
So I wrote something that meant a lot to me. But I ended up sharing it not only with class but at EFY and in my YSA branch.
The many teary eyes I saw from the poem helped me feel more connected with my Savior as I share His importance with the world. Here it is:
Come see our savior
Sorrowful is his soul
Tarry ye here, and watch with me
"Let this cup pass from me:
nevertheless not as I will, but as thou wilt"
Red poured down his mighty face
The pain he felt, the blood he bled
The agony he felt, for sins of mankind
Behold, our beloved elder brother
In pain for our sins
He rose from his prayer
Sadness reach his face
His disciples sleepeth, " could ye not watch with me one hour?"
a second time, he went.
Tears come to me
This is my savior, and his suffering
For my very own sins
My elder brother
Arose, found his disciples heavy eyed
He stared, tears began to fall
He went a third time
His father's will be done…
My savoir
Went to his disciples
Jesus started to weep
Disciples awoke
From his weeping
Their faces dazed
Continue to sleep, take your rest
The hour has come and Son of God is about to be betrayed
How are you devoting your life to Jesus Christ this Easter Sunday?