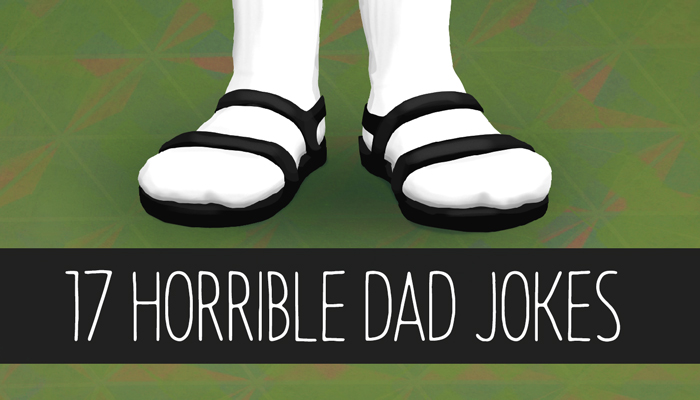 First of all, I'm sorry. I'm sorry you're going to have to suffer through what you're about to read. There's really no excuse for how bad these jokes are … but your dad is going to love them. Dads thrive on lame puns and groan-worthy punchlines. It's Father's Day. Do it for him.
There is one ray of hope for you at the end of the tunnel, though. There is a chance that one or two of these might just be so bad that you actually laugh. It's a thing. It sounds counter-intuitive, but if you watch the Twilight movies you'll understand exactly what I'm talking about.
1. Oh boy, here we go
I don't trust stairs. They're always up to something.#dadjokes

— Bad Dad Jokes (@baddadjokes) April 13, 2016
2. This is only number two
Just thought of a great pizza joke but it's too cheesy to share.

— Dad Jokes (@dadjokes) September 14, 2015
3. Pls stop
I had an argument with one of the seven dwarfs. He wasn't happy. #dadjokes

— Bucko 📱 + 🚘 = ❌ (@Bucko8828) June 2, 2017
4. OK, references like this are acceptable
A little dad humor to brighten your day. #dadjokes #MichaelJackson pic.twitter.com/ivLbgU9rkQ

— 2 Doods Podcast (@2doodspodcast) June 6, 2017
5. Oh my lanta
Dad puts this on Julias head: "Always remember I've got my I on you" 🙄 #dadjokes pic.twitter.com/ouBe8elshc

— Rebecca Haley (@beccaliz516) May 27, 2017
6. Ha. Ha.    Ha.
Me: "I'm gonna take a shower."
My dad: "Alright, when you're finished please bring it back."#dadjokes

— Nicole DeNuzzie (@nicolaaa922) May 27, 2017
7. Tacky.   No! Sorry. I'm not participating in this.
Sometimes the bad things aren't all that bad. Relax and enjoy your weekend! #dadjokes pic.twitter.com/dNesAs9Pyt

— Tim Hammerich (@timhammerich) May 26, 2017
8. Booo
Did you hear about the guy who got hit in the head with a can of Coke? He was lucky it was a soft drink. #dadjokes #jokes

— GG's Dad Jokes (@GGsDadJokes) May 26, 2017
9. It really does
dad: *buys my mom a new vacuum"
dad: i hope it sucks! #dadjokes

— kathryn (@happilykathryn) April 22, 2016
10. It'snot funny!
How do you make a Kleenex dance? Put a little boogie in it! #dadjokes #1shot

— dadstayedhome (@Dadstayedhome) April 18, 2016
11. Now the song is stuck in your head
Dad jokes. #dadjokes pic.twitter.com/XUjGou6XPV

— Just Jokes (@jestjokes) May 20, 2017
12. Classic
Get your #dadjokes here! It's #FathersDay on 18th June, treat him to a free lunch! Find out more: https://t.co/eliIFMkkOI #ThursdayThoughts pic.twitter.com/XgP5YcvGHk

— Harben House Hotel (@harben_house) May 25, 2017
13. Spare me
Me: I need to call the tire guy to put new tires on my car.
Dad: his job must be so tiring #dadjokes

— Claire 🐻 (@clairemarie1147) May 25, 2017
14. I see what you did there
What do prisoners use to call each other? Cell phones. #dadjokes pic.twitter.com/D1XavjtqOD

— Jerald Galang (@iamherardo) May 24, 2017
15. Did you make the noise out loud too?
What do we want?

Low flying airplane noises!

When do we want them?

NEEEEEEEOOOOOOOOWWWWWWW!!!#dadjoke #dadjokes

— Jack's Dad (@DaddingAround) May 24, 2017
16. OK, this is acorny joke
What sound does a sneezing nut make?

Cashew!!#dadjokes

— Dave Owens (@TurtleDogInc) May 24, 2017
17. And last and possibly least
Have you heard about those new corduroy pillows? They're really making headlines.#dadjokes

— 🏳️‍🌈 Tall Tony 🏳️‍🌈 (@tallguytony) May 23, 2017
We made it! OK, so, some of those weren't all that horrible. I got into it. If you made it all the way through those and are reading this right now I bet you got into it too. Anyway …
HAPPY FATHER'S DAY!!!