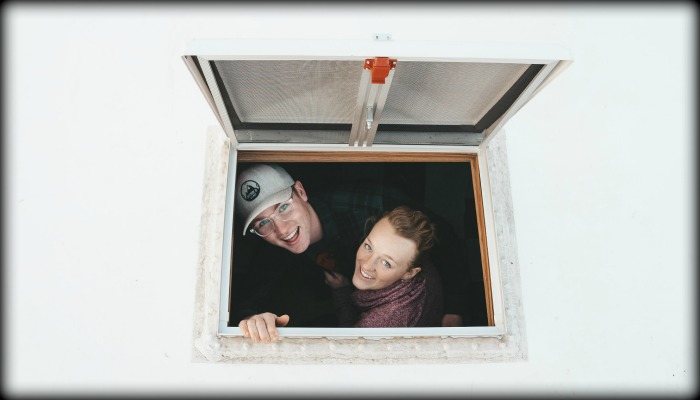 Have you ever dreamed of throwing caution to the wind and living the adventurous van life? Traveling the country from the comfort of your own mobile home sounds like every millennial's dream. No packing, no planning. You can just get up and go wherever. Whenever. Well, this couple is not only living their dream; they're accomplishing their goals and finding spiritual wisdom at the same time.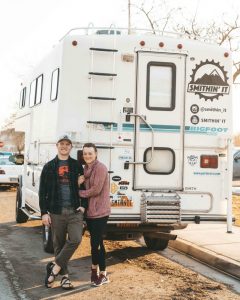 Marinn and Kale Smith started their marriage like most young members of the Church do. They found an apartment, got jobs, and began attending college. However, the price of rent got pretty ridiculous and they realized they were throwing away over $10,000 a year. So in order to save some money and live a more carefree lifestyle, they traded their two cars and one-bedroom apartment for a 16′ x7′ truck bed camper named Phil.
I had the opportunity to interview this fun couple and learn about how they're enjoying their mobile lifestyle!
How did they decide to switch?
The Smiths live very active lives. They enjoy dirt biking, hiking, camping, and any other outdoor activity you could think of. They find themselves traveling almost every single weekend.
Related: Why People Are Drawn to the Outdoors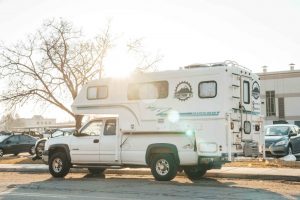 Since they were hardly at home, they realized that they were basically just paying for an expensive storage unit and bed. Early on in their marriage, they began searching for rent-free options of living.
Kale presented the idea of van life. Not only was this option rent-free, but it was also completely mobile. They could travel more often while saving insane amounts of money. While researching options, they realized that a truck bed camper would be the best fit for them. Even though it was a scary decision, they decided to take the leap and purchased their camper, Phil, in the fall of 2019. 
"We decided to stop thinking so much about the details and just figure it out as we go." ~Marinn Smith
Was it easy to make the change?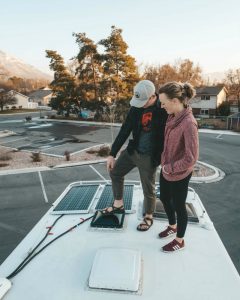 "It was a mess at first," Marinn told me. They had unexpected problems arise and stressful days were definitely a thing. However, they both agreed that the pros far outweigh the cons. Kale explained that he had a blast learning how to do roofing, electrical work, and other skills that he will use for life. 
The Smiths installed solar panels which have allowed them to go completely off the grid if desired. They also have propane tanks so that they can have hot water and heat no matter where they're parked. It's a pretty sweet setup!
"If we got five years down the road and looked back, it would be a huge regret if we didn't do it." ~Marinn Smith
Living in a truck bed camper was an adjustment at first, but Kale and Marinn are completely loving life now. I've been keeping up to date by watching their Youtube channel but I still had some burning questions for the couple.
How do you get much needed alone time?
I love my husband, but sometimes I just need some alone time to binge-watch a girly show on Netflix, you know? I asked the Smiths what they do for personal time. Their response was the cutest thing ever.
"Given the option, we would rather be together," said Kale. They both agreed that since they work and go to school, time together is precious. They cherish every moment they have with each other in their tiny home. 
Adorable, right?
Related: Three Keys To A Lifelong, Loving Relationship
What does a typical Sunday look like?
Sunday mornings can be a little hectic. Making breakfast, getting ready, and driving to church (because they can't park in a church parking lot) all gets a little stressful.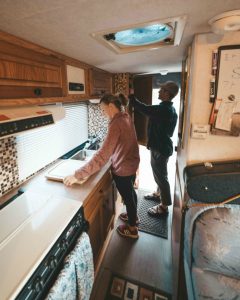 With the small space, it's different than they expected.
Since they are out of town most weekends, they have attended many wards and really enjoy meeting new people. They told me they love the fact that there is a way to attend church almost everywhere they go. They gain much of their spiritual wisdom by learning from these different members of the church.
However, if they are off the grid too much to attend church, they always make sure to have a little service by themselves. They read Come Follow Me together in the car and make sure to find somewhere peaceful to feel the Spirit on the Sabbath day. 
What are your nuggets of spiritual wisdom for us?
The Smiths have never wanted to live the classic life. Kale told me he especially has always dreamed of living "unconventionally." His biggest lesson learned is that people can still follow the gospel teachings but in their own way. He continued:
We still live the same life, we're studying the same things, working our same jobs, [and] going to the same church. [We're] just doing it a little bit different.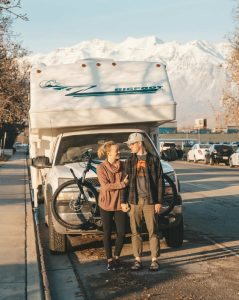 Marinn told me that the spiritual wisdom she has learned is to "trust in the Lord." There have been so many random inconveniences along the way, but everything has always worked out. "Taking that leap is totally super scary," she said. "If you want it to happen, you just have to do it."
The Smiths are planning to live in their camper until they graduate from college. They are also excited about their new YouTube channel. Marinn says they hope to "show people that they can do something adventurous and different!"
"[We] always have that constant of our eternal marraige and trust that the Lord is not going to abandon us." ~Marinn Smith
I personally cannot wait to see where life takes this incredible couple. You can join me and see what they're up to by subscribing to their YouTube channel and following them on Instagram!